Book Title: The Sea Angler Afloat and Ashore
Author: Desmond Brennan
Publisher: A & C Black - London
ISBN: 0 7136 5572 0
First published in 1965 and revised in 1985. This is a review of the revised edition.
Have you been around a bit, and acquired a few grey flecks and put on a pound or three? We love to compare sportsmen don't we? The longer we've been around the more we see. Best, Pele, Botham, Ali, Piggott, Redgrave, Wilkinson, masters of their vocation, superstars one and all. In Sea Angling read Des Brennan. Clive Gammon, a great friend of Des, paid true testament when he passed away in April 2000." "Des Brennan, who died early this week at age 73, was my oldest and closest fishing friend, as well as the best bass angler I ever met".
The book starts off in the best place. In "The Sea" he gives an experts perspective and opinion. This chapter underpins his views on "Know how". Loosely the chapter covers, Tidal zones, various sea shelves, salinity, water temperature and the effects of warm and cold weather, Atlantic drift, plankton, gravitational pulls i.e. spring and neap tides, storms and cyclones, weed, and is illustrated with diagrams of surf and middle beaches. Brennan covers about 60 years personal observation in about 25 pages which endorses his statement earlier in the book.
".........and has lead to over-complication and a tendency towards gadgetry, where the simple straightforward approach is often the key to success. There is little use in possessing good equipment and knowing how to make up complicated rigs if you do not know what you are fishing for or how, where and when to fish for it".
As with most sea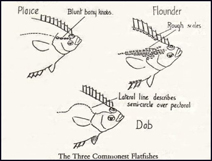 fishing books the obligatory chapters covering "The fishes of the sea" follows. This is as good as it gets, and I haven't read anything better in this respect. On page 44 there is a nice drawing of the commonest flatfishes and their differences. No more excuses for fibbing to the missus that flounder or dab had orange spots and must therefore be a plaice!
Brennan was a true all rounder he was proficient from both boat and shore. This book has chapters covering:
Baits
Tackle
Techniques
The Angler Afloat
He also dedicated his writing to the main sporting species and how to go about catching them, including amongst others:
Bass
Mullet
Cod, ling, hake
Whiting, haddock, pouting, poor cod.
Conger
The flatfishes
Tope
The dogfishes
Skate and Rays
Sharks
The Chapter on bass is particularly good, endorsing Gammons view on his expertise as a bass angler.
There are some useful phrases (poems almost) about navigating in traffic (Ref: the chapter on "The Angler Afloat"). Not least;

"Both in danger and in doubt, always keep a good look out,
In danger with no room to turn, ease her, stop her, go astern".
Des has an opinion on a couple of species frequently caught in our spring and summer.
"The Lesser Spotted Dogfish is an abomination and the bane of the sea angler's life. There is no art in catching this pest and if there was an art it would be an avoidance of it, but the secret of how not to catch the LSD has yet to be discovered".
Perhaps more surprisingly he says,
"The Smoothound is another small bottom living shark taken by anglers in the summer months. In appearance it looks like a clumsily built tope but can easily be distinguished from it by the fact that its teeth are flat (skate like) and arranged in a mosaic pattern while the back and sides are much lighter in colour than the tope and are sprinkled with white or pale spots. As its teeth would suggest, it feeds mainly on crustaceans and molluscs and prefers harder ground than other dogfishes. It is not specially fished for and is of little angling interest."
I guess times have changed.
Des' book, all 350 pages of it, is a great legacy. If newbie's starting the sport could digest and apply such knowledge of fishes and the sea they would become fulfilled sea anglers in a short time. All of us are not past learning, least of all me, and this book is a comprehensive reference to our sport written by someone who has actually done it and has articulated the finer points in an interesting, enthusiastic and easy to understand way. RIP Des Brennan.
Great job Nigel, well done.

Aitch