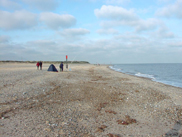 More evidence of longshore drift, you can see the end of a groin halfway up the beach. Some of the best bait on the east coast is freshly available here during the winter and its cheap too. I know of pike anglers that travel from Wales just for the herrings landed at Caister, I often buy them 6 or 8 for a £1, trouble is they never end up back on the beach, me and Aidan eat 'em! You can find them for sale at Dabs n Crabs in Scratby, google it for directions. Herring was a must for the thornbacks when they used to show and can be a killer bait for quality dabs. It'll sort out the better whiting too though I've never caught cod tipping off with any fish bait other than squid.
I'm guessing the effects of the reefs are less felt here, the tide can go like a train at Yarmouth and we're now on the outskirts of that metropolis. I will get some more information on all these venues where my knowledge is lacking.
EMAIL ME if you've anything to add.