30th December 2007
I really couldn't see it coming, a bonus fishing session that is. Family Aitch met family Genocide for Sunday lunch at Sheringham today. The plan was we'd have a nice family lunch then if we had time walk it off and see how the lads were getting on at Honourable's end of year meet. If we didn't have time for the walk we'd meet them in the Dun Cow at Salthouse for a pint afterwards (my preferred option).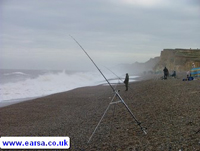 Proper sea for a change.
I could see Geno's car in the cliff car park, so parked next to it, right at the top of the steps down to the prom and overlooking the loveliest, chocolate brown rolling sea I'd seen in an age. We'd had a little bit of NW overnight and it had left a cracking sea. Geno was already in the Lobster, the conversation went something like this: Aitch "hiya mate, hello girls, did you see the sea mate?", Geno "yes mate, I've got some frozen bait do you fancy it", Aitch "bloody right I do, even if it gets me into trouble with the Fuehrer we have to go in that". That was that, plans were developed over lunch, including a rather cheeky text I sent to Honourable, Fetish and Walsoken asking them to save any spare bait from today's meet/match. Bless them, at least they'd know we'd frighten a few fish with it!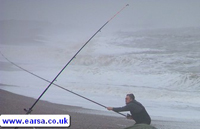 Grandad Dicko casting back to front
We had a lovely dinner which dragged on a bit but we still managed to catch up with Honourable, Barry and Flipper Field in the Dun Cow. A babble and a pint ensued, it hadn't been a very good day. A rough sea had put paid to the already thinning out whiting and dabs and Diggers forecast codling didn't show. My forecast rockling did though didn't they boys! I can't believe that they let Walsoken win, that's two frames in two matches to make up for his annihilation by his son and a BLANK in the ICCM. In fairness to him he's done little but cast for a year or two so hopefully these couple of results will remind him why we go casting. Anyway the lads had to get off for the drive home so I relieved them of their left over bait and wished them a happy new year.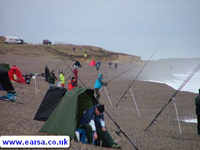 I think there's one somewhere of honourable getting mullered by a wave!
So Walsoken won with a miserable 85cms, Andy Lawes was second with 79cms and Steve Smiffy Smith third with 76cms. Poor result when you consider there were some good lads fishing and that you needed double figures to get close to framing a week earlier. The winners fished up near the wreck for bits, but those in the "know" faced with a "cod" sea like the one in the pictures, walked back towards Sheringham and Spalla Gap to fish the rough ground for codling. That's right, Digger and the Maid yomped the near mile (feels like 2) along the shingle to the cod rich, rough ground under the cliffs. Great plan except nobody told the codling, they lost a load of kit for a single rockling. I don't know which one of the numpties had the SOLITARY rockling, I doubt either of them would own up to it! Pedro couldn't wait, as soon as he heard he sent me a text. I must admit to having a chortle myself, but those two are plenty good enough to bounce back from this utter TROUNCING by some carrot crunching halfwit from the fens. Bloody caps lock and tourettes fingers, bound to get me a smack in the mouth one of these days!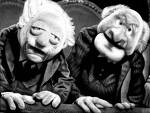 Which one of you two had the rockling?
There was a few oddities on the day though, Fetish sent me some pictures through which included one of a Ray's Bream, there was another or a Couch's up near Walsoken too. There's been a few reported this year off the east coast, they're not allowed to be weighed in some matches off the Yorkshire coast, here's the fish.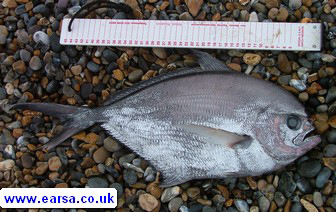 Ugly, big eyed bugger with teeth like bradawls, this is the Rays Bream washed up near Fetish, it probably saw him and threw itself ashore rather than risk the indignity of him catching it!
After the disappointing results of the end of year bash, me and Geno decided to fish Bacton up and over with our blagged bait. High water was at around 23:15, the lump picked me up about 20:00 and a couple of minutes later we're on the beach. Still a lovely sea and though not brimming with confidence, it looked good for a chance of a decent fish. Lamp lit and brolly shared, it's only a social really, and I get on with tackling up. Except I don't tackle up because I've left my fecking reels at home. I serviced them and they were in a bag on my garage bench, ten minutes later and I'm back in geno's car and back on the beach with my shiny reels.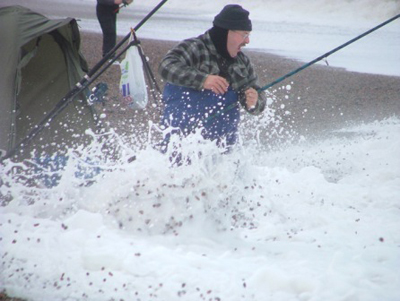 Honourable getting a soaking, truth is that was the furthest out he fished all day!
A few minutes in and the rod tips are wobbling away with the tell tale signs of small fish. Pin whiting and mini codlets were coming ashore most casts. As usual we were talking about anything but fishing when Geno's rod closest to us drops back in that lovely coddy way. A few minutes later and a plump 2.5lb codling is weighed before nestling in the bucket. The thing took a pin that had got itself tethered to his pennel hook. Think about it, the chance I mean. The baited hook is out around 150yards in miles of sea, a 3/0 pennel trace baited with 3 or 4 lug. A small whiting gets hooked and within the 10 minutes Geno might let the bait fish for, a codling comes along and snaffles the whiting. Not only that but there's enough hook to snag the codling. I know people tie live bait rigs and i've caught myself on unfortunate whitings and pouts, but the chance of it happening is incredible really.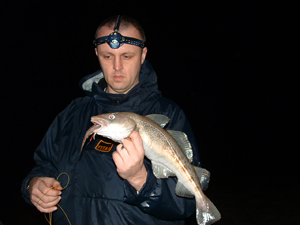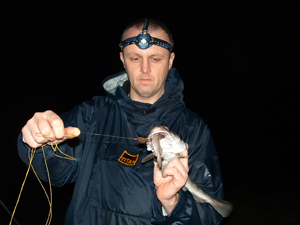 Still no smile despite the bonus catch. A pretty Norfolk fish with the offending whiting looking like a cigar. The whiting can't have been on for more than a few minutes but was already showing signs of being digested. Is it me or does he look like an extra from Dr Who with that headlight on?
All this before high water and the best part of the tide, the ebb, to come. Unfortunately that was the only decent fish we managed. There were lots of codlets between 4 and 10oz and the obligatory pin whiting. I did think there was so many small bits that the better fish couldn't get through them. I don't think that's right, if there were a few good sized fish chomping their way through the small fish shoals, those small fish would soon have moved off, leaving the better fish to graze our baits. Another false dawn then. I felt sure something would happen, it was the first rough sea in weeks, but that's fishing, if we could predict it right every time it would be called catching and not fishing! So 2007 ends pretty much as it began, we're not getting too many. Still 2008 promises more, I'll let my mates have a right to reply too over the coming months, I'm conscious of the fact that I'm copping the piss out of them most weeks. They deserve it of course! Don't take the sport or yourselves too seriously in 2008, thank you for allowing me to poke fun and thanks for taking it in the spirit intended. I hope you all have a cracking time in 2008 and health, wealth and most of all happiness to everyone that can be bothered to read this tripe, best wishes, Aitch.
29th December 2007
I took my Christmas spends and a voucher out today. We all took a ride out to Sam Hooks at Lowestoft so I could spend some of my Christmas money and a voucher I won in this years ICCM.
First job I took my coat into North Walsham to get new zips put in, then back home to pick up Aidan, Mrs Aitch and the mother inlaw and off to Lowestoft. A cold and breezy day, not sure but the wind looked sort of SSW giving a nice sea. A few guys were fishing the south pier and I thought I'd talk Aidan for a walk up there when we'd done our shopping and had some chips. I reckon I was in Sam Hooks for less than 10 minutes. I bought a Shimano 6000 baitrunner to go with a new Fox warrior rod I plan to use for spinning in the summer.
We had sit down chips in some dodgy chippy near the station, it was ok but I'd had better, before we walked back to the car at east point car park. Mrs Aitch and the outlaw went back and waited in the car while me and Aidan wandered up the pier. We got to the end and nobody had caught a deal of anything. We were starting to make our way back when a guy, fishing out of his car, leapt out as his rod got dragged along the wall then over the wall! I saw a couple of herring gulls and thought these might be responsible rather than a fish. I said to the guy I could see the rod just floating out to sea, he needed to get his other rod quick and hopefully cast over it and try draw it in bearing in mind there's a fair old tide running here off the pier.
As luck would have it he'd already got snarled up with his other rod and with a little help from me, he managed to get the gear back up the wall. I asked him if he was a relation of Kerry, he's the only bloke I know that uses his rods like wagglers. He was fishing Trimingham one day when he lost one over before managing to cast his other rod over it and winding the lot back in. Jammy basket, all it would've taken was a pout or something to dislodge the lead and the rod, terminal tackle and pout would've been gone forever!
After Lowestoft we had a cup of tea at Gorleston. There was somebody fishing the wreck but I didn't talk to them, the sea looked lovely but the wind was along the beach a bit and had a nasty edge to it. Tea swallowed, a few bits for Aidan's hamster picked up from the pet shop in Yarmouth and we were home. I sent a text to Digger telling him I'd been out buying, he's a tackle tart and I knew he'd have to ring and find out what I'd got, he reckons he wants a new spinning rod now! He also reckons the whiting and dabs are thinning out on the shingle and that a few codling might show in Honourable's end of year meet tomorrow. Family Aitch are meeting family Genocide for sunday lunch and we'll either meet them on the shingle as we walk our lunch off or (preferably) in the pub afterwards for a pint.
Happy new year all and lets hope 2008 starts better than 2007 ends!
23rd December 2007
No I'm not! Sounds strange, I haven't been fishing for ages, well since the 14th, but I think the high pressure doldrums has finally knocked the stuffing out of me as well as the fish. Couple the fishing doldrums with work and festive preparations and I haven't had time to miss it. Dins sent me a text saying he'd fished Yarmouth North beach today (don't ask why, the madness will consume you) and that he'd blanked. He found lots of weed with plenty of tide but unfortunately he couldn't find a fish in it. I think if I was to go over the next few days I'd be heading up to the shingle, at least you'll see the rod tips move albeit from whiting and dabs.

No fishing, I ain't bovvered
I think Geno has gone away for Christmas, PK i'll see Wednesday morning so I'll find out what he's been up to and get him to write about Cape Verde. Smudge had a go off Southwold Pier, for a few bits, the rest of the boys have been quiet. Christmas can do that. There's an open match and a meet coming up on the shingle, Nobby rang me to see if I could sneak off for a couple of hours and have a pint seeing as I wouldn't be able to fish. I'll see what the Fuehrer says. Johnny is still recouping and Digger is doing extra over's ready for Christmas though I wouldn't be surprised if him and the maid didn't talk themselves into fishing the open. UPDATE Digger fished the Kelling open and had 7lb for nowhere, George Smith won it with 13lb and not a codling on the beach, that's some quality whiting and dabs. Steve has moved house and Stick is up to his pits in Turkey guts and feathers! Why do people go for Turkey? I reckon it's a dry, relatively tasteless meat. The traditional Christmas bird is the goose, far superior to the Turkey in taste and if you've never had your roast spuds and parsnips done in goose fat you've never lived.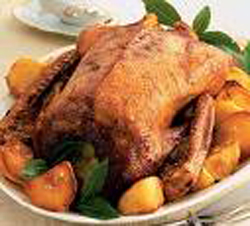 If you're lucky you'll get a good goose in at Christmas, hehehehe
There seems to be a little bit of sport north and south of East Anglia, the Humber is producing a few and Dover up to Dungeness seems to be throwing a few up, especially Dover. I think I'm going to busy myself with some plans and schemes for 2008. I will get out early in the New Year, more as a sanity check than in expectation of catching much, the weather needs to help us and we need to lose these doldrums sharpish like. Whatever you do have a great Christmas and New Year and if you do get out and do a bit, let me know. Merry Christmas.
16th December 2007
What do they say about fools and their money? The Leg End needn't have gone to Africa to catch sharks, there were some cruising Yarmouth north beach this weekend. Two shifty looking characters, described as resembling the Artful Dodger and Bill Sykes were seen on Yarmouth north. Like Ron Moody said "you've got to pick a pocket or two boys"..
Don't be fooled if he has a shaved head, he'll still have the shirt off your back!
Well done to all who made Honourable's "Boxes and Bottles" day a success, sounds like the usual good craic all the Leader Lines meets are, becoming rightly famous for it. Particularly well done to the framers (spitting) my old sparring partner won it, Cain "Walsoken" Plumb was second and Shaun "Macketer" McDermott third. Mack's framed in a couple of the matches so far and is one to watch in the Yarmouth area, try his soused herrings too, on the recipe page.
Anyway enough waffling, I asked Walsoken to send me a few words, I expected him to reply "pump, bone, tangerine, mouse" or something equally as random, actually he wouldn't know "tangerine" it has three syllables, so imagine my pleasant surprise when he sent the following synopsis of his tactics on the day: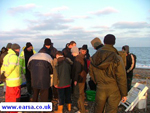 Hopefully Walsoken will buy Ben some shoes with his winnings instead of making him wear his old rigger boots, poor little mite.
Started off at extreme distance with pennel rigs loaded with lug and was straight into a sizable yting, next few chucks resulted in bits and pieces. Tried frozen blacks to try and pick out some dabs but was just small stuff coming in. As the lads were fishing short and coming up with the same bits I decided to stay at range but alternating baits, still bits only coming in. The wind seemed to ease a bit and allowed a bit more distance, had a big old slack liner and the line swung round to the right quite fast, reeling in felt the old thump thump thought codling on here only to reel in a nice sized dab in good condition. This was followed by bits and pieces for a while until I picked up another dab (smaller than the last one) finished of with more bits and bobs. Enjoyed the day and company, not so sure about being beat by a northerner! Thinking of doing the Weybourne thing now on the 30th, must be getting the bug back! feel free to use this IF it`s any good to you mate or edit it to whatever you want mate. cheers,
Walsoken!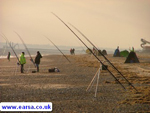 Fecking Yarmouth and fecking weed
Extreme distance? Anyway he had a plan and fished to it for his ounce shy of a pound and a half, fair play to the man. Nowhere is fishing particularly well at the minute other than the shingle, so I guess they did ok under those conditions. Here's the full results and some sensible words from Honourable: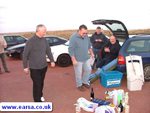 See they'll give a prize to anybody, Dicko and Smiffy fighting over a bottle of Babycham.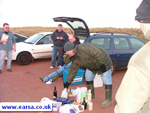 Third placed Macketer grabbing Geno's Jack D, I told you it was a giveaway.
Another fun day, and even if catches were below par it was topped of with a cracking fish despite the weed and despite the wind-chill. Mark's wife Hayley made the long trek along the beach with the children, Shannon & Jordan, to keep the date on Mark's behalf. Hayley very generously brought us a prize too.
The day started badly when I couldn't find an unlocked loo anywhere in Yarmouth! It got worse when I couldn't find the match cards that I'd printed up the day before so we converted the event to a weigh-in as Karl had his digital scales with him.The irony is that the cards were in the back of the car all along - I'd stood a bag of prizes on top of them in the morning, we found them when we unloaded!!
Anyway, to the important bits. Well done Karl for another win, and Cain for a hard earned second place.
Only 10 anglers managed a sizeable fish and sadly, for most it was just the one.
Lot's of weed on the flood and with a lot more east in the wind than predicted it was hard to fish any distance comfortably. Heaps of small stuff close in. My son-in-law Pete had 4 fish in his first 4 casts having never held a beach rod in his hand before. Most 0f the Codling were no more than 20 cms long. Bri even caught one that measured less than 6 cms!!
Full result is as follows:
1st Karl Gibson 2 lbs 3 ozs
2nd Cain Plumb 1 lb 7 ozs
3rd Shaun McDermott 14 ozs
4th-E Steve Smith 9 ozs
4th-E Shaun Dixon 9 ozs
6th Andy Lawes 8 ozs
7th Brian Heritage 6 ozs
8th John Abbott 5 ozs
9th-E Paul Blyth 4 ozs
9th-E Grant 4 ozs
Biggest Round fish, Karl Gibson - Whiting 1 lb 9 oz
Biggest Flat fish, Cain Plumb - Dab 11 oz
Another win? Have I got a selective memory or is Honourable's fading? I dare say Geno will remind me in due course. That really is a dog of a whiting. I see plenty of people report catching pound and a half whiting but few actually see them that big. At that size they really are a lump and a fair bit longer than a 2.5lb codling.
Did Porntash and Fetish blank? Muppets.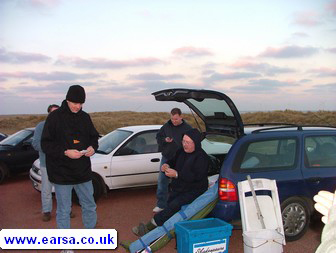 He's smiling honest, Geno picking Honourable's pocket. No pictures of Walsoken just in case the CID or CSA do a web search.
Let's recap, it's not a win on the biblical scale of Digger Fairclough's ICCM massacre, but he's won the match pool, heaviest round fish pool and conned Chris "Jimmy Cricket" Dinsdale into buying the beer, a good days work I'd say, I'm secretly very proud of him.
Top blokes to a man and I'm gutted I missed another good day out, I'll do my best to make the next though I have the feeling the inlaw's will kibosh my plans. I'd strongly encourage anybody to go and fish some of these meets, they're not cliquey (unless you have shoulder chips) and you're bound to have a laugh, it's almost a foregone conclusion. The next get together is the end of year "Shingle Bash" and with the current form of the shingle bank, there should be a few fish caught (kiss of death). It's on the 30th December, all the details are under the "events" messages at Leader Lines message board, get yourselves there and enjoy a good day out in good company, just watch out for pick pockets..
14th December 2007
It's hard to believe but here we are mid December, the festive season about to descend on us in an ever more expensive way and I've only been fishing three times this month. I can't blame Mrs Aitch for my lack of beach time, it's entirely down to work. The fact is that if I don't go young Aitch won't get his pressies, he doesn't appreciate the old sentiment that Christmas is about the birth of christ and has nothing at all to do with Nintendo's and skateboards. I've tried the old "all I got was a satsuma, lucky bag and a handful of walnuts" trick but it just doesn't cut it, his reply was "yeah I know dad, but grandad Terry is tighter than two coats of paint, he's not generous like you", checkmate son well played, I'll do a few more shifts then. I had one opportunity between night shifts and a set of day shifts so I had to go.
Luckily a few mates had time off too, so a social would make up any shortfall in the quality of the fishing. The forecast certainly didn't inspire. A gloomy, windless day and pressure up around 1050mb would leave us with a witches tit for a sea, a bit of colour in the water the only positive, well that and the fact we'd be dry and comfortable for the session. With crap conditions in mind, we decided we'd fish somewhere where the ground might give us a chance of a proper one. We'd meet in Jonet's cafe at Mundesley and fish either Trimingham or the Lifeboat at Mundesley.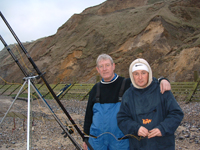 Yourang and Actionboy "I have two trace bars and will use them"
I was knackered, I'd worked the previous 4 nights and was relying on particularly strong black coffee to keep me going. Bri "Yourang" Heritage phoned from Yarmouth asking what the craic was, I told him to pop in and follow me, there's some annoying road works with a huge diversion between Bacton and Mundesley. Bri pitched up just as the barber had finished mine and Aidan's Christmas cuts and we were on our way to the cafe by 11:45.
Pedro pitched up just as we were getting parked, shame the Maid wasn't with him and no I still haven't got my book back! Bless him it's his age I reckon, all forgetful he is. I'd exchanged a couple of texts with Digger too but reckon he must be too busy earning the Christmas spends to fish, either that or he didn't fancy the conditions. Digger was on about treating himself to a couple of new reels, he's such a tackle tart, jealousy on my part I wish I could afford to be!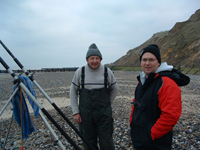 "High ho, High ho its off to fish we go". The other seven dwarves couldn't make it, they had porn movie commitments. Look they've even got the hats for fecks sake! Carlos and Smudge having a babble.
Smudge and Geno were already in the cafe and a portion of high blood pressure with a side of cholesterol duly ordered and devoured. I don't know what it is about a fry up but if there's a finer meal to set you up for a days fishing I've yet to have it. Actionboy turned up with his uncle Carlos and Mickey "Satnav" Wilder and I reckon we're all there. Hang on where's Nobby? He's got mine and Geno's bait too. I sent him a text asking where he was, shortly after the phone range. "I'm at home waiting for you to tell me where we're going and what we're doing!", I thought I'd told him. Truth is between the night shift malaise and texting/calling everybody else I'd forgotten my old mate Nobby. I ordered his food and we waited the 10 minutes or so for him to arrive and the few seconds it takes him to wolf a breakie.
We quite fancied the Lifeboat stretch, trouble is there were a lot of us and the trek up and down the cliff was a bit off putting so we settled on Trimingham. From the car park we could see that the bays in front and to the right of the slip had been well scoured, to the point that chalk and marl were clearly visible. We did think in the cafe that the right might be ok but the rock put me off so we decided to walk left up to the gaps. You wouldn't believe the difference in the beach within a few hundred yards, by the time we got to the gaps the beach was seriously built up. I can't remember seeing that much sand on it here. You could just about step over the tops of the revetments that are often a good two feet above your head, at least we shouldn't need to fish behind them at high water if we lasted that long.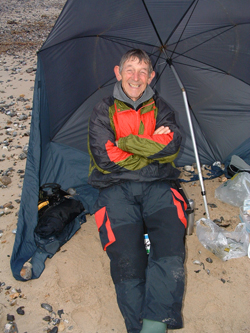 Mickey "Satnav" Wilder, I've never met a more cheerful bloke, well not one that hasn't had some chemical help of some kind. Look at them tabs!
The night before I'd had a call from Gary, he said he might pop down for a fish. We hadn't been fishing for long, I was talking to Geno, when a figure in a red flotation suit made his way up the beach. I asked Geno if he reckoned it was Gary, we couldn't tell he was a too far off. As the figure yomped into sight I couldn't believe my eyes, it was Carl an old mate from Leicester! I had no idea he was coming down and he had no idea I'd be down there, Carl owned a pub we used to drink in when we lived in Leicester and has remained a friend along with his wife Michelle and their kids, Andrew and Lauren. Great to see him, if I'd known he was coming I could've sent the Christmas cards back with him, would've saved me a bloody fortune in postage.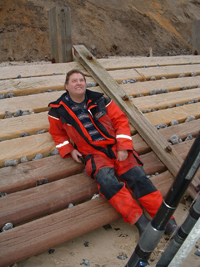 Younger and better looking than Gary! A long old trek for this boy, shame the fishing wasn't good but great to see him anyway. He looks like Red Adair in that suit, maybe he'll come down with the family in the summer.
Notice the lack of fish pictures? Personally I never caught anything worth a picture. I had lots of codling from 4oz to 8 or 10oz and a few just sizeable whiting among the pins. I think everybody had a steady stream of codling and whiting with the odd flattie and occasional slug. Geno fluked a schoolie and Nobby had a decent flounder touching 1lb, the fishing was poor thanks to the weather and conditions.
Actionboy, Satnav, Yourang and Carlos were going to stop on and fish until just after high water, Pedro had to be away early for a hot date with the lovely Sal. Me, Geno, Nobby and Smudge packed up at 19:00 with a plan to autopsy the day over a pint in the Ingleside, Carl left about the same time to make the long drive back to Leicester.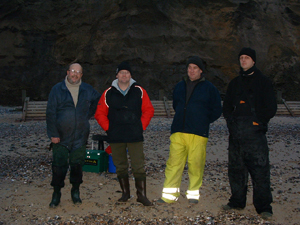 Geno the scowler wanted them all to grimace, they aren't grimacing, that's just how they look. Pedro, Smudge, Nobby and Genocide, look how built up the beach is at the gaps!
No fish caught were worth a picture, but a very enjoyable day despite the lack of piscatorial action. The guys that stopped on continued catching bits and none of the better fish showed. Fishing's not always about catching fish, sometimes it's about catching up with mates, we made some plans for 2008 in the pub and I'm all enthused again. When Paul gets back from Africa we'll put some pressure on him to look at the Jolly Boys trip for 2008. I've already identified some tides for targeting other bits and bobs, lets hope it all comes off, like they say a bad plan is better than no plan at all.
Happy and sad news on the forums this last week. There's been some new dads made recently and Dicko's about to become a grandad again, congratulations to all of them. It's hard to believe, Dicko doesn't look old enough. Saying that he fishes with Lewis and Porntash, Noah looks young next to those two.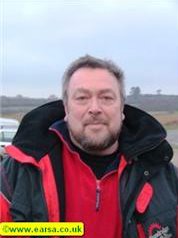 Grandad Dicko
Sad news too in as much as it's Allsoapy's funeral this coming week. I'd really like to attend but I have commitments I can't shake unfortunately. I'll think about him, Hayley and the kids on the day, god bless 'em.
It's a busy time of the year for butchers too, my old mate Stick has been conspicuous by his quietness over the last few weeks, hopefully he'll be in touch in the New Year and we'll get a session in. With a bit of luck I'll squeeze another effort in before Christmas, work and wife permitting, if not I'll get some therapy by talking about it, a man's got to stay sane after all.
9th December 2007
I had an email from Honourable telling me that Mark, a mutual friend, had passed away at 0530 this morning. Mark was a vibrant young man with a lovely wife, 8 year old daughter and 4 year old son.
He'll be sadly missed and fondly remembered by all who knew him, personally I'll remember his cracking sense of humour. A good angler who knew his patch well, the messages of sympathy from fellow anglers and friends are testament to the man. All our thoughts go out to Hayley, Shannon and Jordan at this very difficult time, God bless you.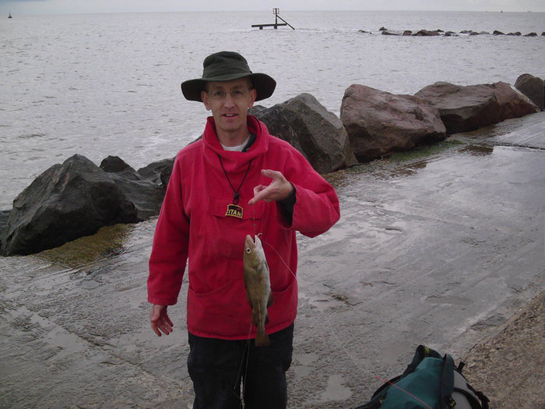 God bless you Mark
3rd December 2007
I had a shed load of bait to use up from the saturday session with the Lincoln Lot. I was on nights Sunday with Nobby so we made a plan to use it up Monday afternoon, plan was to fish Trimingham from 1ish with high water at about half two.
Nobby picked me up around 12:30 on a beautiful bright and breezy day. We got as far as the gas site before I realised I'd forgotten my coat, boots and salopettes. Dumpling. We went back the few hundred yards and picked the gear up, Nobby said "do we need brollies?", "nah" I said, "be a cracking day mate". Two feck ups inside a half hour.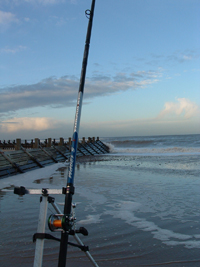 What a lovely day, no need for a brolly then.
We got down to Trimingham to find a roughish sea, well fishable but lots of white water from the groin ends up the beach. If there was any weed in that it'd make it a real pain. Nobby reckoned it was unfishable so rather than go back the way we'd come, we carried on to Cromer to see if we could get on the pier. We got there to see fencing up stopping you getting to the pier end and all the available space taken (my luck is turning hehehehe). So we had to make our way back down the coast. We did consider the shingle but thought it'd be too rough for the flats and whiting so we aimed for Bacton or possibly Cart Gap.
We stopped in the new car park and there's a lovely surf on the bank and in the edge, a good 5-6' rolling in the colour of chocolate. Perfect. Why the hell had we messed about, it was now nearly high water and we were just starting to think about wetting a line. I would guess we were fishing by 2pm and it wasn't long before Nobby had the first of a few whiting, followed quick style by a baby codling. We saw loads of half to three quarter pound codling in early autumn and it looked like they were back as I followed Nobby with whiting and small codling.
No clouds just a lovely soupy, rolling sea. Fecking perfect.
I think maybe that tidal surge we had has knocked the fish about a bit and it feels to me like they're just settling down again. Within an hour of the ebb I have a classic slack liner and soon a plump codling just shy of 2lb is in the bucket. Me and Nobby are still getting whiting and mini codling most chucks and not a sign of any weed despite a good old sea on.
Almost a perfect session so far, we'd forgotten about the earlier messing around trekking round the county to end up in our own back yard, then the rain started. We'd spoken about taking brollies/shelters and here we were with a stiffening WNW and it pissing down. It wasn't quite biblical rain but it was bad enough. I guess about 2 hours into the ebb and the wind and rain eases, lovely. We were already wet so there was hardly any point in packing up, so we decided to give it a go and see what happened. I was rewarded almost as soon as the rain stopped. Me and Nobby were stood watching my rods when the closest nodded forward and eased back straight. Don't you just love it when they do that. Another 2lber soon joins his brother in the bucket.
Within 15 minutes of that fish and a couple more "bits" the wind and rain started again and did for our enthusiasm. So a short 3 hour session ended with a few fish and two drowned rats, soaked but not unhappy with our efforts. Nobby reckoned it might be his last session before Chrimble, yeah right!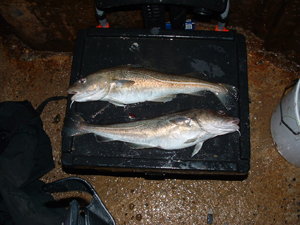 Lets hope this is the start of the season and we get a few up here this year, if they were at Bacton they would've been at Trimingham too.
1st December 2007
Papa Smurf and aunty Jen were the first over, they had to be away for lunchtime on the Saturday so they parked the caravan on the Thursday and hooked up to my garage. It was Papa Smurfs birthday on the Friday, 68 years young bless him, I hope I'm as fit at the same age. Given the fact that uncle John wouldn't be able to fish the full session on the Saturday with the rest of them, I managed to get some worms off Lee and we sneaked a session in on the Thursday night.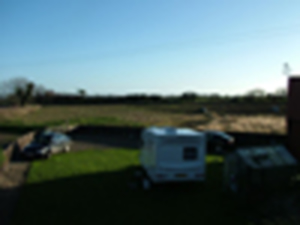 The blurry gypo's are back, lock up your sheds!
The shingle had been fishing its nuts off, loads of good whiting and flatties with odd codling, I'm sure there'd be more codling caught if there wasn't the great numbers of whiting. A match the weekend before had seen double figures needed to get into the top 5 with good weights all the way. So it was a no brainer really, uncle John wanted a few and there was a few on the shingle so we'd have a go.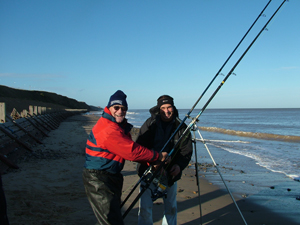 I realise now what I've done to the pictures, next time I won't just resize them and save them, I'll save them for the web duh-huh. Papa Smurf and uncle Pete playing with their rods.
I decided on the Sheringham end of Weybourne thinking it would be quieter, we got to the beach to be confronted by a 6' swell heaving in on the back of a stiffish WNW wind. That's messed the flatty fishing up and we'd do well to snare any of the whitings too, though if there were any codling we'd have a better than good chance. We started at around 1830 and managed a couple of decent whiting each mid flood. A promising start which was never fulfilled, as the tide built so did the swell and the whitings moved off to join their flat brethren. Codling or nothing then, we'd had enough of nothing by around 2200 so packed up for an early night.
On the way back through I picked some kit up from Pete for the rest of the Lincoln Lot to use when they arrived on the Friday for a session on the Saturday. Fishing's never a waste of time but I was a bit disappointed given the shingles recent form, the wind went SW Friday and Friday nights report were of more big whiting and good flats with odd codling, feck my luck eh..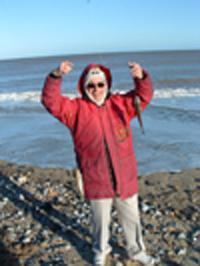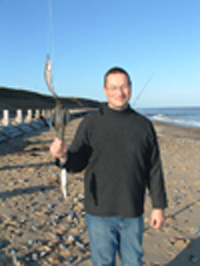 I'm gutted about the pictures, maybe I can do something about the quality. here's Compo and Skins with a double shot apiece.
I'd roped Geno and Smudge in to give me a hand with the Lincoln Lot, didn't take much persuading, it's a day out fishing after all. Forecast was for a bright and breezy day with the breeze from the SW. SW winds can often bring weed so we decided to fish behind the gas sites where the longer groins would push the flow and hopefully the weed out of range, shouldn't be too much trouble anyway as it usually goes on the ebb. Nice and quiet behind the sites too with only occasional dog walkers to bother us.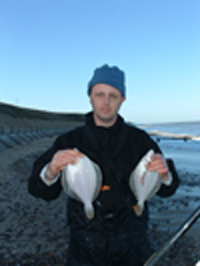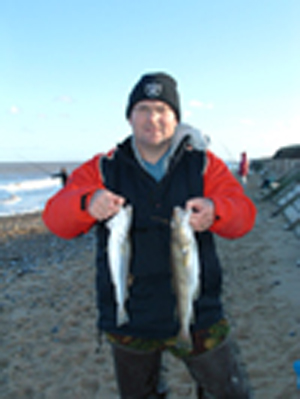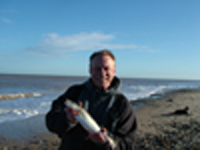 The Scowler with a couple of cracking sprat dabs, Smudge with a 2lb codling and a 40cm+ whiting and yours truly with another 40cm+ whiting. I look better blurred, what a lovely day.
I set up first with Compo, then Skins, Smudge, Geoff and Geno together (the beginning of a beautiful relationship) with Papa Smurf and uncle Pete end peg. I wasn't that confident really, neap tides bright sunny day and a flat sea. There was a nice colour in it but that's all that we had in our favour. Saying that it would at least allow us to fish seaward of the revetments and nobody was going to get cold and wet, unless your Skins and stand there like Forest Gump while the tide comes in around you! Feckwit!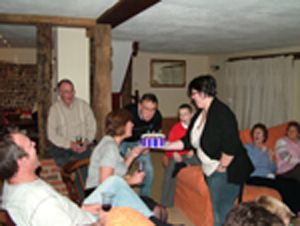 Papa Smurf and Linda's birthday, Papa Smurf is trying to blow the candles out while Linda's trying to take a bite out of the cake, I wouldn't want my hand anywhere near a woman's mouth while there's chocolate cake about
Smudge was first in with a nice whiting on the very first chuck, then Skins with a double shot. In fact everybody seemed to be catching from the off. Whiting one and two at a time, some bloody good ones for round here too. I had one 40 odd cm's which you might expect off the shingle but not Bacton. A smattering of other bits too including some awesome dabs for Geno a schoolie for Compo and some slugs for uncle Pete and uncle Geoff.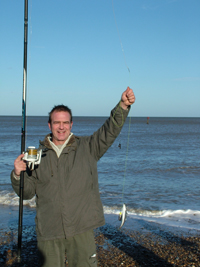 Uncle Geoff showing some class. Him and Geno fished together, it's lurve thang now. I had a picture of Geno casting with that mangle, he'll be pleased it's one I fecked up.
At around high water Smudge had a nice plump codling a good 2lb, looked very promising for the ebb though the promise never materialised and the whiting kept on coming. Perhaps if there hadn't been so many around we would've had a codling or two, we can't complain though there was plenty of action for everyone.
We had a cracking days fishing, lots of fish, good weather and a mighty good craic. Top that off with a couple of sherbets and I'm as happy as a pig in the proverbial. Geno and Smudge left us after the pub, AFTER I BOUGHT THEM A DRINK oops did I have the caps lock on and the colour changed? The Lincoln Lot had rented a nearby holiday home and we all retired around 5pm for a shower, change and a drinking / chinese reconvene at 1900, bloody marvelous. Nobody was up too early Sunday morning, me and Skins took the kids for a swim and the rest of them met us afterwards for a carvery lunch before they all wend their ways back to Lincolnshire.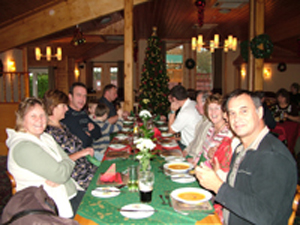 Family dinner, a super weekend only spoiled by my amateur image manipulation, what a feckwit I turned out to be.
I love having the family over, we don't get together often enough especially as we're a large close family. It's great that they make the effort to come here to see us too, wicked time had by all. A big thanks to Genocide and Smudge for their time to help and for Pete "Digger" Fairclough for the loan of some kit, cheers boys. Unfortunately I have around 150 top quality "Northrepps" worms to use up, guess I'll have to go tomorrow with Nobby then hehehehe..
I'm absolutely gutted about the photos. I took loads of good pictures and the family gave me copies of theirs too and what did this numbskull do? I messed them all up. I tried to reduce the size and ended up with all blurred crap! I think I should've saved them for the web rather than just reduce the size and save, lesson learnt I hope.