25th November 2007
In a misguided economy drive, me and Nobby dug bait on the Saturday for the Sunday match. What a grueller, loads of extra mud on the marsh from the storms plus where we normally dig had been hammered for a few days before hand. Upshot is we struggled to get enough each, still I have some wraps in the freezer and I'd take a few crabs too.
Nobby picked me up just after 6am and then off to pick Smudge up, an uneventful drive had us at Dolly's Diner in Lowestoft for about 7:15. We were the first there swiftly followed by Actionboy with his uncle and Satnav. Cracking lads they are, never stop grinning and laughing and the mickey taking is merciless. Mickey's called Satnav due to his ears, I swear to god each one's as big as his face!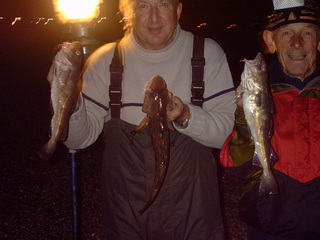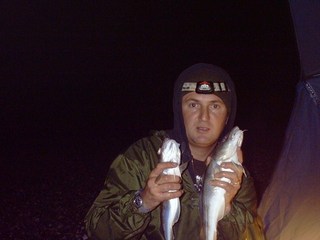 Actionboy's uncle and Satnav followed by the man himself with an undeniable Lawrence of Arabia look about him, it's that hoodie and headlight.
A cracking breakfast at Dolly's, they don't usually open on a Sunday morning, but Mark "Aunt" Bessey's missus works there and they decided to open up for us. The breakie had everything bar a lump of black pud, top stuff and just what we needed to set us up for the day.
Registration in the car park at The Jolly Sailor's then a stampede to the beach. There was a herring boat working close in directly below the car park, though he was just finishing as we got there. I fancied it down by CEFAS though room was going to be an issue wherever I fished. I made my way down towards CEFAS and settled near a groin to my left. Two young lads were fishing on top of the groin to my right and Smudge settled on top of the groin to my left, piggy in the middle then.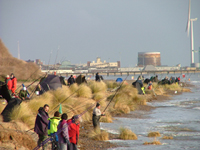 The wind was perfect for the ebb at Pakefield, stiffish NW would get behind the lead and keep the line nice and neat, lovely. The all in sounded and I banged one out a little uptide as far as I could. It went well, there was a bit of crinkly, unused line left on the spool. Next to no tide and I bang the other one out to join it. We were allowed two rods and a pennel or two hooks on each, I'd opted for pennels and hoped for codling. The sea was flat and a bit coloured and looked for all the world a "whiting" sea. I'd said that to Andy Funnel, Nobby and Smudge before the off, so why did I continue with pennels all day? Especially as it was a measure and release match. Thanks to Tony "foot fetish" Friend for the pictures, I put new batteries in my camera they were obviously duff. It seems to happen a lot in our house, Aidan needs batteries for his toys so when they run out they get put back in the drawer? It's a fecking circus our house at times.
A good rattle of the tip first cast resulting in nothing. I got tangled with the kids to my right, unavoidable really. One of the lads was as keen as mustard and had the beginnings of a decent back cast, he was pumping me for advice so I told him to join Lowestoft Sea Angling Society. As the tide picked up I managed my first counting fish a dab of 27cm followed quick style by a pout 20cm on crab. Then the weed started as it ebbed hard. Not tons of it but enough to cause problems with such a strong tide. When we got there there was a lot of water up the beach, around 1m more than forecast so it had to go somewhere, it went like a runaway train for an hour and a half.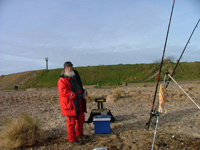 "Santa" from the Welsh team. They were a cracking bunch of lads and surprisingly for Taffs they never sung once or mentioned rugby and mining. There's lovely! God knows what they made of us. If we'd had a hillside we would've kept a welcome in it.
I'm still fishing with pennels, I should've fished with flappers closer in when it ran hard, what a muppet. To be honest I think I just got into the casting, it really was going well and I thought I had a chance of a codling or two still. Smudge managed one at 41cm, I had to get one now else he'd be unbearable on the way home. I had several drop backs but only one resulted in a fish, a nice whiting 33cm. I think the bulk of the "bites" I had were due to loose weed hitting the line and dislodging the lead. Smudge managed a couple more "bits" and inched in front of my massive 80cm, flappers still in the rig wallet.
I was also getting annoyed now by the fact I couldn't fish it properly. I should probably have set up where Smudge was. I had Smudge casting over my bow (he didn't have a choice) and the young lads occasionally catching me too. Chris Dinsdale popped down and was witness to my frustration. At about a quarter to two, the match finished at half past, I cast in anger. I had a proper raggedy on and promptly fluffed up and cracked off. I trudged back to my kit and packed up, dropped my gear in Smudger's peg and walked up to Trev for a chill out. You may remember Trev from the boys Irish trip, he's "the maid". A good angler mind you and showing a bit of class. Smudger's measly metre was the best I heard until I saw Trev. He'd had 3.2m. Sounds a lot doesn't it? Fact is 12 sizeable whiting in a 5 hour match would've have beaten him, an idea just how tough it was on the day.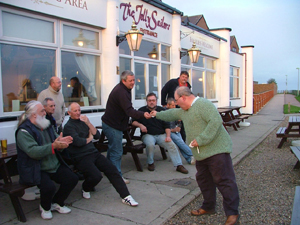 Trev relieving Honourable of some coin.
The whistle couldn't come quick enough for some. Honourable had shared a peg with his old mate JB from Wales, between them they'd lost 20 odd sets of kit! Jesus christ on a bike I don't carry 20 sets. A swift pint at the Jolly's and it was clear England had overturned the Welsh lads home leg lead. It was a thoroughly enjoyable day and if anybody reading that doesn't fish the Leader Line meets, they should. Good craic with some good lads and it's never too serious, fun is the most important thing. A quick team photo another pint of Stella, rude not to when Nobby's driving , and I'm home for 17:30.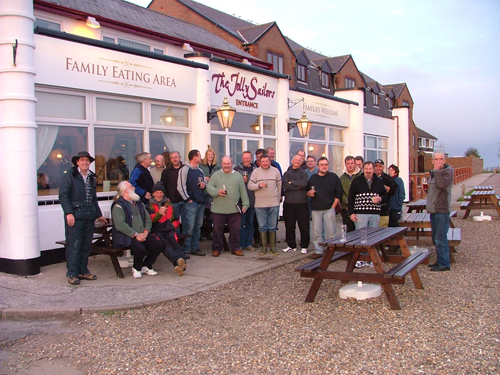 Some of the competitors who enjoyed the day out.
The full results copied from Honourable are:
Everyone entered all the 100% pay-out optional pools.

Fished on a catch & release, simple total length basis, the individual winner on the day was 'Friends of Leader-Lines' England' s Trevor Elliott with 3 metres 20 cm's. Trevor's best fish in an 11 fish total was a 44 cm's Codling and this followed up his 4th place on the first leg in Wales. Well done Trevor. (Match pool 1st = £30.00)

Second (£ 20.00) was Steve Smith (Eng) with 9 fish for 2 metres and 2 cm's including a super Dab of 30.5 centimetres, whilst Stephen (Sandy) Andrews (Eng) carded 6 fish for 1 metre 75 cm's, which included a 46 cm's Codling for third (£14.00)

The best return by a Welsh team member was the 3 fish for 94 cm's carded by my old mate John Baker (JB) (£16.00)
Trevor Elliot picked up the pool (£16.00) for the top English team performer.

The best flatfish pool (£32.00) was won with a 35 cm's Flounder, caught by 'Alice' from Wales', and I must apologise once again for my error (resolved) at the presentation.

The best round fish pool (£32.00) went to Sandy's 46 cm's Codling.

On the team front, 5 of the Welsh contingent put in returns and fortunately, virtually all of the English anglers that made the trip to Burry Port in June carded good returns. The returns of the angler that were present in the first leg were taken before any others to work out the team result. On the Cefn Sidan the Welsh had carded a total of 4 metres 57 cm's in June against our 3 metres 37 cm's. That lead of 1 metre 20 cm's was soon erased and today, Wales top 5 returned a total of 2 metres 10 cm's against the 8 metres 84 cm's returned by England's top 5.

The final overall totals for the two legs were therefore England 12 metres 21 cm's against Wales 6 metres 67 cm's.

The Dragon has been slayed (this time!). Here's looking forward to the next.

Full returns from the cards handed to me today were as follows:

1. Trevor Elliott 3 m 20 cm's (England) fished 2 legs.
2. Steve Smith 2 m 2 cm's (England)
3. Sandy 1 m 75 cm's (England) Fished 2 legs
4. Pedro 1 m 49 cm's (England) fished 2 legs
5. Andy Lawes 1 m 41 cm's (England) fished 2 legs
6. Peter 1 m 36 cm's (England)
7. Roger Allerton 1 m 24 cm's (England) fished 2 legs
8. Tony Friend 1 m 6.5 cm's (England) fished 2 legs
9. Terry Smith 1 m 1 cm (England)
10. Maria Heritage 99 cm's (England) traveled to Wales but didn't compete (Took Bri's CC for a day out.)
11. JB (John Baker) 94 cm's (Wales) fished 2 legs
12. Shaun Dixon 86 cm's (England) fished 2 legs
13. Ian Holmes 80 cm's (England)
14. Jamie Bale 66 cm's (England)
15. 'Alice' 63 cm's (Wales) Fished 2 legs
16. Brian Heritage 49 cm's (England) fished 2 legs
17. 'Bomber' 36 cm's (England)
18. John Abbott 34 cm's (England) fished 2 legs
19. Steve 'Wellies' 26 cm's (Wales) fished 2 legs
20. Andy Mitchell 25 cm's (England)
21. Andy Funnell 23 cm's (England)
22. 'Kim' 19 cm's (Wales) fished 2 legs
23. 'Den' 18 cm's (Wales) fished 2 legs
There were a total of 32 anglers fished today and 9 failed to return a card (one being Nobby, see it was a tough day). I'm already looking forward to another double header next year and hopefully I'll be able to make the away leg too. I would have this year but it was the weekend after the Jolly Boys trip and the same weekend my father inlaw had died on the year before, always next time hopefully.
I won't be out before next Saturday unless I squeeze a trip in Thursday night with uncle John (papa smurf), he's coming over with the rest of the Lincoln Lot this weekend. I'm looking forward to it, Mrs Aitch is flying round the house tidying up, I didn't realise the carpet was biege..
20th November 2007
Billy no mates here decided to grab a solitary session down at Mundesley today after I'd dropped Aidan at school, wasn't a bad session on a poor tide in daylight. In fact I'd had a good day until I got home and saw the furore about the inept fisheries minister and cod quotas, anyway feck that knob jockey, here's my fishing day.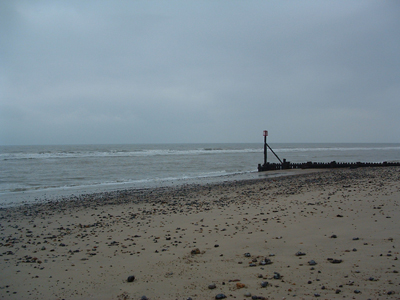 I arrived at around low water (0930) to be greeted by a nice swell on the bank and a little bit of colour. The part I like to fish has a distinct gulley running from the end of the groins to the bank, clearly visible kicking up what little swell there was. Its a nice spot, another couple of groins towards town beach and the gulley is replaced by flat sand as it is one groin left towards Trimingham. It was really obvious today and I've tried to capture it in photos, the gulley is about 5 groins long with distinct flat bits at each end.
Enough seascape, I fancied it. I thought the sea might lift a little more as it started to flood and there was enough colour to give me hope of a codling, I thought I'd catch whiting at least. The spot usually holds the odd school bass and a few flats though it looked too lumpy for dabs. I put one around 40 yards into the gulley and sent the other just on or over the bank, it's hard to gauge and despite it looking close its still a reasonable bung to get over the bank.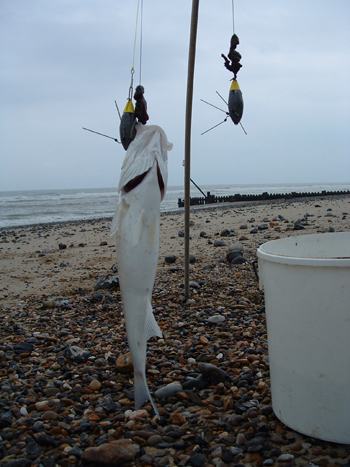 First bung with the short rod is met with a familiar rattling bite, it was so obviously a schooly before I even picked the rod up. That's one of the nice things about fishing at close range, every bite is magnified, to be honest it's just nice to see the tips move. A good start then and a 1lb schooly is soon on its way back.
Motionless tips for the next hour and a half before another pea from the same 1lb pod schooly joins his brother back in the drink. I'm always surprised by the number of schoolies around this time of the year, one year I'm sure i caught more than I did codling. They are chunky fit fish too and are probably chasing the pin whiting, I've often wondered why the bigger bass don't stay, there must be shed loads of feed for them, especially as they won't have to compete with cod if bungle the minister has his way.
No more politics I promise. There was a flurry of activity for perhaps an hour mid flood, resulting in three more school bass and a couple of flounders. The biggest two bass were a little over 2lb and the fittest looking fish I've seen in a while. One of the flounders was a nice one too, a pretty fish only 8oz or so, small but perfectly formed. Its easy to see how they get mistaken for plaice, some people see red/orange spots and that's that. If only it was the case, flounders and dabs often carry similar coloured spots, the difference in my experience is the shape and how vivid the spots are, trust me you'd know if you had a plaice.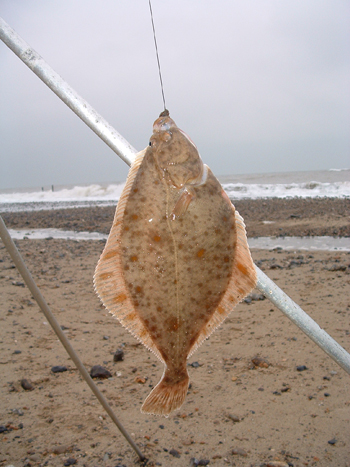 By now the sea was building into a lovely cod sea, nicely coloured with a good swell, shame it was a neap. I think that's half the problem with some of our beaches on small tides. Unlike bass, I think codling and whiting like a bit of water over their backs. In my theory then the bank which is normally a fish holding/attracting feature becomes a barrier to the fish getting into the gulley, they want a bit of water to come over the bank. That's my excuse for not catching codling in a cracking cod sea! I don't think it's so important on flatter beaches and perhaps I should've fished the Town beach or the Lifeboat, but where ever I fish the gulley beaches, I find they fish better on bigger tides. My best chance of a codling would be when there was enough water to ease the surf on the bank.
No whiting either. I was really surprised by that. Me and Nobby went the tide before the surge and had plenty of them in a proper rough sea. It should've been nigh on perfect today, swelly with colour but not heaving in. Maybe they're all up on the shingle already, I keep hearing reports of good fish up there.
I had to pick Aidan up again so I started to pack up around 1415, last cast on my "out" rod and I get what I think is another flatty bite, just gentle plucks. I'm starting to get pushed for time so I just pick it up and wind in, missed it, never mind. A few seconds later and the leader appears shortly followed by the lead and a silver fish, another schooly around 4oz! In total I'd had 6 school bass and a couple of flounders, not tearing trees up but 8 fish in 5 hours during daylight on a neap isn't too shabby. Barely any weed either which helped make it an enjoyable day.
That's me now until the Anglo-Taff match at the weekend. Some of my "mates" are going to Aldeburgh tomorrow, I hope they do alright. Banter is cranking up ahead of the Home International at the weekend, I reckon we'll have a good time and the fishing should be ok too. The forecast is ok (so far) and tides are building,lets hope Pakefield fishes well.
13th November 2007
I was going to have a go and use up my left over bait last night, unfortunately one of mrs Aitch's lovely chicken dinners did for me, actually a second plate full of roasters swung it. I had my gear in the car though and decided to go after I'd taken Aidan to school.
I let Geno and Nobby know what my plans were and that I had the worlds supply of bait if they wanted to join me. Geno said he'd be there if he got up in time and Nobby had stuff to do with cars and couldn't make it. I dropped Aidan off at school (he's first in when I'm going fishing) and was at Trimingham for 9am, greeted by a good swell the colour of chocolate.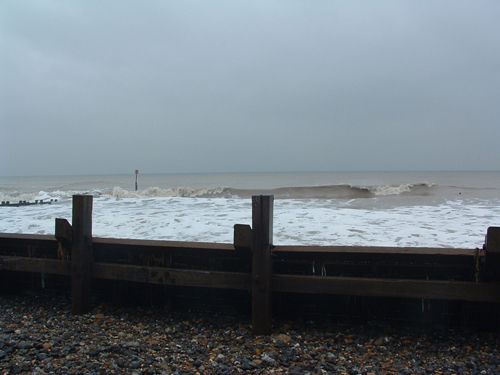 Stonking looking sea, unfortunately full of loose weed. The black blob that looks like a seal centre right of the picture is weed gathering on my line.
I've got to catch in that, at least that's what I thought. Geno's bad back kept him away (lazy fecker can't get off it in the morning). One rod pinged out with a big lug bait on a pennel and within a couple of minutes the tip's craning over. Fecking typical Trimingham, it's hardly ever weed free when it looks perfect. The best of it is the weed wasn't thick, just enough loose in the surf to create a washing line and eventually drag the lead out of the deck. I stuck it for a couple of hours before packing up, I'm sure I'd have had one or two if I could've fished it properly.
I decided to pack up and take a look at Bacton on the way home, if it looked ok I'd have a go if not I'd score some brownie points. I looked over from the new car park and there was a bit of sand on the beach, a nice surf on the bank and a bit of water still inside. Feck it an hour won't hurt so off I went again. Just as I fired the first cast out, Stan Northgate pitched up. I've seen Stan a few times on my local beaches, he lives at Mundesley and has fished round here for years. He set up alongside me and I gave him half of my bait.
Third chuck in and I have a proper bite, I pick up wind down and there's a bit of weight. Gingerly down to the waters edge and the fecking thing comes off in the wash of the surf. Oh well at least there's a few about I thought. I told Stan just in time to see one of his rods go potty. He had some weight at the start too but lost it on the way in, or at least he thought, then in the surf the weight returns and there's a nice fit schoolie around 1.5lb.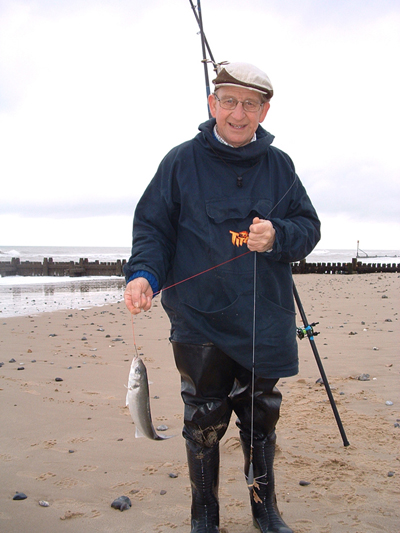 He's got ears like Micky bless him! Makes a change for me to take a reasonable picture, note the pulley rig, popular even on clean beaches.
Not only being done by the old boy but it was on my bait too! Good luck to him I say, nice to see a fish. Stan could use those Zzipi's too, he told me some bloke called Paul Kerry had shown him how to cast years ago at Mundesley, I said I'd never heard of the bloke, Stan explained he used to be a good caster and catch a few round here (I'm going to pay for that). Nobby came down for a babble and the very next cast I reeled in a pout which saved a blank at least. I had a few more chucks before I had to head off to take Mrs Aitch to drop her car at the garage.
On the way off the beach I took a picture of Castaway's steps, they used to go down to the beach before last weeks storms, news has been full of stories about proposals to sacrifice coastal villages to the sea. Don't believe all you read, 40% of the nation's gas energy comes ashore here and that 40% is predominantly feeding London and the Southeast, they won't sacrifice the villages but they have just devalued half of Norfolk's houses.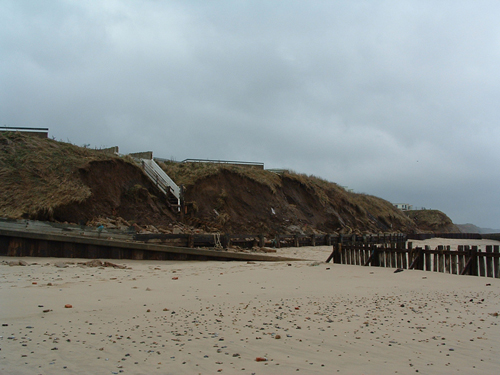 Another chunk out of the cliff and a repair bill for a local business.
I notice that a lot of people are using things called "avatars" on internet forums, a mate from across the water in E Yorks has one that made me giggle, I've tried to reproduce it below, hope it works.

Macky has this as his avatar, I nearly shat when I saw it!
I have work now for a few days and a friend has phoned tonight asking for help fitting a kitchen worktop, so I doubt i'll be out before the Anglo-Taff return match the weekend after next, I hope I don't miss anything between now and then.
11th November 2007
It finally came round, all the weeks of planning and running around, the bickering and toing and froing all boiled down to a few hours on remembrance Sunday...
I picked Pete up 6am, we'd arranged to meet Geno at Floaters for the registration at 7am. A quick stop off at Johnny's to pick some blacks up and an uneventful trip had us in Yarmouth for 7. The bloody shop is closed, there's no sign of Geno or the honourable Abbott, so there we stood in the cold and rain until Jake Smith arrived and the three of us stood in the cold and wet!
Finally Geno arrived followed not long after by the honourable Abbott and a steady flow of "punters" waiting to register and get stuck into a bacon roll and a brew. Its always good to see old mates and a bonus to make new ones, me and Geno set up the registration for Norfolk at the far end of the shop, unbeknown to me, under a trophy cabinet.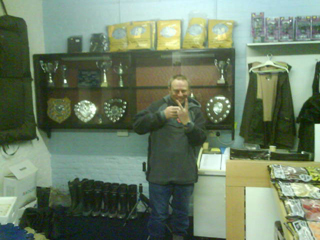 Before the melee a quick brew, bacon sarnie and on with the job in hand, Geno reckons that's as close as I'll get to a pot, selective memory that boy.
Registration went smoothly and a big thank you is due to Simon at Floaters and to Hayley and Allsoapy for providing some top notch bacon rolls and Moira for cooking the sausages, just what we all needed before braving Yarmouth's bracing front. The weather was doing its best to spoil proceedings, there was a stiff old WNW blowing and the remnants of the surge spoil was strewn all over the beach and at the waters edge.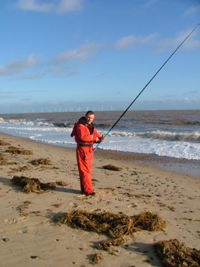 Andy Lawes and what looks like a flock of dead highland cattle, the only way through it early on was to hold the rod up at the waters edge.
I'd mentioned in an earlier post about the lady from Anglia TV emailing me re the licence proposals in the marine bill. Tom couldn't make it so me and the honourable Abbott stood in, a camera man called "Seb" met us on the jetty and promptly wiped out an hour of our match, still it'd be worth it if it got our case out to a wider audience. It would've been on the early evening news Anglia tonight if it wasn't for another case of bird flu reported in Diss, either way it was on their website, the link's below:
http://www.itvlocal.com/anglia/news/?player=ANG_Home_26&void=117733
The fishing was hard. There'd been some fairly heavy angling pressure on the venue for a few days, since the surge basically, and the weather was cack. Bright then dark, cold and blowy and the omni present weed. My predictions on the winning weights were looking a bit sad now, it was a real scratch with only rumours of barely sizeable codling. A figure marched across the beach towards us wearing shorts and wellies, I swear to god I thought it was that Jimmy Cricket or something, Chris Dinsdale joined us for a babble.

Dins, he had everything but L and R on his wellies and the daft titfer, nice old boy and good company, I hope the loss adjuster gets his gear back and we'll have a fling somewhere.
I'd managed a whiting and a dab while sharing a brolly with Geno who was still fishless and banging out pennels with half a marsh of lug on them. I was using my killer 3 hook rigs that I'd used on the shingle with Pete and it wasn't long before I added another dab and Geno is rooting around in his rig wallet. Actionboy turned up with his little lad, poor little mite had a coat on about 4 sizes too big and was dithering. To stop his old man rabitting on and freezing the poor little bugger, I stuck a quid in his hand and told him to get his dad to take him to play the machines in the arcade.
It was around mid match and I had a call from Pete, I told him what I had, he was down towards the monument. He told me he'd had a couple of codling the biggest getting on for 3lb and the other a slink, add to that a dab and a whiting and he was well placed. I told Geno, we thought it might have been a wind up, but we hoped it was right, Pete was on our side. I lost a set of kit and Geno starts to find odd dabs, some nice ones too. I lose the fish and bust my brolly.
I finally managed a couple of slugs in the final hour of the match, Geno by this time has got about 2lbs to my estimated 1.5lbs, but looking around us we were doing ok, we hadn't seen much of anything caught and only heard of Pete's decent catch. There was a rumour of a 6lber up near the Britannia pier, but that's just what it was, a rumour. The leg end turns up with the lovely Mrs Kerry and stops for a chat, before depositing a tenner with honourable and clearing off for a cooked dinner, basda.
Me and Geno arranged with honourable to weigh in quick, sling our gear in the car and shoot up with scales to the south end to weigh the guys in down there. We couldn't get on exactly where the plans showed, but managed to make contact with the lads down that end and weighed them in outside Sarah's tea rooms. The best weight we registered was 2lb 13oz for a guy called Brian fishing for Cambs, again there wasn't any huge weights and quite a few angers didn't weigh with those that did scraping by with a few bits. As we were weighing in, I didn't notice Tony "used to be my" Friend taking a photo of mine and Kag's footwear! The picture now finds its way onto a forum and the piss taking is merciless, still what goes around comes around, I'll have 'em.

Do you reckon Mr Friend has a secret foot fetish? I admit it I wear crocs, I don't play the acoustic guitar or sing folk songs.
After a few detours in Yarmouth, we finally found our way back to the Lacon Arms to hand in our results to honourable and Allsoapy. Pete had got a lift from registration to his peg with Trev, he was stood outside the pub when we got there. He told me he finished with 5lb 10oz, I reckoned he'd walked it, the biggest weight I'd seen was 2lb 13oz, I think his biggest codling was that big.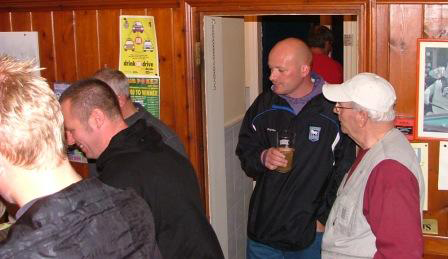 Suffick captain Jake Smith crying in his beer, note the grin on Geno's face, see he's not always scowling.
It was clear pretty early on that Norfolk had won on home soil, the top five weights from each county counted for the totals and Norfolk filled 4 of the top 5 overall. My predictions below were fairly accurate result wise, Norfolk won with Essex just inching out Cambs and Suffolk propping us all up. As soon as I get the full results I'll post them up, but here's the main winners:
The ICCM 2007 Winners - Norfolk with a top five aggregate of 14 pounds 12 ounces
Second (by a whisker) Essex with 8 pounds and half an ounce
Third - Cambridgeshire returned 7 pounds 13 ounces
Fourth - Suffolk top 5 aggregate of 1 pound 5.5 ounces

Individual Winner was Pete Fairclough (Norfolk) with 5 pound 10 ounces
Second - Brian Hall (Cambridgeshire) 2 pounds 13 ounces
Third - Shaun McDermott (Norfolk) 2 pounds 9 ounces
Fourth - Steve Jackson (Norfolk) 2 pounds 4.5 ounces
Fifth - Karl Gibson (Norfolk) 2 pounds 2.5 ounces
Sixth - Paul Hillier (Norfolk) 2 pounds 2 ounces
Seventh - Guy Bickers (Essex) 2 pounds 1.5 ounces
Eighth - Ivan Root (Norfolk) 2 pounds 1 ounce
Ninth - M Hornigold (Norfolk) 1 pound 14 ounces
Tenth - Shaun Womack (Norfolk) 1 pound 12 ounces.

The biggest Flatfish went to Kevin Thorpe (Essex) for a 12 ounce Dab
The biggest round fish (also won the special prize for best Codling) was taken by individual winner Pete Fairclough (Norfolk) for a Codling of 2 pounds 13 ounces

Top Junior was Ben Plumb (Cambridgeshire) with 14 and a half ounces.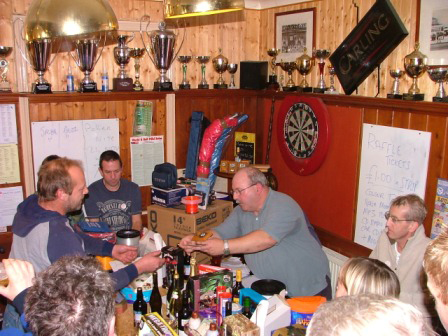 Pete getting his pot and wedge from Honourable as Allsoapy looks on.
Just before the Pete Fairclough show starts, I should mention a little more about my predictions. I said Walsoken would blank and Cambs just miss out on second, and sure enough that came true. What I couldn't predict was that Walsoken's son would be the top junior, well done Ben lad! He was chuffed to bits with his England top, he really is a clone of his old man, poor little sod. Walsoken said it was unfishable where him and Blaver were, I said where did Ben catch his 14oz then? Pair of numpties shown how to fish an "unfishable" beach by a junior!
Let's just tot up the man's winnings. He finished top weight overall, he was top weight for Norfolk (duh huh) and he had the heaviest round fish with a codling 2lb 13oz and also a special prize donated of £50 for the largest codling. Don't even get me started on the raffle, he was so embarrassed going up every other number shouted he sent me. I made sure I picked prizes for Tina and the boy, he'd already got a car cd player and a beach buddy.
Did I mention I bust my brolly? What a star, the guy wins a beach buddy and gives it to me, what a player. Trouble is I've done nothing but pull the piss out of people that fish from portaloo's, now I find myself a proud owner of a pink one, yes that's right a pink one. Sat in my pink buddy wearing my crocs I'll look more camp than Butlins, still at least I'll be dry.
5lb 10oz was a bloody good weight on a hard day, and for once he showed a bit of class. All I know is my car needs a service after creaking all the way home from Yarmouth under the weight of his prizes. I won a voucher for Sam Hooks (I think nigh on everybody that caught won something) and a tin of sweets in the raffle, all in all a good day out and I think we've raised over £1100 for the East Anglia Children's Hospice, bloody marvelous.
I was going to go tonight to use some bait up but Geno cried off and Nobby was too busy, I didn't fancy a solitary so I'm off in the morning once I've taken Aidan to school, I'll let you know how I get on.
8th November 2007
What a sea. Tidal surges, howling NW gales, sleet and hail, for the first time this year it felt like winter. Me and Nobby managed a few hours despite the doom and gloom forecast. High water was at 6pm.
We reckoned we'd get on at the corner of the revetments, the tidal surge wasn't due until the next high water and we made sure we had an easy off route from the beach. The revetments would hold a bit back for us, the only downside is we'd have to fish over them. I'm not going to drag this one, the sea looked great and I was certain we'd catch codling if they were there. What I didn't expect to catch was whiting, I usually associate them with coloured, less lively seas, yet that's what we caught. One a chuck, sometimes two on pennels, size wise they varied from "live baits" to 1lb fish, the sea was thick with them. Weird innit sea fishing, great cod conditions and all we catch is whiting, I'm looking forward to the next time it looks good for whiting.
We fished as long as we could before finally getting blown off (childish snigger) around 8pm. The wind started out as WSW gale force which wasn't too much of a problem, died to nothing at high water then went proper NW on the ebb. There was some weed on the flood but not too much and it was that nice easy off red stuff. The gale force NW held the ebb up no end and the water was up as far as the high water line when we left at 8pm.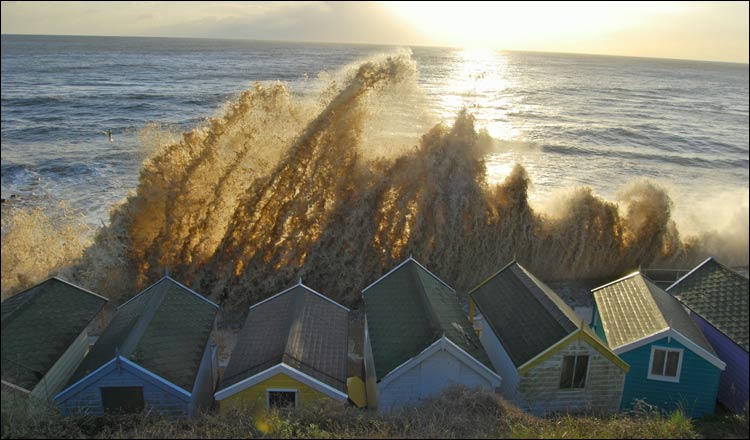 I skimmed this picture of beach huts at Southwold off the BBC web site, why shouldn't I they skim a licence fee off me every year. I bet there's been some worry spilt over latte in Chelsea this morning.
I reckon this Sunday's ICCM will throw up a few fish as long as this rough up doesn't bring too much weed, I hope the Sea League match on the North beach tomorrow drags it all out for us! Either way I reckon you're going to need double figures to frame and the winning county will be Norfolk, below are my predictions for the team event:
Counties
Norfick (Won by a little over a stone despite the whole team packing up an hour early to be first in the pub)

Essex (Jellied eels and whelks were the secret bait, even that couldn't help against the quality of Norfick)

Cambs (Walsoken blanks and the team miss out on 2nd spot by an ounce, Abbott dry slaps Walsoken)

Suffick (Jake "smiffy" Smith was pleased with the result, he reckoned it could've been worse?)
I can't name the individuals, it would've been easier if it was elsewhere, but yarmouth is one of those places where anything can happen from 10 yards out to 150. My guess is that whiting will play a massive part in the winners catch with maybe a bonus codling or two and will come from the Welly pier end of the match stretch. There's also a chance of one or two nice cod out, this time last year I remember Pete landing a big slink for Bill Lindfield and Mark Saunders getting a big 'un at Hopton. Never seem to hear of too many good ones after christmas do you?
Had a surprise in my email inbox today. A young lady from ITV Anglia had been in touch after her press office had been issued with the NFSA's statement on the issue of sea angling licences. She contacted me after finding this tosh in a web search and asked if I'd be willing to give my opinions on the licence proposals in the marine white paper. Conscious of the fact that I have a good radio face and that I know people better placed to answer her queries, I contacted Tom Pinborough our EJSFC rep to see if he wanted to put the case. Unfortunately he's committed with work. It looks like the interview may take place this Sunday at the ICCM, a double whammy! Hopefully myself and the honourable Abbott (and anybody else we can rope in for an opinion) will be able to state our feelings on the licence lucidly and not make complete arses of ourselves. My radio face will be compensated by the fact that the likes of Cain will be there, Herman Munster looks almost human in comparison.

The Walsoken smiler! He reckons he's going to beat me Sunday, I think he's more chance of having a period..
I'm looking forward to the match now, just hope this mini fluff up helps the fishing a bit. Me and Geno had a run out today, just to suss parking and the registration venue etc. Geno's got a busy weekend ahead of him, he's fishing Orford on the Saturday, poor little lamb will be shattered come Sunday. PK's not fishing this year, he's been busy and away all week with work, he said he might pop down if the delectable Mrs Kerry doesn't have other plans.
I got sent a naughty joke today about a little boy in the bath with his mum. He asked his mum what was that hairy thing? Thinking quickly mum answered "It's my sponge my darling", her boy smiled and said "oh yes, aunty Sue's got one, I've seen her wash dads face with it". Smashing. The person sending it asked to remain anonymous, so I won't reveal who the former champion caster and current Daiwa consultant is.
The sea looked bloody good at Walcott today, I'm going tomorrow night with Nobby. Hopefully it'll be something like it is today with a lovely colour and swell on. There's some big winds forecast from tomorrow too but I'm sure we'll find a place we can get out of the way a bit, lets hope we have a few.
6th November 2007
I received an email from a guy called Hugo in Canada (it's somewhere west of Ireland). He's got a "bait box" tackle box and is looking for another, if any of you know where he might get one please MAIL ME, his email is reproduced below:
Hello from Quebec, Canada!
I have here a plastic tackle box with the name "Bait Box" molded onto it. I can only imagine that that is the brand. I am desperately searching for a second tackle box just like it and I can't seem to find any information online about a company named Bait Box. During my search, I came your website and you mentioned in one of your post (March 2007) using Bait Box brand eels. Do you think it could be the company I'm looking for that is selling eels? If so, do you have a way to contact that company? I'm sorry to bother you with that, but I know next to nothing about fishing. If you can provide any info, it would be greatly appreciated.
P.S. very nice rays you guys caught!
5th November 2007
There's a bit of wind forecast this week and me and Nobby are hoping to squeeze a session in Thursday evening, I see some are saying there's flood warnings for parts of Suffolk. I can't see it myself but you never know. I've got my rigs and bits ready for the weekend, all I've got to do is my reels, they only need leader, a rinse and a wipe. I also heard that 8lb won a match at Yarmouth at the weekend, all whiting I think.
Talking of rigs, my old mate Actionboy has been in full "design" mode. He put pics of his latest killer rig up on Leader Lines , give the bloke his due, he certainly puts the effort in. I think we'll get together before too long and try his new theories out against my old pennels, he's going to Kessingland Wednesday, I might see if he wants to come with me and Nobby on Thursday to use his bait up.
3rd November 2007
It's taken me an age to get to here. I've had to learn to do stuff your average 10 year old breezes through and it's not been easy for me. Anyway I hope you like it, contact me if you do or don't, I'd be glad to hear your opinions though if you do write and don't want it publishing in any part, please say.
This week sees me getting my kit ready for the ICCM in between shifts of work. Win, lose or draw the ICCM is a cracking event with over 100 anglers registered to fish this year. You can register online or on the day, registration on the day is at Floaters tackle in Estcourt Road Yarmouth or in advance via the excellent Leader Lines web site.
I'll be honest I'm looking forward to the event and catching up with mates I haven't seen for ages, but the venue leaves me a little hollow. Yarmouth south beach has the reputation for being a tackle hungry spot and I hate throwing good kit away! Still it's all in a good cause and the craic will make up for any tackle bits I might lose. The prize list is growing steadily too, worth investing in some raffle tickets for sure.
If you are fishing the ICCM I look forward to seeing you there, if your not WHY NOT?!