24th April
It was a last minute thing. I had some crabs left from the island trip and the showery weather looked like it was going to break so I sent a text to Geno and Digger. Digger never replied but the lump suggested a few hours down at Trimingham. High water was around 2130 and I reckoned a 1930 start would see me home by midnight. PK sent me a text saying him and Lucky were off to Lowestoft north beach to try and grab one of the codling that showed up big style last weekend, I think they had one each around 3lb.
The sea was as flat as a witches but it had a bit of colour in it, the wind had been southwest and that usually brings some weed and we weren't disappointed on the flood, quite a bit of stringy stuff and what looks like the start of a bit of May weed. There was a guy already fishing, Matt had only just started as we got there, other than Matt we had the place to ourselves.
Geno has had a rough old time of things lately, he cracks off more times than a teenage boy with a Kylie video and hasn't had a fish bigger than 3lb this year. Astounding then that he should shout me over within a half hour of starting to watch him land a nice bass more 4lb than 3lb, a quick picture and the bass is off back to join its mates. I hoped that would put a smile on the milk curdling face but in all honesty even Harley Street's best plastic surgeon can't make a silk purse out of a sow's ear!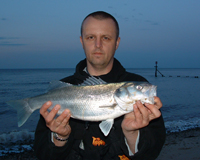 A smashing early season fish as fit as a butchers dog.
I hadn't had a bite, Matt the guy we met there, had a whiting. I was getting a proper toweling as darkness fell when chuckles pitched up with another one saying "If I'm going to give you a good hiding I want pictures of everything" I grimaced and took another picture of a fine doggie, I think him and Matt had two apiece. I missed a slackliner.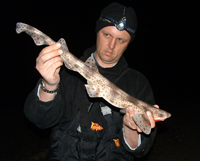 Trademark scowl but a nice doggie if there is such a thing.
I missed another slackliner, a proper unmissable banging forward before flying back with line up the beach. I blamed the dogfish or eels but it could just as easily have been a bass or a codling. Thank god I was well away from him and Matt, they were matching each other with schoolies and dogs, Matt would get a whiting then Geno would get a pout.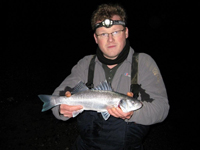 Matt with a nicely conditioned 2lber.
I finally managed a schoolie but even that was smaller than the stamp the pair of them were managing, Matt had one around 2lb and Geno one about 1.5lb, mine was about 12oz. Sometimes you've got to take it like a man, not in the Graham Norton sense but this was feeling rather like a massacre now, had to happen sometime I suppose.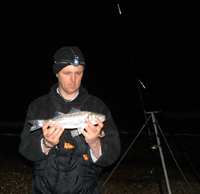 A schoolie around 1.5lb, have you any idea how much this hurts!
I never had another bite, but just before we packed up at 2330, Geno wondered over for one last picture. For the love of god even the pout he caught were reasonable sized fish. He must've had double figures weight wise, followed by Matt with around 5 or 6lb and lastly halfwit here with 12oz.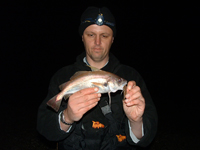 Crackov with a proper pout.
A good night to be out, the rain held off aside a short shower and it was nice to meet Matt, a thoroughly decent bloke who never once took the rise out of my ineptitude, unlike my nomark mate. Still if he didn't I'd think he'd gone soft, golf anyone?
21st to 23rd April
Bloody typical, we weren't even at the digs when PK sent a text telling us about a shed load of cod sitting off Gt Yarmouth. Big bags of fish between 2 and 6lb, even Jonah himself managed a few. I hate easterly winds, but if the wind's there long enough and the pressure drops a bit the fish will feed. If you couple those conditions with crabs starting to moult then you can see where the mini glut comes from. Thankfully the Leg End refrained from sniggering at us too much and we arrived at our digs after a perfectly timed drive.
Russ, our mate on the island, wasn't too hopeful of much decent sport but we were full of enthusiasm and confident we would catch. It should be the plum middle of the islands ray season, the same time last year had seen the island records go for several species several times. Weather conditions were conspiring against a repeat of the wonderful sport they'd had last year, gone were the days of southwest winds and 70deg temperatures to be replaced with 55deg temperatures and a week of easterlies leading up to our arrival. At least the east had dropped to be replaced by a nothing and the temperature was forecast to rise, still we'd probably be a set of spring tides too early.
Russ arranged to join us at the digs after tea and the plan for the first night was to fish the Yaverland end of Sandown for small eyed rays. We set about having some brunch and preparing our kit for the nights session. It was during this "quiet" time that Geno and Lucky fell out about the ownership of a 2 pint Drennan bait box. A new Olympic sport was born there and then in East Cowes, "Jolly Wrestling" will take the world by storm we reckon, the only entry requirement is to be as daft as a brush with a shoe size for a mental age!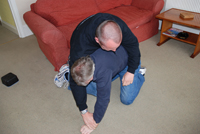 The offending bait box forgotten in the left of the picture, thank god they couldn't get their hands on some thongs and olive oil. Geno asked me to p0int out this is not "man love", if it was he'd prefer younger with no grey hair.
Mrs Aitch often says "I wonder what this house would look like if there was just the two of you", referring to me and Aitch jnr. I managed to snap a few shots in the digs and I think I may have captured what she meant. I'm pretty sure it would look something like this: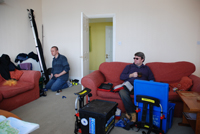 Smudge and Geno getting ready for battle in the lounge and Lucky proving that his hair wasn't always grey and the collar used to match the cuffs!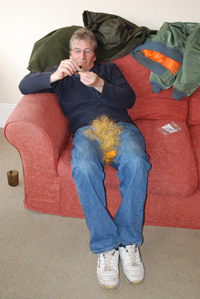 He needs to trim that before he wears his leopard skin swimming thong on holiday.
Apologies, I'm getting caught up in all the Tom Foolery, Russ picked us up around 1830 and we were fishing by 1930. When we got to Sandown the tide was just flooding with high water around 2330 and there was a little bit of surf on, at least it wasn't as flat as a witches tit. This is where local knowledge plays its part. In our experience fishing for thornbacks in the Thames we want a settled, warm and west or windless spell to improve our chances. Fishing for painted rays here we wanted a bit of movement in the water and colour, so the conditions weren't as bad as I thought they might be, even better if you get a ground swell of water with some high pressure.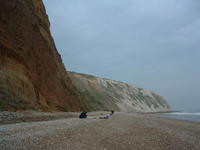 The Yaverland end of Sandown, easy to spot because the cliff changes colour. Apparently a numbers rather than size venue but typical of all Island marks, pretty much anything could happen.
Compared to other venues on the Island the "walk" down the cliff was relatively easy and we were away by 1930, Russ reckoned our best chance would be the last of the flood and first of the ebb, over the top so to speak. My plan was to fish crab on one rod and eel on the other until nightfall then go all out with eel, cuttle and herring for the rays. I hadn't been fishing long when the crab rod gave a few flattie type tugs, I thought it was probably spiders, they are moving in now and are a real pain in the derriere. Rather than let a spider snip my hook length I picked up and wound in. A little bit of weight all the way in that I put down to the spider until it hit the surf then a tiny spirited scrap and my first smoothound of the year is on the beach, a puppy starry all 8oz of it!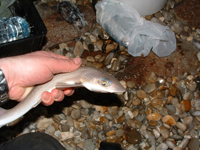 Awwwww don't you just love them, wait until mummy and daddy arrive, fun central then!
The fishing was predictably slow for the rest of the flood, Russ had a turbot around the same weight as my smut and Geno and Johnny a dog each. Geno was having reel trouble which turned out to be rod trouble, getting the lead away for 100 plus then cracking off, back at the digs that night we found some high build on the lining of one of his eyes that he'd worn a groove in, it was obviously nipping the line causing the reel to over run, anyway the lump was like a bear with a sore one so we kept out of his way choosing to snigger every time we heard the "crack" followed by the "F$£% it!".
As high water approached I flung out another eel and cuttle wrap. As I walked back up to my tripod from the waters edge I was sure the other rod was heaving forward. I just got the second rod into the rest as the first lurched forward again before springing back slack. I took the slack up and finally caught up with the weight which didn't feel overly heavy, not until it hit the surf that is. A relatively short scrap in the last 10 yards of sea and a fine painted or small eyed ray is on the beach, my first ray of the year and a cracking looking fish. The lads came over and we played guess the weight. After mine and Smudgers scale less trip to Leysdown, I'd invested in a set of Salter dial scales, I reckoned it was around 3lb, the lads thought a bit more with Johnny saying around 5lb.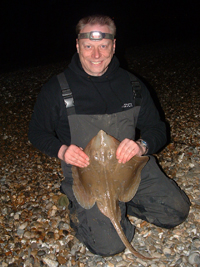 Johnny was right, 5lb exactly and a lovely fish.
After pictures I returned the ray cast the rod out again only for an instant replay on the other rod. I think I went too early on this one, the previous ray had the time to get hold of the bait properly while I was casting. Obvious result then and I bumped that one. In that same time frame Smudge and I had a doggie each while the others remained fishless.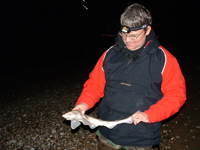 They're quite reasonable fish in there own way, be different obviously if you couldn't get through them, but when its odd ones they keep the enthusiasm going and are much maligned.
Back to the digs for around 0200, a couple of beers and the autopsy and bed for 0330. The plan for the Tuesday night was to fish Whale Chine on a similar time frame only an hour later. Whale Chine would fish over the top and probably the first 3 hours of the ebb, so a little different to Sandown but the bait and tactics would be the same.
I have fond memories of Whale Chine, last year me and Geno went with Russ after a smut session at Castle Point, Smudge, PK, Johnny and Nobby went back to the digs. We nearly killed ourselves with sleep depravation but it was worth it. We had smuts, small eyed rays and Russ had the fantastic undulate ray at 11lb 8oz, you can read about it and see the pictures here.
Whale Chine, like most of the cliff accesses at the back of the island, is a little bit dodgy. There are some steps that take you part of the way then you have to pick your way along crumbling paths and tracks. On the way down at Sandown the night before Smudge had disappeared up to his knees in a slop of mud, you shouldn't really go down these places without the help of the locals and definitely not on your own.
Down to the beach by 2030 to make sure we were down and set up in the last of the light, I was on peg 1, then smudge, John, Geno, Russ and Russ' mate Mel. The conditions had deteriorated and the sea was clear and as flat as a witches tit, we could tell Russ wasn't very confident, still in it to win it and all that. Second chuck and I have a lovely tug on the rod top followed by a classic slackliner. A few seconds later and a reasonable dogfish of 1lb 14oz is on the beach, a good start I hadn't blanked despite the crappy conditions.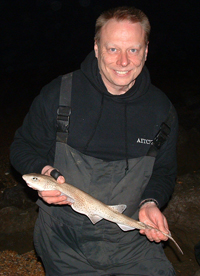 A welcome bite on a hard night.
The other guys were struggling. I'd managed a pout as had Smudge and Johnny, Geno was having a mare, he'd sent a lead along the beach, wound into snags and was generally getting well and truly hacked off. The best part of the tide was fast approaching and all I'd had was a dog and a pout, Smudge and Johnny the same, chuckles was blanking to add to his mare and Mel and Russ had a pout each.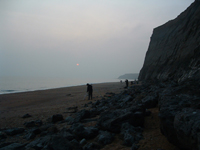 Dodgy cliff accesses and dodgy anglers, sunset at Whale Chine.
We had a powwow and decided to call it a night just after 0100, it was becoming apparent we weren't going to beat the conditions. We walked up to Russ and Mel and told them our plans, they decided to stay on for a couple of hours. As we were packing up Smudge thought Johnny had picked his kit up while winding in, Johnny told him his kit was on the beach just as Smudger's rod lurched forward again. Smudge picked up and reckoned he had another doggie on until the thing went ballistic in the last 20 yards or so. A hairy scrap with him backing the clutch off for the second time in a few weeks soon saw a cracking small eyed on the beach, clearly bigger than the one I had the night before. I reckoned 6 or 7, Johnny went 8, Geno sulked and Russ reckoned it was at least 8. The bucket zeroed on the scales and the ray squeezed into the bucket and the scales stopped just shy of 10lbs at a cracking 9lb 10oz.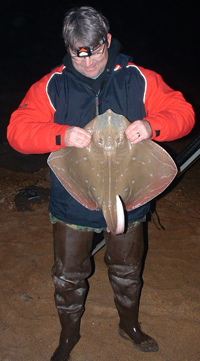 A beautifully marked painted ray of 9lb 10oz, honestly this fish was smaller than the thing he had at Leysdown which I now reckon was a double.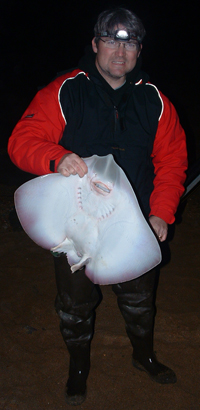 And the white side, a cracking fish that rounded off a poor night.
We packed up and made our way back to the digs for the obligatory autopsy and pint / toast. We couldn't make a plan for the last night, there was no help in the weather and none of us really fancied another cliff climb so we decided to come home a day early. We knew we'd already missed the sport back home but felt we'd just be wasting bait trying again. The only option, which in hindsight I wish we'd taken, was an easy fish at Sandown under the hotel, basically out of the back of the car. If we did go when we got home there'd be no chance of a ray, at least there was a decent chance of a decent fish on the Island. The fish are definitely there, I'm sure we'd have murdered them if we'd had perfect conditions, but that's fishing. I said last year I didn't know if we'd go back but I really think it's time for a change of scenery, if nothing but to freshen things up a bit, we'll see.
18th April
I've been so busy I didn't realise it'd been 11 days since I went fishing! Digger phoned up today to have a babble about the trip, he can't make it as he has work commitments, I think that's SHOCKING! In house joke, he'll get it, the joke that is. Loads has happened since I last wrote, including Geno buying a crap anglers divvie. I reckon that's a brother on his way to the dark side, Lucky's sucked him into a world full of boilies and buzzers, shameful. Anyway here are my predictions for the trip next week:
Monday 21st
Get to the digs and have a fry up and a kip ready to fish the evening tide. Forecast is for Northerly winds, cloud and cold. Could be worse the wind could still be easterly but its going to feel bloody cold. Prediction = no rays but a couple of doggies and a few beers.
Tuesday 22nd
We've all put around 1lb of weight on after more sausage and bacon. Forecast is slightly better with the temps improving and the wind going round to a light southwesterly breeze. A better wind and I predict a ray or two Tuesday night along with some dogs.
Wednesday 23rd
More lard. Weather is as warm as it will get and the wind has gone to a moderate southeast. Prediction is it will top or equal the sport we have on the Tuesday night.
Either way we'll have a great time, the craic will only be bettered by the breakfasts!
April 7th
Not much to report really. I got 50 worms from Lee and a packet of frozen crabs and picked Digger up around 18:00. We had no idea where to go, big tides would rule out venues like Trimingham as we'd be up against the cliff, the sea was still hossing in a bit on the back of some heavy northwest over the weekend and offshore up north. We decided we'd fish the corner at Bacton following Smudger's little session last Friday.
We sat in the car and waited for a "shower" to stop and were finally fishing just before 20:00, thankfully the showers died off and a cold clear night developed. We pretty much had a fish a chuck on whatever bait we put on the hook, both of us fishing two rods. Pete managed a double on a pennel including the nights best fish a shade over 1lb. We stuck the never ending run of codlets until 22:00 before rounding off with a beer at the Ingleside. We say it every year, and usually we are disappointed but, "won't it be great next year when all these 10oz to 1lb codling come back as 5lbers". It never happens of course, some halfwit will up the cod quota and scoop them all up.
Talking of halfwits, I read on a forum a guy advocating taking rays because "there's loads out there for everyone". He's right of course, there are loads in isolated pockets around the country, like those in the Thames Estuary, were the afore mentioned feckwit spends his fishing life. Nationally they are an endangered species, placed on the endangered list by scientists, you know those people that know what they are talking about. If you really want to eat skate, buy a wing from the chippy, please don't contribute to their downfall anymore than you have to.
April 6th
Mack fished Orford for the first time on Sunday, he sent me an email with some trip details which I've copied below. Orford, along with Dungeness, is a cod mecca but it's not a guarantee of huge cod catches as witnessed by some top rods today (08/04/06). Anyway here's Mack's trip in his own words and pictures.
A very bleary eyed me arose at 4.15am in readiness for out trip to Orford.

I almost regard it as cheating going here but as I have failed spectacularly to get a codling big enough to take home anywhere else this winter I thought beggars can't be choosers!

After much cursing and fumbling in the dark of my shed I managed to get the gear into the car and set off just after 5 for Orford.

We all met in the car park at 6.30 in readiness for the 7.00am crossing, about 15 of us all told I reckon.

I setup next to Cambridge John and was fishing by 8 and after a nice Dab and a few bits and pieces I managed my best codling of the day at 3lbs exactly.

I picked up another sizeable codling at around high water.

Fishing was very slow on the ebb and around mid afternoon the weather took a turn for the worse and it got bitterly cold but I did manage a nice whiting nearing a pound and right at the last gasp at 5 when we were packing up I managed another codling at 2lbs 2oz.

A great day in great company, Spratty's a real card; a proper old Suffolk boy, the like of which you don't see often nowadays.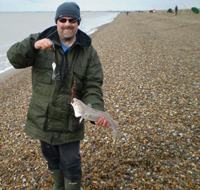 Mack with a codling at Awful Ness.
Thanks for the report Shaun, sounds like a good day out even if nobody sacked exactly - ed.
April 4th
Smudge sent me a text, he'd fished Bacton for a few hours in the evening. He'd managed a 3lb codling and a nice doggie amongst the usual bits. I'm going this Monday night, hopefully this mini blow will be over and have stirred a few up.
April 2nd
I was looking forward to our ray fishing trip to Leysdown in Kent. Although I've never actually managed a ray there, I've seen them caught every time I've been so far it would only be a matter of time I was sure of it. Smudge picked me up at 16:30, we weren't over hopeful for this session, our mates had blanked Saturday, but we had nothing to lose. We could've stayed locally and thrown £20's worth of worm each at 8" codling, so the trip down to deepest, darkest Kent with £3's worth of fish bait was a no brainer really. At least we'd have the chance of a decent fish and not get mullered by undersize codling.
I'd been speaking to Shane Pullen leading up to Geno and Johnny's blank last Saturday. He'd confirmed that it had been hard, especially since the snow and northwest winds we'd seen at the end of March. Any fish that had been caught though tended to be decent females, so not only a chance of a ray but the chance of a good one. Shane sent a text just as me and Smudge were driving past his turn at Gravesend, it was a miserable evening, drizzly and grey, but by the time we got onto Sheppey, the roads were dry and it was at least mild. The weather had been a steady west/southwest breeze for 3 or 4 days and temperatures climbing steadily before the forecast had them peaking on the 3rd.
Geno and Lucky had fished during the day Saturday, we had a better tide. A building 5m tide with high water around 23:00 would give us the prime time of 21:00 to 01:00 in darkness. Leysdown is hardly worth fishing outside of that window, it's a very shallow beach and the water leaves the beach pretty quickly exposing the best part of half a mile of flat sand between the high and low water marks. We were set up and fishing by 20:00 and pleasantly surprised to be the only anglers on the green. There was another guy fishing a few hundred yards southwards and we could see lamps of a few rods fishing Warden Bay a few miles to the north of us. A nice mild night with a light west northwest breeze, bloody marvelous.
Smudge had Geno's hot peg from last years trip and I sat in the next groin probably 15 yards away. T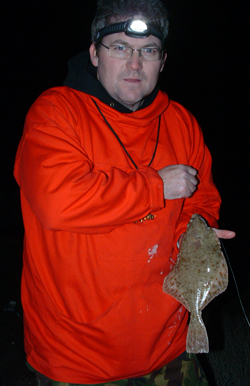 hat's the only thing I don't like about Leysdown, you're on an elevated position above the beach which is ok but the groins are very close together. The groins themselves are short but don't run perpendicular to the shore. If straight out is 12 o'clock they probably run to about 2 o'clock after 40 yards, so not only are they close together they run slightly across the fishing gap too. Thankfully I didn't lose any kit but Smudge managed to hang a set on the timber work.
Two rods each are loaded with sandeel and fired out into the night, we had herring as well just to let us mix it up a bit. The rods stood motionless for the entire flood. I managed two cockles, god knows how, and Geno's right whelks do give better sport. It wasn't until just after high water that Smudge snared a nice flounder on eel, a thick, chunky fish pushing 1lb. It was noticeable that this early part of the ebb had slightly more tide than the rest of the session, we started picking up loose weed highlighted by those rhythmic movements of the rod tips that had previously been stone still.
On previous visits I've never found a lot of tide here, even now the loose weed wasn't a problem and it was only a perceivable increase in flow rather than it hossing through and us having to uptide. At around 23:40 a shout from Smudge had me scurrying over. He'd just put the flounder back and was re baiting when he'd looked up and nearly had his eye removed by the rod still fishing. Smudge confirmed it was a proper fish and I made my way down the sea wall and onto the beach. A proper fish he said, he had to back the drag off! First time in years he'd had to do that, personally I can't remember the last time I had to! A relatively short fight soon had two yellow eyes looking at me in a few inches of water. My initial thoughts were it was a nice fish around 5-6lb and it had an obvious deformity at the base of the tail. I reached down and got my finger and thumb around the rays cheek and lifted her out of the drink. Way heavier than 5 or 6lb, the fish was well over an inch thick at the part of the wing I had hold of. Smudge shouted down "that's better than 6" I agreed, it was 8lb at least, obviously not a double but a bloody good fish all the same.
Unfortunately my digital scales require batteries so we had to guesstimate, we both agreed it was a little over 8lb and a cracking female despite her curly tail. It's difficult to get an idea from a picture, but those that know Smudge will know he's not "skinny". Truth is he makes Buddha look anorexic (says me!) so hopefully that'll give an idea how big she was across the wings. Also her kinky tail is as almost as long as Smudgers inside leg!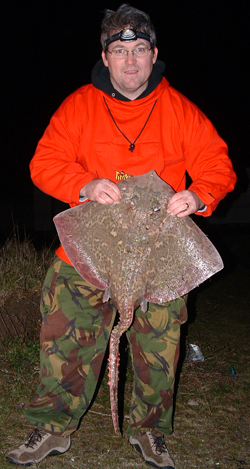 It's times like these I wish Geno was here, he takes a much better picture than I do saying that I can only work with the subject I've got. A beautiful fish over 8lbs, hopefully there'll be a few more in a couple of weeks and we'll get some practice for the Isle of Wight.
The rest of the session was pretty much like the flood with that little bit of tide easing and the rod tips again motionless. I couldn't even manage anymore cockles, but I didn't care. Yes I'd blanked but we'd had one between us and it had made the long drive and unsociable hours worth the effort. I was home and in bed for 05:00 and I didn't even wake Mrs Aitch up. I think we should have another go with all the boys before our Jolly Boys trip at the end of the month, get some practice in fishing for proper flatties!