20th August 2008
I had great plans. I'd hoped to go for a plugging session with Digger and Geoff Gonella, Geno even said he might join us after work. Trouble was the water was mucky, at least it was round here, and my new found optimism was waning. I'd been on nights the previous two nights and it was catching up with me, I'd had my tea and I really didn't fancy doing anything bar veg, totally washed out.
I was snapped out of my stupor by Yourang, he'd got some fresh crabs he wanted to use, I had some frozen to hand so a short notice session was arranged. We'd fish down at Bacton, jungle drums had mentioned a few smuts turning up in the local fishermen's nets, so, with renewed optimism, we hit the beach about 19:30. I have a theory but don't know why for sure, but when we get a sustained spell of SW wind we get weed. From the first chuck it was obvious that it was going to be a problem, heavy red stuff that despite being easy off, was still a pain. The only way around it was drop it in short and wait for the stuff to drop out as expected at high water.
High water approached and Bri managed a lovely little smut pup, only a few ounces but perfectly formed. My same cast resulted in a twin of Bri's, maybe an ounce or two bigger (it was huge compared to Bri's, I'm being polite). Fresh crab 1, frozen crab 1 and again with what I'd expect to be a weedless ebb and the best of the fishing, I was quietly confident. A half hour after high water we both tried again to fish out of the groins, the weed was as bad if not worse, bloody SW when will I ever learn? If people ask me I tell them don't bother after a good SW and here I was after the best part of a weeks worth of SW, what a doughnut. I could've avoided it by going a bit further southwards if only I'd thought.
Anyway the next two hours remained fishless (the best part of the tide I reckon) probably due to the fact we couldn't fish much more than 50 yards out. Fishless that was until Bri wound in a codlet in good nick, I'm not going to get carried away to be disappointed again like last year, but we should have a few this year with average luck. A cracking night out with my old Lincy mate and I feel thoroughly chilled today. Digger, Pedro, Fred and the Maid are all packed for Eire, jammy baskets, if ever I get a pass from Mrs Aitch I'll be there like a shot! I'll ask Pedro to write a few words and send me some pictures, he's the only one of them that can multi task (read AND write).
The local beaches are building up nicely with this settled spell, I haven't seen anything inspiring in the forecasts but we should start to see some decent catches over the next month or two. There's been some good bass Cromer way and we had the first of the codling proper Pakefield way this time last year, let's hope the autumn provides us with a bit of sport.
A Sneaky Cast to the Left...
17th August 2008
Today is perhaps the most memorable Angling day of my life. I have done my fair share of lure fishing for pike in my years and I guess using artificial's is one of my favourite forms of angling.
To tackle the Shingle with a lure is a different game all together. There are no Lily pads or sunken tree roots to cast to only mile upon mile of seemingly featureless stones, of course below the sea is a vast invisible maze of fish holding features.
I was up at the crack of dawn and greeted with the clearest sky despite the forecast promising plenty of rain and optimism was running high. Conditions were spot on but after about 2 miles of constant casting and retrieving my enthusiasm started to wane. You keep thinking to yourself "its gonna happen next cast" and then it did…..
A sneaky cast to the left close in produced something I have never witnessed before. I could see my shallow diver working nicely towards me during the last 10ft of the retrieve, and out of the blue the Bass surged from nowhere in less than 2ft of water. It was moving at an incredible speed for a fish of its size and panic was about to set in. It engulfed the plug and with another thrust of its' tail it promptly sped off into the deep, tearing the line off my reel. Powerful head shakes and more clutch screaming runs slowly eased and I managed to beach my prize on an incoming wave.
7lb 1oz exactly. Not only a PB but caught on a lure to top it all off. Fantastic. I carried on casting on my way back to the car and managed a couple of schoolies. I found myself laughing out loud as I went with the excitement of it all just before the heavens opened. I walked back to my car feeling more than ecstatic, having covered about 4 miles I reckoned I was due a sleep.
Double next time? Dream on………
Croc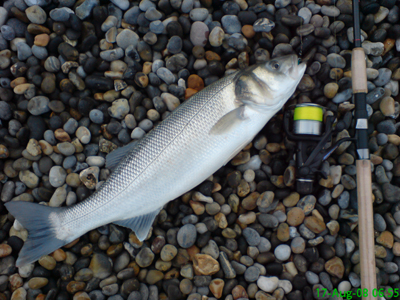 Work wanted. Used to fish a bit, done some writing, will make the tea! Seriously well done mate and thanks for the words and pictures.
I've received some correspondence regarding Croc's catch and his excellent write up, I've reproduced the words from one email below, sums it up for me:
What a fantastic example of what our common interest is all about

The angler sees those beautiful early mornings that other mortals rarely if ever witness and Croc's short post encapsulates all that is great about our pastime.

The journey along the shingle, trying to work out what, if any fishy feature might lie below the moving surface as each cast is made with diminishing expectancy and then the elation of the hard won success.

Priceless, it made my day to read it and congratulations to Croc on his catch and the encouragement that he will have given to so many others by sharing the detail of his success.
Sterling stuff from the Crocster and I'm sure he'll be pleased he's provided a little inspiration.