Tuesday 19th february 2008
I'd arranged a social without any expectations of a haul of quality fish. I wasn't disappointed. PK would've come but he had car trouble as did Nobby, Smudge was "grabbing" leaving me, Genocide and Actionboy to enjoy a day out at Mundesley fishing the last of the ebb and most of the flood in crap conditions..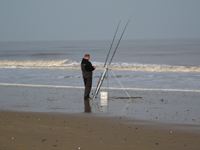 The only good thing to be said about it is there's some colour, still crap conditions.
I was supposed to meet them at Jonets at 10am, straight after my barber had been. I managed to get down there around 10:10 to find Geno's car in the car park and Jonets closed. It was open the day before? Anyway I sent a text "where are you" as I stood looking at a flat but coloured sea, when the pair of halfwits walked up. They'd been to the spar shop on account of Jonets being closed and were munching their way through hot sausage rolls. "They look alright" said I, the both grinned before Actionboy blurted out "we cleaned 'em out Aitch" prompting a spray of rough puff pastry from the pair of them as they guffawed at me! "Can't I have one of yours then?" was met with more belly laughs and two words that were almost unintelligible between the laughs and spraying of pork brains and eyes, but sounded like "four cough".
A brief look at the sea and the choice of venues was Lifeboat or Heart Attack. Heads won it and we fished the Lifeboat. If anybody wasn't aware that Actionboy isn't the full nut, I offered him a lift down the cliff with his gear as he didn't fancy the drive down the cliff. "Nah it's alright mate, I'm as fit as a butchers dog", it's true he is, he's also as mad as a March hare, he paid £4 to park all day in town then walked down the cliff, along the town to finally meet up with us at the Lifeboat, a good half mile yomp he didn't have to make.
Finally down on the beach, I set up first one groin south of the lifeboat shed, Geno just the other side of the groin then Actionboy. I should've known it was going to be one of those days, I fired a pennel loaded with a couple of sand eels out first chuck and let it fish whilst I tackled the other rod up. I set the second rod up with my bling rigs (I have some changes to make before the plaice trip), loaded the two hooks with top quality worms from Lee at Northrepps and heaved it out, only to see the hooks come off the clip mid cast. I think for multiple hooks or large baits it's probably best to use the Breakaway impact shield than rely on the much smaller clip built into the impact lead. Either way the prototypes will be altered to make them more fishable.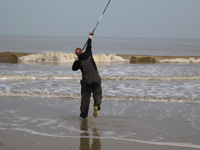 Some slightly balding, Nordic god of a bloke whacking it out. Geno reckons I've got the start of a "Weybourne walk", I told him the "step" was built into my pendulum by Lewis Baldock on account of the fact a bad back left me unable to twist. Hopefully twisting will be back on the cards after x-rays today, if it is, Geno had better watch out!
Actionboy was first in with a codlet, not a great sign. Don't get me wrong the future looks bright if these 8oz fish can survive a year of nets and predation, but there's absolutely no way you can present a bait to their bigger brethren when these "grabbers" are on the case quicker than Dwain Chambers in a dodgy pharmacists.
Geno was using his Zziplex bass and shimano biomaster (both still for sale as far as I know) with braid and fishing the edge, showing his years of quality water craftmanship and in depth sea knowledge (at least I think that's what his writing said) to fly into a four fish lead. The sand eels I whacked out first cast were wound in. They looked as good as they did when I whacked them out. That can't be good if there's nothing nibbling my fish baits then there's not a lot of food for our piscatorial friends.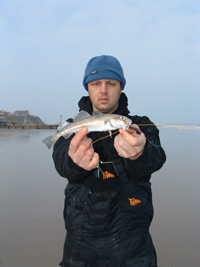 The scowler showing the typical codlet with his usual aplomb!
I wasn't too happy with my bling rig. It was unclipping in the cast and wasn't coming in like I'd imagined it would. It wasn't too much of a problem, I knew exactly what I had to do to remedy the issues before I used them to duff my mates up on the upcoming plaice trip. Their unfishability didn't seem to discourage the greedy grabbers, once I started to get them I often wound in with a single fish taking both hooks, for the plaice trip I think I'll build a bigger drop between the wishbone hooks and may add a single hook clipped up like the rigs I'd used successfully on the shingle with Digger last October.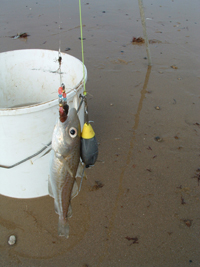 Proof the bling rigs will catch codlets, both hooks. To be honest the only rig requirement to catch these fecker's is bait!
And that's how things proceeded, apart from a nice flounder caught be Genocide, codlets appeared one a chuck, sometimes two on my bling. Geno and Actionboy was telling me about a conversation they'd had with a quad bike rider earlier that day. Quad man "Hi guys, do you know anywhere round here I can ride my quad?", halfwits, "no mate". Quad man "What are you guys doing here then? Are you fishing? Do you catch much?", halfwits "no we don't catch much, the best bite of the day is Jonets breakfast and they're fecking closed". I would've told him to ride his quad in Beirut or something, some beach users are a fecking menace, yes that's most of the jet ski users in this poxy little island.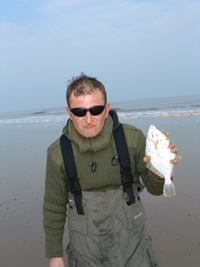 Actionboy scowling with Geno's "best" fish.
For me it's come to the time where the fishing is secondary to a day out with mates. I know it'd be different if there was a few worth catching, if there was we'd get all competitive and want to duff each other up, we'd switch on. Me and Geno spent most of the day chatting about upcoming plans, work, football etc. all those things that wouldn't even cross your mind if the game was on. The wind picked up a little SE about mid flood and the chill took the edge off an otherwise sunny and pleasant day at the seaside. I suggested to Geno we retire to the pub for a pint and an autopsy, he couldn't get packed up quick enough. The only sizeable fish we'd had was Geno's flounder, I'd had lots of codlets to 10 or 12 oz as had the other two. Actionboy decided to stop on and fish until dark. Me and Geno hadn't been in the pub for more than a pint when the Leg End rang asking where we were. He'd driven down to the lifeboat to see how we were doing, "there's some joker a couple of groins right" he said (Actionboy, unbeknown to him), "where are you?". "Ingleside" I said, within 5 minutes he's relieved me of a bottle of bud and has joined the autopsy.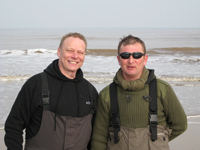 Geno playing with his new camera, it doesn't matter how much you spend it can't make me and Actionboy look human.
I'm feeling like I did last year, I don't think we are going to have a spring run, the weather's conspiring against us, and I'm more interested in what we might do other than the normal. I honestly think when you go off patch and do something different you fish much harder. If you go locally and know nothing's being caught and the conditions are less than perfect and your bait is only average, you're beaten before the off. When you go off patch you don't know for sure what is being caught or if the conditions are good, bad or indifferent or if the bait is good or not because you don't usually use ragworm or whatever. The ray trip last year was a classic, Shane reckoned it was too rough for rays so Geno caught 3 or 4. I don't know if I'll fish again locally before our next "off patch" jaunt, obviously if I do I'll post it up.
Monday 18th february 2008
Sad I know but I'm quietly pleased with the new rigs I tied up today, so much so I thought I'd share them. Need is the driver for design or so I was taught at college, so with a plaice fishing trip penciled in the diary in the near future, I thought it best I tie up some rigs while I have a bit of quiet time. A little social session with some of the boys tomorrow will give me a chance to test my new prototypes.
A guy I know who lives on the south coast was all too eager to give me the info. I needed, "dead simple" he said, "size 2 wishbones, longish hook lengths and more bling than a Yardie dealer". With such an easy brief I set about tying them up. Technical stuff then: Size 2 B940's, I may change these on the finished models for some fine wire Mustad reds, bling by Hiro, clips by Gemini and Yo-Zuri fluorocarbon hook lengths with Daiwa tournament rig body.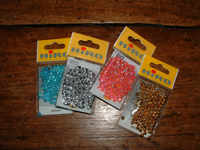 Bling by Hiro. Gonna pop a cap in yo ass, gangsta stylee, biatch ho!
Back to the rigs before I turn into a gun toting pimp. I rarely use crimps these days preferring stop knots. With this method I can build in a bit of flexibility in my rigs. I use a standard Gemini lead clip and a Gemini clip up clip at the top of the rig and base all my clipped rigs around the Breakaway impact lead. The hook lengths are fixed to a standard trapped swivel set up but instead of crimps it's held by the stop knots. What the stop knot allows me to do is either clip down like a standard set up or, slide the knots and trapped swivel down the rig body to clip up if I think there's a need for really nailing the bait down below the lead. Another trick with these blingy rigs is to use a 'bb' split shot as the bead stop instead of a stop knot, that nails it down too. When it comes to the actual plaice fishing session I'll tip off with wrigglers to add a bit of movement too. You'll probably see the set up better in my amateur pictures than I can explain it in words: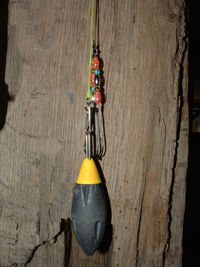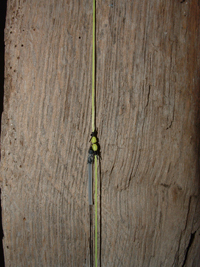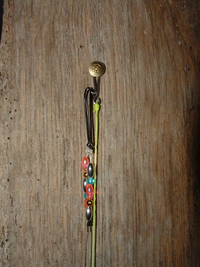 Picture 1 shows the two blingy hooks clipped down, then the trapped swivel arrangement in 2, the Gemini 'up' clip and finally after sliding the knots down, the hooks clipped up. No need for tensioning springs as there's a bit of give in the knots when you cast. I've found I don't lose as much kit with stop knots, often when I've been snagged the knot has slid right down to the lead before pulling clear, I reckon crimps are more likely to part.
Granted I won't use them very often round here, but still nice to have a play and like I said to Mrs Aitch a change is as good as a rest, or was it give it a rest for a change? I'll give them a good airing tomorrow and I'm sure to cop some flack for them, I'm going locally with Geno at least, just waiting to hear from Nobby, Smudge and Actionboy.
Tuesday 12th February 2008
What a day! I had planned a session for the end of the week but checking the weather the forecast was deteriorating. Today, according to the forecast, was the last of these barmy spring like days before we got a bit of easterly and a 10 (yes ten) degree temperature drop.
I mentioned to Digger that I was going to have a go, that's about all it took to persuade him, and he had a day off to join me. I picked him up around 10am and was greeted by a bloody great ball of fluff called Marley. Pete reckons its like having a baby in the house again, I reckon he'll be as daft as a brush with him.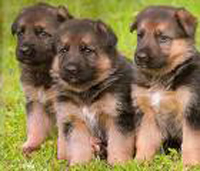 Awwwww
We decided to have a go at Cart Gap and got on the beach a little after the top of the tide. I had a few frozen crabs, some of last years sand eels and some of my beautiful fresh herrings, Digger had some worm and squid. I expected to get duffed up and wasn't disappointed, though I had my sights set on the toothy critters. I felt confident I'd sneak a dog or two and obviously hoped for a thorny "flattie".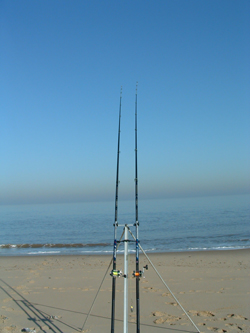 There's lovely, high water at Cart Gap today, a stonking day for February.
Digger's first put in and he snatches a double hit of "grabber" codling, the biggest around 4oz. Mad, even the codlets are getting smaller. The beach is really well built up, though on hindsight we should've walked up a few groins. The top of the bank in the slipway bay is level with the end of the right hand groin.You could've fished the gulley inside with a bomb rod. There was quite a bit of tide early ebb, I started with herring on one and eels on the other while I waited for some crabs to defrost.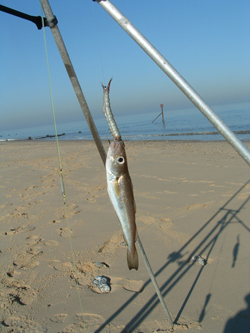 Use large hooks with large fish baits to avoid catching small fish, unless they're the greediest, big eyed pin whiting in the world.
Digger set out to try and catch some dabs but could only manage a few flounders to add to his stream of codlets and whiting. It was nice to just see the rod tips rattle, even Mrs Aitch and Aidan turned up with a sarnie for each of us and to walk Scottie, a perfect day despite the lack of big fish.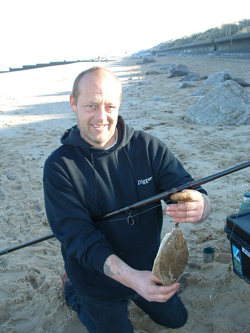 Note how the hoodie makes Digger look like a good angler! Wait until "The Maid" sees his!
The tide eased mid ebb and only picked up again over the bottom as we we're packing up. I managed a few codlets on crab, including the biggest at around 8oz. Unfortunately the dogs I thought I'd catch never showed, though I tried hard all day. A top day rounded off by an appearance of a "nessie", we think it was just some bloody big seal but could've been a cetation, shortly followed by a small pod of porpoises going the other way. On the way back to Pete's, we stopped in at East and West Runton just to have a look, they'll certainly be on my hit list this year, for some low water plugging and a smut session, they've got to get in among the rocks and flints etc.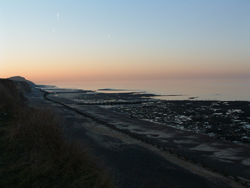 Feature city, West Runton just after low water today.
I could still get talked into going again Friday, I know Nobby is keen and even the Leg End showed a bit more than a passing interest when we were talking about it Monday just gone. The only thing that isn't computing with me is the temperature drop. The wind is forecast to go east which is bad enough but to go from nearly a week of 14/15degrees during the day to tops of 5 degrees is bound to have an adverse effect. I can't see it switching them on anyway, at least not until they've had a few tides to acclimatise themselves. If I go I'll post, obviously.
Sunday 10th February 2008
A report from Dins:
I arrived at the car park at 10.30 (as arranged) and saw Andy, testing out his new pendulum technique, after some recent tuition from Ben Bradstock. I couldn't see Brian (Yourang) at first and then his head appeared, over the wall. He was holding his new Shakespeare Aspire fitted out with his new 7HT Mag (guaranteed idiot proof apparently!).
He told me that the massive birds nest I was looking at was due to the fact that he sprays his reels with WD40 after use and that he must have had some on the line…… Yeah right!!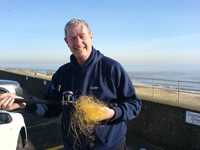 It looks like he's taken the lady shave to Bonnie Langford, it is in fact Ultima Gold, note the "idiot" proof 7HT Mag, obviously not "Lincy idiot" proof.
After having to wait 20 minutes for the pillock to strip and reload his reel, we decided to move to the North end of the car park, as the weather was superb and we feared that we might be plagued by all in sundry later on in the day.
Andy and Bri selected the bay immediately in front of where we had parked and I went in the next bay to the south.
Not much colour to the sea and almost flat calm with no wind to speak of, we caught nothing for about the first hour. Then I had a nice Dab, which was quickly followed by a load of small stuff for all of us, although Bri had more than Andy and I put together.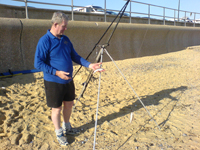 Yourang bagging, he murdered Dins and Andy Lawes, saying that the bookies would make a touch ledgering Stevie Wonder favourite against those two!
After a couple of hours, I took one of my new Greys Platinum XS rods and newly set-up Mag Elite to Bri so he could have a chuck.
Before I continue, I would just like to say that I had used this set-up, on two rods, from the off, with no problems whatsoever…….
First OTG cast from Bri….. Birds nest!  ……Not content with fecking up his own gear, he has to feck up mine as well!!!!!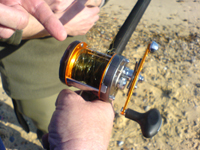 Oohhh nice and shiny, a real reel fluffed again by Yourang.

He said the reason it had happened was that he can cast so much further than me and hits the rod a lot harder!!  I reminded him that a cast is supposed to be a smooth progression of power, and that his cast looked like he had got fecking Parkinson's!!!!

Bri  then had a nice Sole and Andy started to get a few more, all undersize.

Mrs Diss-Fish and family turned up to say hello and have a walk along the prom. By this time the place was heaving with dog walkers, kids and tourist types. A few idiots decided to play Petanque on the beach about 5 yards to the South of where Bri was fishing…. Rather them than me.

Uncle Brian then let me have a couple of chucks with his new set-up.  So he gave me the Shakespeare Aspire and reloaded HT Mag. I had a couple of casts, no problems (and I must say that the HT Mag is a lovely piece of kit). I gave it back to him and before he cast he said, "Watch this"………. …. I did…..CRACK!!!!! One lead, soaring through the air and another fecking nest, which he refused to let me photograph!!! I laughed so much, I nearly soiled myself!!

The final tally was Dabs, Flounder, Pouting, Codling and Sole between us, and a cracking good day in the sunshine was had by all.

Sunday 10th February 2008

It's pretty obvious browsing the many web forums that there's nothing going on. Rubbish jokes (I'm as guilty as the next man) and threads about reel maintenance, casting etc. all indicative of no fish to catch. There's absolutely no help in the weather either for this bit of coast, in fact reading between the lines its helping to push fish further offshore. The boat men are reporting that even though the sprats are thinning out, the cod seem to be further off than they were.

I've been harping on long enough about having a proper go with fish baits this year. I picked up a freezer full of fresh longshore's yesterday, and if this spring like weather holds I'll be using them sooner than I thought. Digger said something to me in that earth shattering way that only happens once in a while. "Why don't we use fish baits when the sea's full of fish bait?", genius. I don't know anybody that fishes with herring, aside tipping off for flatties, despite them being within a couple of hundred yards of the shore and sometimes in huge numbers. It would seem sensible that there'd be predators following bait fish like that, but who would know nobody fishes for them? Why should it be any different with the run of herrings and sprats to say the crabs moulting? I reckon there'd be dogfish or huss at least, and why not rays in the warm (9°c) sea? It's rare for the natural world not to take advantage of seasonal gluts and, I think over the next fortnight if this weather stays spring like, we'll be having a go locally and further a field. There's been odd rays caught in Kent all year, particularly at Minnis bay, I feel an early season expedition in the offing.

Another of those earth shattering moments happened on an internet forum regarding brown shrimp. I forget the exact details but the likes of Paul Turrell were bemoaning the lack of shrimp around Lowestoft and the corresponding lack of fish. Tom Pinborough mentioned that commercial shrimp catches were 2 or 3 times the norm in an area from Cromer round to the Wash and in one fell swoop, somebody made the link between the amount of shrimp and the number of quality whiting and dabs that have shown up on the shingle all winter. Staggeringly simple, and makes perfect sense, add to that the question "why would cod come inshore to feed if there's no food?" and things start to make sense, at least to a simple man like me. Sometimes I think we (me especially) over analyse stuff, but every now and again something happens along that is genius in its simplicity and leaves me asking myself "for all the hours I think about my sport, why the feck hadn't I thought of that?". Beauty of the game that there's always something to learn if you're willing to.