Wednesday 30th January 2008
Away early this morning, pick Nobby up, drop Aidan at school then off to Trimingham for a splodge and hopefully meet up with the Mounties. Everything was going to plan until Keith phoned up saying he couldn't make it, shame really but there'll be plenty of other times.
Aidan's first into school then me and Nobby are swift away to Trimingham. I couldn't believe the sate of the cliff and the car park, I reckon we may well lose the road ad car park within a year or two at the current rate of erosion. There was a lovely chocolatey sea rolling in nicely on the back of the easing WNW wind, that hasn't caused the erosion problems though, its the recent heavy rains we've had. All the way up to the gaps there were fresh slips down the cliff and springs every 50 yards or so.
The slipway bay and the groins right and left of it looked shallow, its only a neap tide but its almost up to the revetments as we make our way to the gaps. As we got to the gaps, the beach is still built up and this held the tide back nicely giving us a fair depth of water. You could see the surf breaking from beyond the groin ends in the slip bay and the groins towards Cromer, it wasn't breaking until the edge in our bay and I would guess the water never came closer than 2/3 of the groin toward the revetment, we happily fished 20 or 30 yards seaward of the revetments for the whole of the session. I've gone into depth describing it so I remember, feckwit here forgot his camera!
Anyway the stiff WNW made it difficult for the last of the flood, wind and tide together can make things awkward but it was never close to being hard. I held with 5oz but used 6oz to punch through the wind. What is it with neaps at Trimingham? You can fish springs here and not have as much tide as you get with neaps sometimes, anyway half an hour or so settling in and Nobby's first in with a codlet. A steady stream of codlets follow for both of us, no weed bar the slightest bit of fluffy loose stuff in the 4' surf. That's really how the day progressed, codlets flood and ebb with nothing bigger than 12oz, each one though a pristine, fit and healthy little codling. Here's a thing, I can't remember the last time I deep hooked one of these codlets. Whiting from pins to 1lb fall over themselves to swallow the bait but each and every one of these codlets for me and Nobby was fairly lip hooked.
We were about to call it a day when my rod dropped back, the first fish to move the lead today, and a few seconds later a sparkling 1.5lb codling finds it was back to sea. So my first sizeable fish for 2008 on a cracking day, but a little disappointing given the sea conditions or maybe I'm being too optimistic. It was a neap, high water around 11:30 and bright blue skies, still a few fish and nice to be out. The Leg End's back from his latest skiing jaunt, he phoned tonight to see if I'd heard anything, I hadn't outside of what his EDP report suggested, sport is better in the boats right now, so perhaps he should look at a Jolly Boys trip onboard Wrighty's out of Southwold? Three times we got blown off last year, with all this west in the winds lately, there should be a chance of getting out this year, lets hope so.
Saturday 26th January 2008
Whilst I've been stuck at work some lucky souls have been out fishing. Honourable had organised another meet / match this time at Walberswick. Reports of sprats thinning out might have been premature, the codling caught certainly were premature! Anyway here's the results etc..
1st: Brian "Yourang" Heritage 1 rockling 24cms
2nd: Steve Wright 1 rockling 23cms
3rd: John "Honourable" Abbott 1 dab 21cms
4th: Barry "Herman" Coulson 1 rockling 20cms
5th: Simon "Faz" Farrow 1 rockling 19cms
6th: Steve Andrews 1 rockling 18cms
Biggest round fish pool winner: Yourang 1 rockling 24cms
Only, sorry, Biggest flatfish pool: Honourable 1 dab 21cms

My old mate Yourang cleaned up in Suffolk, here he is before a night out with the lovely Maria, good old Lincy!
What a shocking set of results! They don't tell the full story, all competing anglers were plagued by codlets in the 4 to 10oz bracket, three at a time on match flappers. It speaks volumes when 20 odd anglers all bag up and the best sizeable fish is a 24cm rockling, well done to Slugger Yourang, you can't hide quality Bri despite your best efforts to do so over the last 5 years!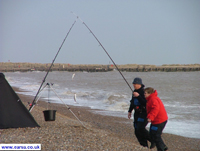 See 3 at a time, if Mountie can do it anyone can, the kind lady is helping him back to his box. It's the oldtimers you know, he may get lost between sea and beach buddy.
I did have to snigger to myself, Walsoken and Honourable reckon it looks good for Cambs at the next inter county match. Him and Honourable base their prediction on the fact that 3 of the top 4 at Walberswick were from Cambs and Walsoken himself has framed in the last 2 matches. I was going to try and explain that you can only beat the opposition you face, but couldn't be bothered, plus it might offend the halfwits and numpties that let Walsoken walk off with their coin, TWICE! My old mate Walsoken is looking for a lathe, I think he's going to try and turn into a sea angler. Seriously if anybody has a single phase metal turning lathe, drop me an email, Walsoken is looking for one and has cash waiting.
It's the Cambs lots turn to pick the venue in 2008, they are threatening to take us to Wisbech cut, I still doubt Walsoken's motor would manage the three miles there. To be honest they'd get duffed up in their own back yard anyway, they might as well pick a venue where there's a chance of some proper fish to catch! Great innit, the match is only in the planning stage and won't be fished until the autumn and the craic has started already, bloody marvelous.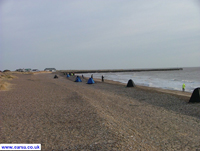 Walberswick yesterday. Sea looks ok, shame it's full of likkle 'uns.
Geno and Smudge did marginally better though they had to go to Holland on Sea for them. Smudge had arranged to pick up a couple of rods from Metcalfe's so roped Geno into a trip for the company and an excuse to fish Smudgers old back yard. If you're reading Mrs Smudge, he's hidden two new rods in the garage!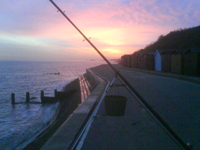 Because I tried to get arty with my Mundesley pictures, here's Geno achieving arty at Holland yesterday. He does take a good picture, he also bakes a mean quiche.
Despite Smudge having a wealth of local knowledge, Genocide duffed him up with two sizeable codling to his one. They both had a few codlets too, seems you can't go anywhere round the east coast without catching a few codlets, the future's bright, though I wish the future was averaging 2lb in weight instead of 6oz. They both returned all the fish caught.
Right that's me until Wednesday, thanks to Fetish for the photos. Please feel free to catch lots of sizeable fish and give us the tonic we so desperately need.
22nd January 2008
GB wind map had a mini blow forecast for Monday night, I'd had my eyes on it for nearly a week. Like most forecasts and especially wind forecasts, we all know how transient they can be and I fully expected it to change. I kept expecting it to disappear but there it stayed. From 21:00 on Monday going from south through to north by 23:00 and gusting up to 30mph! The best of it was the forecast had it easing to nothing by lunchtime, around the time I'd be getting out of bed. I still doubted it would happen so Monday night at work I made a point of watching the wind and sure enough, almost exactly as forecast, round it went and up it went. Smudge was the only one I could rope in to a little afternoon session, here's how the day went..
Plans are difficult at the best of times, but to squeeze a session between night shifts is doubly tough. It would have to be local to make the most of the winds help, so a quick check of the tide tables gave us low water at Cromer at 13:00. Not ideal I would've liked to fish the ebb somewhere like Trimingham or Cart Gap, instead I was stuck with the flood so plumped for Mundesley at the lifeboat. Smudge picked me up around noon, a quick cuppa and the gear loaded and in five minutes we're getting the gear out and are greeted by a lovely looking sea. Surf on the bank, another line of surf inside the main bank and it looked like we had two gulleys as well as the pool in front of the lifeboat shed.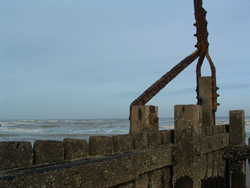 I'm trying to get arty and failing as usual, hopefully you can see the lovely surfy conditions with a backing westerly, hmmmm lurvely!
The whole Mundesley stretch can suffer with weed, especially after a blow or a few days southwest. So I fully expected to get some weed, it had been south or southwest for like ever and we'd had a quickie rough up overnight. We managed to catch the last half hour of the ebb and despite there being a few loose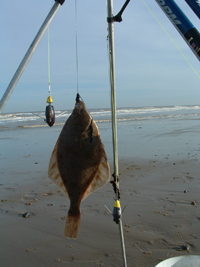 bits of wrack in the surf it was relatively weed free. We'd get it on the flood then, put money on it. First chuck and I have a barely perceptible drop back, hardly moved more than an inch, but a bite nonetheless and a few seconds later and a nice flounder is heading back to sea. You can probably see the surf better in the flounder picture, that and there's a lovely colour in it too. IF (I know its a big if) there were any decent fish, they'd be forced to feed in this.
Smudge had a codlet first chuck too, I reckon this place fishes best around mid flood, while there's enough water to get them over the bank and you're still close enough to be able to hit the gulleys and holes that litter this stretch past the end of the groins. So not a bad start then, we hadn't blanked and we wouldn't have that "shall we put a flapper on just to catch something" scenario, we can fish pennels all day. Nobby turned up for a babble, he's on nights with me and didn't fancy stretching himself today, poof! I think secretly he regretted not having a go, it was so nice.
There we were, forecast right to the minute, sun shining and a backing west wind carrying leads a long way out and to top all that it's a codlet a cast. Can't go wrong, the weed still hasn't turned up and its a beautiful day, so imagine our horror then when a red tranny van rattles down the cliff road with a fecking jet ski on the back! Just what we needed. In fairness to the guy he did at least head off towards Trimingham once he'd got it launched. Me and Smudge were having a babble about how he was going to get it back up the beach. Anybody that's beach launched a boat knows that wheels, sand and the waters edge don't mix, the first bit of wash round the wheels with weight on them and they drop into the sand. So this thoughtful jet skier comes back to retrieve, handballs the jet ski trailer to the waters edge and starts to winch the contraption on. Sure enough the wheels drop around 4" into the wet sand. Not a problem for our intrepid friend, off he goes and drives a rear wheel drive tranny onto the beach and down to the waters edge. Smudge smiled at me and I smiled back, not in that "love is in the air" way, but in that "this is going to get all Morecambe and Wise" way.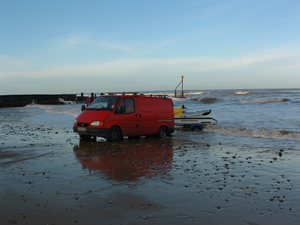 Bless, I mean the wheels sank with a couple of hundred weight on them, what do you think is going to happen with half a ton and the ability to bury themselves?
The guy was taking it well, the sea's flooding fast up the shallow, flat beach and I reckoned he had less than 30 minutes to get it out before a 6 hour wait. Absolutely no point in us offering to give him a push, there was no way on this earth we would've shifted it. I ran over and told the guy there was a crew man in the lifeboat shed and that they had a tractor, his mate had beaten me to it and gone to the fisherman at the side of the Ship slip and asked him for a tow. If this guy had been one of those feckwits that plough up and down in front of you I'd have had no sympathy, but this fella had been ok. He'd driven off slowly and gotten well out of reach before humping it over the surf, I genuinely felt for him, he managed to laugh his way through it and was more than OK with me taking photographs and the piss!
The fisherman from up near the Ship slipway soon came down in his old tractor. According to Nobby its a Fordson Major, to this poor soul watching his van disappear it was a life saver. Thankfully it didn't take much pulling to drag him out and soon the van and jet ski are up the beach away from the waters edge. The fun's not quite over though, the tractor and driver are making their way back along the concrete apron and matey gets it stuck in the soft sand! The poor bastard should've gone to work instead!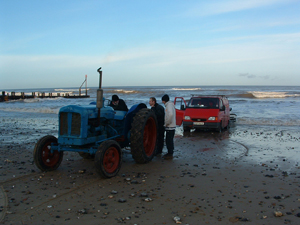 A Fordson Major "life saver". Well alright not strictly saving lives but a shed load of embarrassment!
We're still getting a baby codling a chuck whilst all the fun is happening. I was busting for a pee but I can't go because "red van man" has got an audience by this time. The audience finally leave without so much as a clap of appreciation and I can complete my ablutions. I felt more and more confident of a better fish. Aside from my early flounder and a whiting that clearly thought it was a codling, all we'd caught were codlets. The sea was building nicely and the surf at the start had become a lovely rolling sea the colour of hot chocolate. We fished on until dark, bearing in mind I had to be at work. I would've moved and fished the ebb somewhere else, Trimingham probably, if I'd had the time, the sea looked that good. Truth is I'd still be there flogging a dead horse if it wasn't for bloody work.
Not a great session but nice to be out in good conditions on a lovely day. The casting was going well mostly due to the tail wind and the weed that can ruin this great venue never showed up with any vengeance. I suppose it could've been a lot worse. I could've been working 12 hour day shifts Monday to Friday, learning a new job and be totally bald instead of still being in the "comb over" class. I did ask Smudge if he could scowl, he said no on account of copyright infringement and he wasn't an overworked, miserable, "only fish at the weekend", Northerner!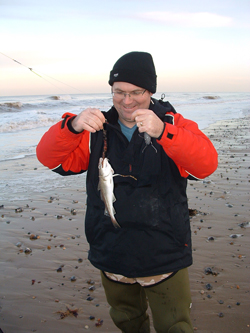 Smudge with a regulation codlet, that's an Essex scowl, not a patch on the Northern one, shame Geno doesn't fish anymore!
12th January 2008
I couldn't believe it and didn't know whether to kiss her or smack her! I got a late pass to join the boys at Dungeness, trouble was I only had a couple of wraps of blacks in the freezer and some crabs and she hadn't left me enough time to find some bait. I didn't want to take the crabs, I'd need those elsewhere soon enough, so needed to find some worms sharpish like. Lee had been laid up with that virus that's been going round so no fresh blow lug there, next stop a call to Digger.
Digger sent me a text back saying I could have 40 of his fresh blacks, they were round at Johnny Bowers and to pick them up when I was ready. I tell thee, a couple of stars those blokes, Digger wanted to come but had to work. Sorted then, 40 fresh blacks and about the same with my frozen "hoss cock" blacks, that'd ding dang doo. Plan was to be round at the Leg End's for 04:50 and meet Geno and Lucky in a layby on the A47. There's no truth in the rumour I'm starting that those two often spend time in public car parks, in the dark, Stan Collymore looking through the window etc.
I couldn't fecking sleep! I've never fished Dungie, I remember reading about it when I was about 12 or 13, greats like Mackellow, Carroll and (begrudgingly!) Kerry, among others, whacking out leads into the "dustbin" for the huge cod that stalked the pouts and whiting there. Here was I, 43 years young for the love of god, and I'm like Aidan was on Christmas Eve!
PK was up and ready when I got there, bang on time, and I could see even he had that excited glint. If you don't do it or understand the history of the place you probably won't understand what I'm on about, it's a bit like a footballer wanting to play at Wembley. For me Dungeness, like Orford Ness, is a cod fishing mecca. Geno and Lucky were in the appointed layby, a quick flash of the lights and we're all on our way. A 2 hour uneventful trip got us to Shane's at Gravesend for a little after 07:00.
A quick brew and Dean, Shane's mate, has arrived and we're on our way again. A 3/4 hour drive through Kent and we're at the Oasis diner ordering breakfasts. Daft tart messed mine up but I soon remedied that and we're scoffing pig like it's going out of fashion. Two more stops for bait, I swear to god we stopped more times than a Rolex rip off, and finally we park up and unload. I was pleasantly surprised, from the car park there was only 3 or 4 beach buddies set up along the top of the shingle ridge, I expected more it is Saturday after all. Gear loaded and we walk straight over the top to be greeted by more rods than Veals at the waters edge! Word had got round obviously and the place was heaving, it was going to be a one rod job fishing under the next mans armpit.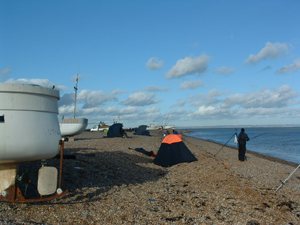 If you look closely, you'll see there's some boats among the many rods.
Still we'd be able to get in and there's so much water there it wasn't going to be too much trouble though when your used to as much beach as you want it takes some getting your head around. If you've fished Weybourne you've fished Dungeness, the only difference is about another 50' of water and a shed load more tide, oh and a history of huge cod and massive cod catches.
I set up next to a "local" then Geno, Shane, Johnny, PK and Dean. We were all crammed in the same distance we would normally leave between each other, madness. Conditions weren't great either. It had been nearly unfishable the day before, that wind had swung round westerly and it was now as flat as a witches tit under a bright blue sky. There was some colour in the water but little in the way of lift.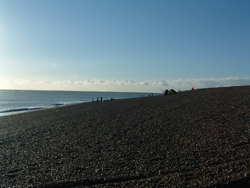 Not really cod fishing conditions are they?
Starting to sound like I'm stacking up the excuses isn't it. Here we are at probably the most famous cod beach in the country and its like May. Geno remarked how all the "locals" were wrapped up like Eskimos during a cold snap whilst he was taking clothes off. I reminded him he wasn't still in the car and Stan was long gone. I had a walk for a chat with the fella to my right just before I set up, he was telling me how they'd had their best cod season for 20 years, in fact as long as he'd been fishing. He'd shared a catch of over 20 with his mate the weekend before.
We started just after low water, with the best time expected a couple either side of high water. There was a little bit of weed when the tide finally picked up and a steady stream of pouts, rockling and whiting followed. I was still confident despite the weather and lack of room, I could have comfortably fished a 5oz breakaway if I'd had just a few more yards space, when it went hard I had to go up to 6oz and only got crossed with the guy to my right once and not at all with Genocide. I noticed Geno and PK were using 7's and Shane was using a 6oz fixed grip lead. I thought the uptiding gear was a bit extreme, at the hardest it wasn't any worse than Orford.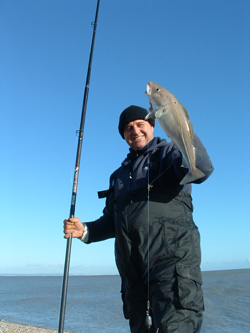 Shane with the first of the day, a nice chunky monkey around 3.5lb. Turned out nice again.
The guy to my right was making the short walk towards me as the tip of my rod nodded forward twice before dropping back slack. Text book. I said to the fella that he could walk up anytime and I finally took all the slack up and felt the weight. A short scrap later and a fecking doggie is lolloping about in the edge. Geno grinned, my confidence dipped and PK had a dog. Shane had the first codling around an hour and a half before the top, a cracking conditioned chunky fish around 3.5lb. Not a bad start really with the best about to start, allegedly. I reckon within a 30 minute burst Lucky had managed one of 2.5lb and Geno a pea from the same 2.5lb pod.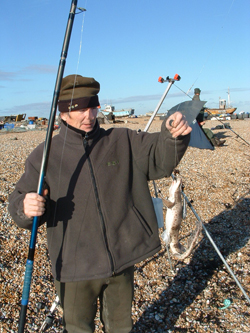 Lucky with one of the dogs, fecking things.
The Leg End had a slackie, a big proper one leaving him winding like a dervish for ages until he finally caught up with the fish. A good solid thumping weight, the first that he'd feel pull back for years, a proper fish at last. A shame then that it got the other side of Lucky's line and managed to cheese wire through PK's leader! I swear to god that bloke is due some serious luck. Talking of luck, not long after the Leg End dropped his best one in years, Lucky wound into another 2.5lber, poetic justice to the name.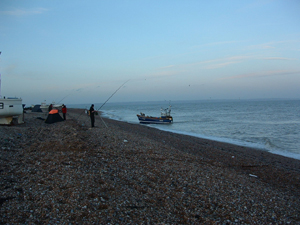 You reckon we have trouble with boats coming in close.
Geno and Lucky both managed doggies too, but all that followed that early sprinkle of codling was more bits and the occasional doggie. I only had bits after that and Geno was all the way over the 5 yards at my peg for a babble, when a familiar looking guy walked up the beach. Geno recognised him straight away, Steve Morris casts for England and was fishing just shy of the point with a mate. Steve hadn't had any but his mate had four the biggest about 4.5lb, his best fish though was a whiting just shy of 4lb! That's the biggest whiting I've ever seen and bigger than most will ever see. Unfortunately I don't have a picture but trust me it was awesome, if you imagine a fish that is 90 odd % of the current British shore caught record it's the equivalent of catching a 40lb cod.
The day was a disaster cod wise. We'd completed a 400 mile round trip spending god knows how much on bait, petrol, food and drink and for what? We managed 3 codling between the four of us traveling down from Norfolk, a few doggies and a load of bits. I reckon though it was one of the most enjoyable trips for ages, I can't remember laughing as much in ages. The journey there and back was pleasant and went like lightning thanks to the continuous babble with PK, we all had some nice snap for tea in the Pilot at Lydd, and a mighty craic all day, and though down we aren't out by a country mile. One of these days the effort, time and application will pay off and we'll empty a sea quicker than a Vigo trawler.
The sport down in Kent was marginally better than round here at the minute but I reckon the only reason it is better is down to the depth of water. The fish are feeding on sprats all round the coast, at Dungeness the sprats were leaping out of the water from the edge as far as you could see, birds were working them all day. A few lucky people managed to pick up a few of the fish hanging under the sprats. I may be wrong but that's how I read the water on the day. Round here with our shallow beaches the sprats are a mile or so off and again the fish are with them, the exception being Aldeburgh and Orford where people have reported sprats jumping about in the edge and both Aldeburgh and Orford have tossed a few up. The only other places to show any kind of consistency have been the areas where there's some structure to hold the fish. I can't see things improving until the sprats bugger off or we get some sustained weather to break up the shoals and see them off. When that happens though look out, they'll be in and feeding and fit as feck after chomping through all those tasty sprats.
It's a hard lesson learnt for me, the next time Mrs Aitch says I can't go, I won't, I'll let my mates do the blanking for me!
11th January 2008
Copied below is Geno's message, his wit is deeply cutting, but like all animals with no sense I have little feeling either, good job with these merciless bastards!
I looked in the mirror the other day and was surprised to see that my face was quite a bit longer than it used to be. The hairline seems to be receding bit. All things considered, i mustn't grumble really. My old man looked like a friar when he was 30, so losing the odd hair from my fringe is no great loss.
Anyway this got me thinking about hair loss among my mates.
A quick search on the net threw up some interesting reading on its causes.
Hormonal problems may cause hair loss. If your thyroid gland is overactive or under active, your hair may fall out.
Hair loss may occur if male or female hormones, known as androgens and estrogens, are out of balance. Correcting the hormone imbalance may stop your hair loss.
Many women notice hair loss about 3 months after they've had a baby. This loss is also related to hormones.
Some medicines can cause hair loss. This type of hair loss improves when you stop taking the medicine. Medicines that can cause hair loss include blood thinners (also called anticoagulants), medicines used for gout, vitamin A (if too much is taken), birth control pills and antidepressants.
Certain infections can cause hair loss. Fungal infections of the scalp can cause hair loss in children.
Finally, and most embarrassingly, hair loss can occur due to the application of pressure on the scalp by the parts of the female body known as 'thumbs'. This type of baldness usually manifests itself with a 'thumb' sized bald spot right in the area of the crown. It may also be accompanied by the wearing of matching his n hers sandals, the desire to spend lots of time in the kitchen cooking, and not going fishing with your mates (who, 'cos they're good mates, wouldn't dream of mentioning it)
Who do I know......?
I really couldn't think of an equally witty response, sometimes you just have to admit your own failings and I know every dog has his day, today is the lanky, northern dog's.
I hope the lads do well, christ knows we need to see a few proper ones out. I WILL have a go next week, Lee the bait digger has had that virus thing going round, typical of him, anything for nothing. Hopefully he'll soon be back on his feet and digging like a navvy, I'll ask Geno to write the Dungeness trip up when he gets back, at least my mates will have something worth saying and seeing!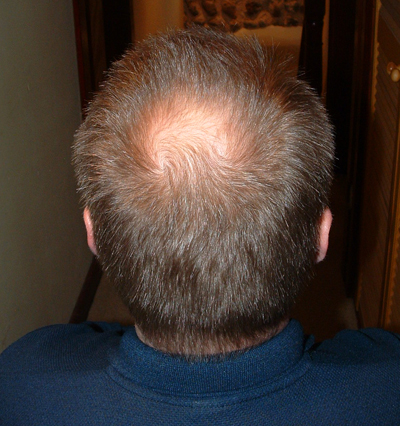 You can clearly see the effect of not just thumbs, but occasional palms and feet.
1st January 2008
January 1st for gods sake, first day of the New Year and the circus that is the Aitch family home has started its 2008 tour. I'm on nights, happily plodding through my work (?) when I receive a text from Mrs Aitch. Nothing unusual in that, but this one was about young Aitch, the story begins with a Christmas present from my beautiful sister..
My gorgeous sister gave young Aitch a hamster for Christmas, she's a specialist and breeds them, she even has her own web site: www.madabouthamsters.com. Basically, along with my brother inlaw, they are as mad as a box of frogs. Poor old George (the hamster) is sexually confused too. You see he's a girl hamster but Aidan didn't want a girl hamster he wanted a boy, so George it is. I think when George matures I'll need to get "him" some Doc Martens and dungarees; "he'll" probably want to do a stint at Greenham Common too. Sorry I digress, since George arrived, Scottie the family dog hasn't been his normal self. When George was downstairs, Scottie would stare intently at the cage, to the point where he wouldn't eat. Not unusual for border collies, they can be a bit manic and get fixated, to be honest they don't realise they're dogs. Now George has been moved up into Aidan's bedroom, Scottie has taken it on himself to go upstairs to protect Aidan from the caged beast.
It was about one of these unauthorised sojourns upstairs that Mrs Aitch sent the text. Apparently when she shouted upstairs to get Scottie down for a bollocking, Aidan was heard to say to the dog "don't listen to that ruthless cow!". I was trying to be all supportive and sympathetic to my lovely wife when she rang shortly afterwards, truth is my shoulders were going up and down like a sailors arse first night ashore, it was all I could do to stifle my laugh. By the time I came off the phone I was shaking like a shitting dog!
I'm still on nights on New Years day but now I'm public enemy number 1. Of course Aidan must've acquired his language from me, stands to reason, couldn't possibly be anything to do with the films and TV he's watched over the break, the same break that has seen me at work! The little bugger's not 7 until April and at his current rate will do well to see double figures. In fairness Mrs Aitch came round when I explained I can't remember the last time I used the word ruthless, fair enough if he'd prefixed cow with merciless, horrible, evil or moody etc. etc.
I heard that 12lb won the Holt match New Years day. What a difference a day makes on the shingle. Digger's still talking to me despite my merciless mickey taking, he was thinking about going tonight but I think a late tea and a drink may have put paid to that. I'm going to have a go next week as soon as work allows, just a case of keeping an eye on the weather, at least we seem to be getting a change. A good old SE blowing at the minute which could liven up Lowestoft and southwards over the next few days, let's hope so.