24th June
PK's right, I don't fish enough. Two bloody weeks with nothing but work and home jobs for the Fuehrer, I was gagging for a session...
On one of the internet forums there were the beginnings of a few whispers that sole were showing in the Thames. A quick text to Shane confirmed that there were a few showing and the weather looked good to keep them coming. I had some traps to drop off at Digger's last Friday, he was at work, but the lovely Tina (minus the punky pink hairdo) was there to greet me. I told her I was scheming a session in the Thames early next week and to tip him off if he fancied it.
I'd only just finished my tea that night when the phone rang, "When you going mate", "next Tuesday, I've got a 10am appointment in Norwich and thought I'd go on from there", "sound, I'll dig some bait Monday night". Easy as that. Smudge fancied it too but in light of the fact he'd spent the last 5 days on the rivers, Mrs Smudge had other ideas. Nobby was up for a trip but didn't fancy the long haul as he had work the next day, Geno and the bait less PK were at work so it'd just be me and Pete.
I picked Pete up at 8:30 and was in Norwich just after 9am. I'd ordered some king rag from Avenue Angling in Norwich to supplement Pete's fresh dug lug and wrigglers. They looked nice and lively when we got them, unfortunately it didn't hold up through the day, by the by, it's a cracking little shop stuffed to the gunnels with all sorts of bits. I got a new tip ring for one of my rods, there's a job to keep me in my "potting shed" and out of Adolfa's way. Geno's merciless mickey taking of me and my croc sandals, an obvious sign he would really like some, might be over. I noticed in Avenue Angling they had some camouflage crocs especially for carp anglers, so next time he's camping instead of fishing he could at least have sensible footwear on, I'll let you know if he gets them.

They even have them in his size, 'kin huge.
Physio done and dusted and we leave Norwich around 10:30. A good run saw us in Gravesend by 12:30, as we picked our way through the town we pulled up at a set of lights. As we did we both instantly pointed at a massive edifice under construction. There in all its' construction glory was the mother of all mosques, it is huge! To my knowledge "we" haven't built a cathedral for the best part of 1000 years, so it was certainly a jaw dropping moment to see something on that scale being built.

The only picture I could find doesn't do it justice, this is going to dominate the area, it's immense.
A quick grub stop and we're soon parked and at our peg for around 13:00. The water is always coloured in the Thames, the locals judge it on degrees of colour, to me it looked like coffee. No such thing as a good easterly but at least it was in our mush and would keep the temperature down on us, the car gave 23 degrees as we pulled up. Fast approaching mid forties the pair of us yet we're still setting up like a couple of kids, its one of the things I love about fishing, brings out the boy in me. Pete (who is a little bit older than me, I may have mentioned that before) reckoned he couldn't sleep the night before, he put it down to excitement, I say don't drink coffee after 8pm you plum!
Digger's first in and almost immediately a good old rattle of the rod tip resulted in a schooly of a pound. I wanted to fish one of my boom rigs, successful sole rigs for round here, against what Shane and his local knowledge had told me about Thames sole rigs. My boom rigs have short hook lengths and really nail a small bait down, I use split shot as bait stops to ensure the hook is on the deck. Shanes' have long snoods, preferably red snood line, no metalwork and he prefers large baits that to me looked more like bass baits than sole baits, thing is your daft if you don't take the local advice and big baits certainly got us more bites on the day. What we both noticed through the day was that not many fish fell to the hook by the lead compared to the hooks fishing above it. It may have been that the bottom hook buried in the soft mud with the lead, I think the next visit will see the bottom hook attached a good 2 or 3 foot above the lead to allow for it burying.
My first chuck fluffed up a bit and dropped short of the target, I decided to leave it whilst I set the other rod up. The first rod fishing the boom rig gave a good old rattle. I watched it for ages, there's two hooks fishing and there's nothing to be gained by rushing and striking when your sole fishing, give them a bit of time to get the business end in that little, crescent shaped mouth. "Go on get it in" he said, I picked up and wound in a double shot, a slip sole around 8oz on the top hook and a baby flounder on the bottom. Pete followed up with more small flounders and the occasional slip and a steady stream of bits followed for us both on the flood.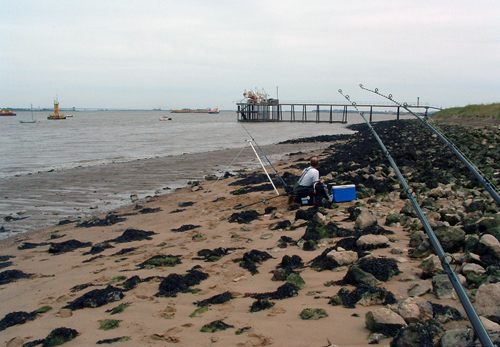 Not the prettiest place I've ever fished but I do enjoy the type of fishing, something about small hooks, close in and flatties, it's a boy thing I reckon. I wonder if I'm regressing like my poor old Grandad bless him.
We did have a quiet period for the last of the flood. The easy tide data that I link to on this site gave high water at 1530, Shane and Wendy came for a wander down, I told him what I thought was high water and he said no mate it's about 1730! He got it confirmed with a quick call to the tackle shop. It's not the first time we've noticed "inaccuracies" with the easy tide data, I don't know if it's because it's free, but if they aren't going to give people accurate data, which let's be honest could be critical to some, they shouldn't supply it at all.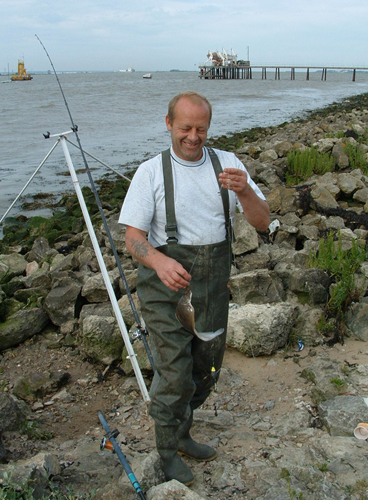 He's laughing at me I reckon, I get the flier and can't catch a sizer.
Moan over. As the tide topped and turned we started to pick up a few more with Pete managing a couple of better ones at 3/4lb and 1lb respectively. I was duffed up big style, I nearly kept up with the bits and despite having what I was told was the flier, I couldn't manage a sizeable fish to Pete's two. I did miss a couple of likely looking bites but was well beaten, at least I managed a few fish more than I do with Jonah the Lumberjack. The guy downstream of Pete managed a couple too, all I could do was carry on missing bites and catch chinese mitten crabs. Weird looking things they are and apparently you should kill everyone you catch, they are destroying banks and foreshore as they tunnel into them, that and like spider crabs, they snip through your hooklength, we both lost hooks to them.

You can't mistake them, they have fluffy mittens on their claws and a square shaped box.
Upstream of me two young blokes had brought their boys down for a fish, it was good to see kids out getting some fresh air with their dads, unlike the little playstation playing bandit that lives with me! The highlight of the day for me was little Jacks' face when I snapped him holding a flounder he caught. I reckon poor old mum will be a fishing widow twice over, at least dad has the excuse that "I'll just take Jack out of your way love, he wants to go fishing", bloody marvelous.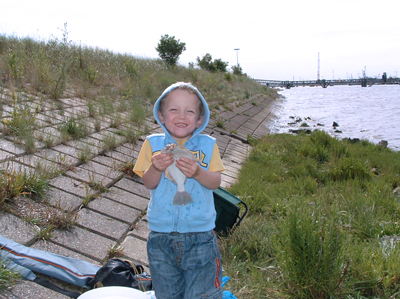 The face says it all doesn't it, mint, well done Jack.
No wounds to lick really, it was a good day out and we both enjoyed it. The run back was another good one and after a short coffee stop I had Pete dropped off and me home for around half eleven. I'm looking forward now to next weeks smoothound match, there's been a bit of interest and hopefully it'll be well supported, conditions look like they'll be ok and the may weed is disappearing quicker than a Labour lead in an opinion poll. It's a friendly knock up with few restrictions, so if you're not doing anything next Thursday, pop down and see us, you'll find all the details here but if you need anything else just drop me an email.
10th June
I'd half planned a session for sole down south somewhere but was going to ice it as I didn't think I'd fit it in with work, my only option being to fish at daytime, hardly ideal for sole especially given the warm, bright conditions. So there I was about to ice the trip when I get an email from Steve Smith, he'd managed a few sole to 31cm and a couple of Lobsters in bright sunny conditions! Game on then, couple that with my old mucker Pedro managing 8 on the night tide to 3/4lb and I'm chomping at the bit.
I had a physio appointment in the morning, I'd picked up some decent lug from Lee the night before and arranged a few hours at Lowestoft with Nobby picking him up after the physio and getting down to Lowestoft for around 14:00. We had some half decent rag too that Nobby had picked up in the morning. I felt reasonably confident when we got there, we were never going to bag up, it was bright with high water around 15:00. If I was fishing the ebb in darkness I would've felt better. There was also line after line of scummy, snotty mess rolling in, still there'd been a few on the previous couple of tides so we had a chance.
I'm not going to string this out. I managed 3 dabs and a sole, none of which was bigger than my hand. In fact if I'd taken photographs of the dabs with my flash on they'd have been x-rays! Nobby aka "Cassa" (blanca) managed a crab. The bites were barely perceptible, I saw one for sure. The only other fish I saw caught was a guy at the end of the pier with an 8oz codling, even the people that throw shrimp and crab pots/nets over were struggling. I lost one set of kit too so other than a day out in the sunshine there isn't a lot to be said for it. I'm stymied with work now for the rest of this week and next, hopefully during that time the May weed will clear and the smuts will be back, if not it'll be down south again, maybe Southwold.
4th June
I can't believe I haven't fished since the 20th may! That less than successful trip was with Mr Kerry, I hoped our evening session at Trimingham would be better, in fairness it didn't have to improve by much to beat our last joint trip, there's a pattern forming here...
I met PK down at the gaps for around 18:00. We planned to fish over the top and a couple of hours down then finish off with a dust buster in the Ingleside. Paul got there around 30 minutes before I did. As I arrived just after 6 there were three guys setting up at the slip, I plodded on past and as I walked up there was a familiar whiff in the air and a brown scum visible at the tide line on the beach, the start of the May weed, deep joy.
Bait was frozen peeler and I was fishing by 18:30, because of a heavy tide with a bit of weed we opted to fish one rod and vary the distance to minimise the effects of both. It was obvious we were going to be up against it. The tide was hossing through and there was quite a bit of loose red weed suspended in it, also those patches of scummy May weed meant some retrieves were a stinky brown mess.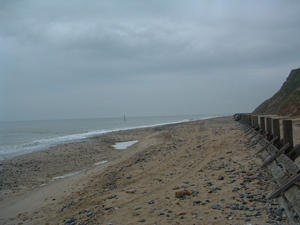 The gaps approaching high water, still plenty of beach and it will build further if the forecast holds.
The beach at the gaps is still nicely built up despite the recent mini rough up. We fished seaward side of the revetment for the whole session, one of the guys who was setting up at the slip as I arrived walked up, he was amazed at where we were fishing when they were 5 yards back behind the revetment. High water came and went with nothing but plucking weed and stinky brown scum to show for our efforts. We carried on until last light and despite not managing anything other than red weed and algae, we were treated to a cracking sunset. Hard to get your head round, here we are about as far east as you can go in Britain and the sun sets in the west doesn't it?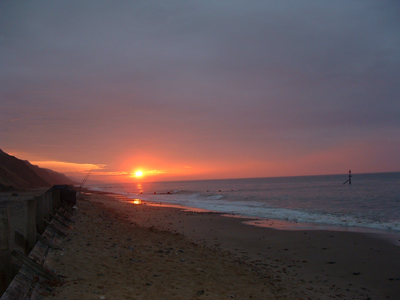 Worth the fishless wait.
After packing up and making our way to the Ingleside we discussed the nights fishing. We'd picked a good tide, high water around 19:45 would give us the ebb, usually consistent for a fish or two, running into twilight. The tide was a new moon spring and there had been several good fish caught over the preceding weekend. So how come we didn't catch? We discounted the frozen bait, it had been done fresh by our fair hands and was as good as frozen gets. Obviously it doesn't have the same draw as fresh peeler but if there were fish there I'm sure they would've taken it.
We came to the consensus it was a combination of the red weed and May weed blooming. If you imagine that loose red stuff suspended in the water and being pushed hard and fast by a heavy tide, it must be like a fog to the fish. Couple that with that stinky, snotty brown scum and it's easy to imagine them hanging offshore until it clears. That's our excuse and we're sticking to it, of course it could be we're just both crap!
1st June
Judging by the reports and write ups on Leader-Lines looks like I missed another fine weekend, the trouble with shift work I guess. Anyway I've skimmed the results off Honourables' post, well done to Yourang on a very creditable 3rd in the Taffs' back yard, lets hope the result can be reversed in the home leg.
Anglo-Taff Challenge 2008 First Leg Cefn Sidan Beach, South Wales, Sunday 01 June

Winning team on the day was Cefn Sidan A.C. Wales with a total length of 11 metres 74 cms.

Friends of LL England returned a team total of 7 metres 69 cms

Wales therefore take a lead of 4 metres 05 cms into the English leg in the autumn.

The top 6 returns from each side counted for the team totals and these are as follows:

Wales:

Tony Nicholas 3 m 38 cms (Team pool winner £ 12.50 )
Andrew Fanthorpe 3 m 35 cms
Mark ? 1 m 60 cms
James ? 1 m 35 cms
Martin Garner 1 m 09 cms
Nigel Begg 97 cms


England

Brian Heritage 1 m 85 cms (Team pool winner £ 12.50 )
Andy Lawes 1 m 73 cms
Roger Allerton 1 m 58 cms
Shaun Dickson 98 cms
Paul Blyth 89 cms
David Allerton 66.5 cms

Individual Match Pool Top 6 places (3 payouts):

1st Tony Nicholas (W) £ 25.00
2nd Andrew Fanthorpe (W) £ 15.00
3rd Brian Heritage (E) £ 10.00
4th Andy Lawes (E)
5th Mark ? (W)
6th Roger Allerton (E)

A total of 22 metres 61 cms of sizeable fish were carded by the competing anglers. Everyone caught fish, but many anglers were plagued with undersized Bass throughout the event. A good many of these Bass were in excess of the 36 cms commercial limit but fell short of our own 41 cms conservation limit.

There were no sizeable round fish carded and therefore the pools for Flat & Round fish were combined and 3 prizes paid out. These were as follows:

1st Martin Garner Flounder 43 cms £25.00
2nd Andrew Fanthorpe Flounder 42 cms £15.00
3rd Tony Nicholas Flounder 41 cms £10.00

Thanks to all who helped make this another great meet.
Great job John, now I need a hand with July's smut match!!