March 29th
Short and sweet. The pair of them fished for rays at Leysdown, we'd had them there a week earlier the year before, Geno duffing us all up with 3 nice rays. Weather patterns have been nothing like they were last year, snow and northerly air flow while last March was more like May. Anyway, here's the text I received from Karl:
"He's had a herring gull, a black headed gull and four cockles. I've had three cockles and a mussel, they don't fight as hard as whelks"
No nice pictures, a 400mile round trip and not a sniff of Raja Clavata. Still at least Lucky can still get the birds. Me and Smudge are going this wednesday the 2nd to the same place for likely the same result. I'll post up as per.
March 26th
I had to chuckle, Geno referred to PK as "Tollund man" the other day. I knew PK wouldn't be sure what he meant so I'd said he'd have to google him. It's a bit harsh really and in all honesty PK's much fitter than me. Geno being the youngest of our group doesn't realise that this merciless mickey taking will all catch up with him and the likes of "Tollund man" will remind him when that glorious moment comes!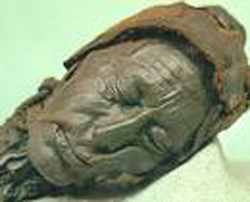 If he is 2000 years old he's still fitter than me! Tollund Man aka Pete Marsh aka PK, I bet even his back is in better nick than mine.
Although I haven't been inspired to go, its hard to say no to your mates when there's a jolly in the offing. Unfortunately I couldn't imagine the long day that Orford is and then going in for a 12 hour night shift, anyway Geno sent me a text with a few words. I should've guessed it didn't fish brilliantly as I never heard anything until late in the day. I think the tides weren't great for it today and I'm sure they'd have liked to have fished more of the ebb. Geno's text:
"Rain and codlets followed by more rain and double shots of codlets. Rain a pouting and more codlets. No photo's due to the rain and codlets. Looking forward to a bath a chinese and no codlets. Trimingham in the morning to use the bait up on codlets, oh and I had these and Tollund man about the same.."

They're ok, I think the lads were unlucky, tides are falling, weather has eased considerably and the big catches of the weekend are a distant memory. Those little codlets don't get much of a chance when their big brothers are around. Please don't look at the reel if you suffer from vertigo or epilepsy.
PS
Geno and PK are in this months Sea Angler on a ray fishing feature with Shane Pullen. I realise PK is in it every month pretty much, but for Geno it makes a pleasant change, you only usually see him in "top shelf" mags...
March 9th
I am pleased to say that the 'Kids & Lads' v 'The Old Gits' challenge at Pakefield turned out to be another enjoyable day and that once again, the application of many years of learning by experience has triumphed over youthful enthusiasm & exuberance.

We had a bit of a fright for a start when the ghosts of 'Peter, Paul & Mary' turned up in the car park though: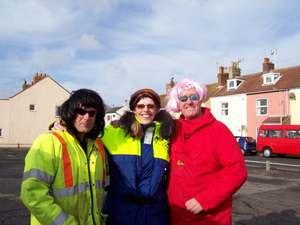 I don't know about Peter, Paul and Mary. To me it looks like Ozzy Osborne, the gorgeous Maria and Tommy Cooper in a barbie wig!
AKA
Andy Lawes, the gorgeous Maria and Yourang
Despite a great day weather wise and an almost perfect tide, the quality fish didn't want to play ball quite so freely as they had done last year. Nevertheless, fish were around in quantity, albeit small ones and the glut of small Codling and hordes of Pouting along with occasional other species kept rod tops nodding pretty well all day.

On a personal front, having had a dozen Codling in as many casts at the start I found it incredibly frustrating to measure Codling after Codling at around 32 cms and still find that with an hour and a half gone I hadn't carded a sizeable fish!! It got worse. After a couple of sizeable Pout at 24 and 20 cms respectively the Codling continued to come only to be topped with a fish at 34.8 cms!! I ask you, 2 mm short, that's taking the proverbial!

Paul Blyth (Pedro) topped the individual list on the day having slogged up to the rifle range, he was rewarded with a shoal of Pouting and found 18 of them over the size limit to card a total of 3 m 44 cms for the 'Old Gits'. Steve Smith (Dabslayer) showed his mastery of Pakefield and followed up his win in 2007 with a runner-up spot this year and a total of 2 m 78.5 cms on the day. Stephen Andrew (Sandy) followed up in third place with 1 m 57.5 cms making a clean sweep for the 'Old Gits'.

Steve Smith cleaned up on the specimen front too winning both the best Round and best Flatfish pools with a 35 cms Codling (the only sizeable one caught) and a 31 cms Flounder. Steve picked up £64.00 for his specimens.

Top return for the 'Kids & Lads' was Andy Lawes (Andy-diss-fish) with 1 m 29 cms. This was only to be expected really as he graduates to become a fully fledged 'Old Git' in just 3 weeks time! LOL.

On the team front, the win was by an even bigger margin than in 2007! The 'Old Gits' top 6 returns totaled 11 m 03 cms against the 4 m 27 cms total mustered by the 'Kids & Lads' top 6.

34 anglers paid a total of £170 into the pools and there were 2 other young competitors. 29 anglers returned completed match cards for counting. A big thank you to everyone for making this another great day.

Full Result as follows.
1. Paul Blyth 3 m 44 cms. (Match Pool Winner £35.00) (Top 'Old Git' from team pool £16.00)
2. Steve Smith 2 m 78.5 cms (Match Pool 2nd. £25.00)
3. Stephen Andrew m 57.5 cms (Match Pool 3rd. £14.00)
4. Andy Lawes 1 m. 29 cms (Top 'Lad' £16.00)
5. Maria Heritage 1 m 20 cms
6. Trevor Elliot 1 m 20 cms
7. Bob Murray 83 cms
8. Shaun McDermott 80 cms
9. Surfin-Dan 69 cms
10. Charlie 58 cms
11. Alan Frost 56 cms
12. Shaun Dixon 55.5 cms
13. Wayne 52 cms
14. John Abbott 44 cms
15. Michael 41 cms
16. Simon Farrow 39 cms
17. Roger Allerton 39 cms
18. Nathan 39 cms
19. Bomber T 38 cms
20. Stephen Wright 38 cms
21. Chris Dinsdale 37 cms
22. Jamie Bale 31 cms
23. Brian Heritage 22.5 cms
24. Keith Mountfield 21 cms
25. David 21 cms
26. Barry Coulson 19.5 cms
27. Carlos 19 cms
28. Jamie Wright 19 cms (Under 16 winner)
29. Dave S 19 cms.

A typical pout on the day.
A bloody good day out by the sound of it, shame I had to work, hopefully I'll make it next time.

March 7th.
It speaks volumes about us and our enthusiasm, or sanity, depending how you look at it, and illustrates what understanding partners we have, that plans were put in place for a local evening session. After our little away trip chasing south coast ghosts (try saying that after a few pints), we decided to try and knock a hole in the top quality bait we still had left. The plan was me, Geno and Smudge would fish Trimingham from 17:00 to around 21:00 followed by a swift couple in the Ingleside.
I was a little late as I cooked tea and had to have seconds, caribbean jerk chicken with rice and peas left me feeling all rastafarian and I just felt like chilling in the chair. I hauled my lazy backside out of the house and met the pair of them down at Trimingham around 18:00. I sat my gear down in Geno's peg as Smudge walked over. Geno had caught a pin whiting and had a crack off, they both had managed plenty of weed. The tide was hossing through, you could see where the groins were breaking the flow creating those eddies you get leeward side of the groins and the sea looked quite nice, good colour and a little lift.
My gear is still unpacked when Geno managed another pin whiting and another crack off, they both caught more weed and my gear is still unpacked. Geno cracked off again and we were all in the Ingleside by 19:45, my gear never got an airing. The unused bait will get picked up by Frostie today to use up at Honourable's kids v old gits match at Pakefield tomorrow. I wish I could fish this one, I only have a couple of more years qualifying as a kid then I have to join the rubber knickers and prozac brigade, still I'm sure they'll all have a great time and hopefully the forecast mega storm won't come early for them, good luck either way! Geno was at pains to state he still has a way to go fishing for the kids. I'll get a report and a few pictures for sure, I wouldn't be surprised to see a few codling caught either, after all me and my mates aren't going to be there.
I'm going to organise a little smoothound match at Trimingham this July with the help of my old mucker Honourable. The gaffer at the Ingleside has said it shouldn't be a problem hosting us, they have a function suite that we can use for registration and presentation and he's said he'll put some snap on afterwards. I'll post a link and an online registration form on the home page as dates and details get sorted.
PS Allen's Marine open was fished today 9/3/8 in the same area, 200 anglers took 23 fish to the scale, only 2 plaice among them. Sheds a bit of light on our session really.
March 5th/6th.
Me and Nobby finished nights at 7am on the 5th. The plan was we'd head off around 10am and meet Geno and Lucky down there. We'd had some great help and information on marks, baits, rigs, the full monty really, from some top local anglers. There had been a few caught, not huge fish but nice fish around the 2.5lb mark, conditions would be the key as we were told, if they were anything like then we'd have a great chance. Optimum conditions would have the sea mirror flat, warm, windless and, probably most importantly, a totally clear sea. Basically the polar opposite of a good sea in Norfolk and Suffolk!
I did plan to get the car loaded then grab a couple of hours kip, I ended up just watching telly, there was no way I could sleep. The marks we'd chosen, and been guided towards, were Hayling island, Eastney beach and South Parade pier at Portsmouth. Plan 'A' was for Geno and Lucky to go straight to Hayling to fish, if they caught we'd join them later for a few hours, if they didn't catch, me and Nobby would go to South Parade pier to get an idea if that would be any better. If not it would leave us fishing Eastney on the Thursday, military precision. Trouble with plan 'A' was Geno and Lucky had our bait! We'd ordered 2lb of rag each off James and we'd tip off with squid strips on our bling rigs. Wherever Geno and Lucky were fishing, we'd have to join them to pick our bait up. Plan 'B' then.
The first confidence knock came while me and Nobby were having lunch at Fleet services. "We're moving to the pier, we've been here all morning and not had so much as a bite". No problem, the pier is a few hundred yards from our digs for the night. We finally got to Portsmouth after a relatively uneventful trip and met up with Geno and Lucky on the end of a bloody cold pier. It wasn't just cold it was freezing! A lazy southwest was cutting straight through us on the back of the mini cold snap last weekend. We'd been told the worst wind we could have was a southwest, that'll be confidence knock number 2 then, apparently it makes the sea scruffy and stirs up a bit of colour. The water was a little coloured, not like off the east coast but you couldn't see beyond around 4' in, plaice like it like tap water. You can see where this is going can't you, the odds were definitely starting to stack against us.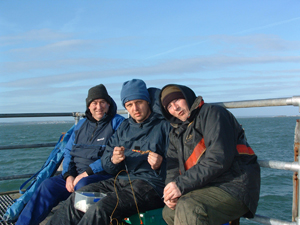 Three Blankers. Nobby, Geno and Lucky "whelking" on South Parade pier.
Me and Nobby set up alongside them, pleasantly surprised that apart from our muppetty mates, there was just one local on the pier. Plenty of room due probably to the fact any local that knew the conditions was earning brownie points rather than spending them on a mission impossible. The solitary local was a real character, his ruddy face peering out from behind the jam jar bottoms perched on his nose, friendly old fella, when he smiled it looked like a set of railway arches bless him, he certainly looked like he'd lived a bit.
Its amazing how often it happens on away trips. You have the bait, the best info., the inside edge on rigs and marks then mother nature pee's on your burning enthusiasm by twisting the weather. Still you have to be in it to win it and we knew if there were any there we'd get one, we're not total idiots. The only thing that looked at our bait that first little session were whelks. The good news was that the wind was due to turn westerly and ease considerably along with a rise in temperature around an average 5 degrees, a much better chance on the 6th then.
Geno had been talking to a contact down there, he was convinced our best chance would be the pier, he'd had 5 plaice in two sessions last week from the pier. The conditions just wouldn't encourage them within casting range of the beach unfortunately. None of us like fishing piers though in fairness this one was probably the best I've fished. At the end of the pier there's a crescent shaped platform below the level of the main deck of the pier. It's nice, wide and clean and does at least afford you a chance if casting is hampered from the beach. I would imagine it heaves with mackerel chuckers during the summer holidays, but if we had to fish from a pier then there are certainly worse ones to have to fish from.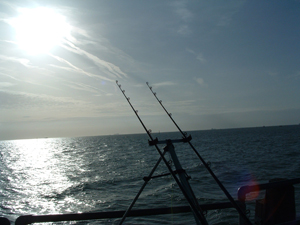 A rough and coloured Solent on the 6th, honestly that's rough and coloured.
After a night out in Pompey we pitched back up at the digs. I roomed with Johnny, Geno and Nobby had their own rooms. I was that whacked after night shifts and 250 mile drives I barely knew he was there, within a few minutes of my head hitting the pillow I was spark out. Breakfast at 7am, which was ok and only lacking mushrooms, black pudding, fried slice, another rasher, egg and sausage, and we were back on the pier for 08:30 with the place to ourselves. It was at least a top coat warmer than yesterday and we had a surge of confidence, the sea was flatter we had around 3 hours of flood and as much of the ebb as we could stand. Game on then.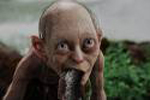 Geno enjoys black pudding, it doesn't matter how rough he is from the night before, I get the impression he likes sausage generally.
Things started pretty much as they'd finished on the 5th with a steady dribble of whelks! For a laugh we started counting them. Lucky wanted us to keep them, his plan was to mince them and add them to his carp baits, bloody animal. The bloody things were relentless, if you didn't wind one in they'd been all over your bait, grazing like cows. The only time they eased off was when the tide picked up, they must hunker down when the flow picks up. I always feel a bit more confident when there's some movement in the sea. I reckon if the sea is moving then fish should be moving and if fish are moving then they should be feeding, so I wasn't entirely surprised when I wound in what I thought was another mollusc to find a "devil fish" hanging off the end. It looked like a bullhead to me. I hadn't seen one since I was a kid and I'm not well up on mini species, but a local told me it was a devil fish on account of the horns either side of its head. They are a type of sea scorpion apparently. This thing was barely 2" long, I've tried to photograph it below in my usual inept way. Not too long into our session another local rod pitched up with his lad (who should've been at school), a clunky old rod and reel and a carrier bag full of special brew. I'd wager there was more value of beer in the bag than his fishing tackle, obvious then that he should catch a flounder well over a lb whilst the rest of us were wading through the whelks!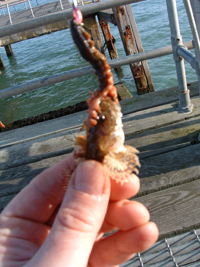 The first of my two tiddler's, small but perfectly formed and better than anything my nomark mates caught.
That first devil fish was followed by another next cast, a little bigger probably 6" long. I walked it over to Geno so he could take a photo, he's a much better photographer than me. Just as I got over to him, holding it out flat on my hand, the fecking thing grunted and vibrated! I nearly shat myself and dropped the mini beast back into the drink as I jumped out of my skin. You can imagine the derision, "you big girl" and "ooooh we don't want to catch those dangerous things" etc. Merciless the lot of them. Despite my girly reactions to a 6" long, grunting horned devil, they were the only fish we (I) managed between the four of us. As we packed up to beat the traffic round the M25 we worked it out. Four men, two rods each and a total of about 10 hours per rod, that's a total of 80 fishing hours for two devil fish and a bucketful of whelks! Almost embarrassing it is but if you don't go you don't know, and there's absolutely no chance of a plaice in my arm chair whatever the conditions are like. Even PK was reticent in his gloating, I think he acknowledges our desperate attempts to find some sport in these desperate, codless days. I think of the trip like this:
Bait - £30
Petrol - £30
Digs - £25
A night away fishing with your mates - Priceless.
Nobody can knock our effort, truth is we are probably a week or two early. Last year they had them very early but if you cast your mind back past the summer floods you'll remember March and April were exceptionally warm, look at the pictures of us ray fishing in the archive last March. We have more trips in the pipeline, there'll be at least three of us going to the Isle of Wight at the end of April and between them we have ray fishing trips planned for the Thames estuary and some bass to have a chuck at locally. I think we're just impatient for some sport, we know we'll get amongst some nice fish in the next few months and when we do, this dire winter will fade into a distant memory.
March 3rd.
I love away days. Tomorrow me and Nobby, Genocide and Lucky are off chasing flatties. We have a little trip planned for a south coast sortie. Every year they get a run of plaice in the Solent and we hope to get among a few. truth is it's likely to be a blank, everything needs to be right and we are relying on lady luck rather than picking ideal conditions.
The plan is me and Nobby meet Geno and Lucky down there, we have the nuisance of a night shift to complete first then mid morning it's off to Hampshire as quick as we can. We've had some excellent help from guys down there and we're meeting one of them for a pint tomorrow night.
So with all my rigs and bits and pieces in place all I need to do is get down there, lets hope we have something to show for our efforts.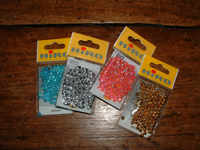 Bling it on!