May24th - May 31st
This week has seen some of the best smut fishing I've ever seen on the Norfolk coast. The beaches from Sea Palling round to Cley seemed to all hold a few fish. Johnny had 22 to 8.5lb at Trimingham in an exhausting session and Hinge and two of his mates shared a catch of 46 between them including several doubles. Dene Conway fished Cley and had a beauty of 17lb 5oz according to the conversion chart, and those charts are generally within a lb. Today (31st) I've seen a cracking picture of a 14lb starry from Trimingham. Regular reports of 10 fish per rod, Digger got so sick of catching 3 to 5lb fish he packed up and came home! Lets hope it continues into next week, I have a session in the pipeline with PK.
20th May
Paul phoned me up late on Tuesday, ironic really as I was scheming a session for the following evening and I knew he wasn't at work, we hadn't fished together for ages so be rude not to get together. He'd had the same idea only he fancied going at stupid o'clock in the morning. High tide was around 06:30 so we arranged to meet around 04:30 at Heart Attack.
I found it surprisingly easy to get up, I guarantee I won't tomorrow for work, I was actually awake about 5 minutes before the alarm, gear loaded and the short drive to Mundesley over in a flash. I was down the cliff a few minutes before his nibs pitched up, the wind had eased to a nothing easterly and the morning promised to be a bright and warm one. Not ideal for fishing but there was a little life in the sea and a bit of colour, not thick chocolatey cod coloured but a nice tinged "bassy" sea, bloody marvelous.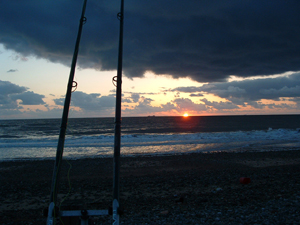 Dawn's crack!
It did look quite good, bright conditions aside. I had a confidence lift first chuck and dropped a schooly in the surf. A bite first chuck, when I go with chuckles I can be there watching him catch for hours before I get a bite. There was a bit of loose weed but it was that easy off stuff and not too much of a problem. I'm generally not too happy with the state of my kit at the minute, all my reels need a bloody good service and I have a cracked foot in one of my tip rings. Not a big issue in itself but I think I'm going to go for a full rebuild, I love my rods but they need a little TLC.
Around high water, possibly a little before, I had a classic slackliner. The rod not just easing back but springing back sharply and the line's laid up on the beach. Don't you just love it when that happens? A short but feisty little scrap and a 1 3/4lb schooly is on the beach. The Leg End still hasn't had a sniff, but it was just nice to be there, no pressure just a relaxed, easy session.
I had to be home for 08:15 to help get young Aitch out of the house and get cleaned up for work at 9am. The sun was shining, the sea looked great, I really didn't want to go but there's only the needy and greedy that work overtime, and I'm both. Last chuck I wound in a schooly of a little less than a lb and said my goodbyes to fishless, I mean Paul, and left him with a half crab I'd peeled and prepared to bust a new set of lungs getting back up the slope to the car. A short but ever so sweet little session with a top bloke, perfect before work.
PS

I got a text from Paul a few minutes ago. He had an undersize codling on the bit of crab I left him! Still there's always next time, too bright to catch well really but a super morning to be out and about.
16th May
This is so hard to take but take it I will, the boy wonder's words again, my pain will ease in time...
By the time we got back from our session it was about half seven in the morning. I don't know about anyone else, but before I go to bed I have to sort my kit. The reels (nice looking orange mag elites) were washed and left to dry, rigs were sorted etc etc. I eventually got to bed at 11am. At half one I was woken by a call from one of the lads we sometimes fish with. I don't know if I made any sense after so little sleep, sorry Peter!
Come tea time I rang John.
"It's dry and the forecast looks good".
"Yeah"
"Same time"?
"Yeah".
That was it. I rang H. He was at the school fete, but was up for it.
It's midnight and we meet up. What's this? H appears to be wearing a pair of jeans (the right jeans 'cos the pubs are all shut) over a pair of pyjama bottoms. It looks as though he's waited for the boss to go to sleep and then sneaked out! I pretended not to notice and we headed for the beach.
The two 5lbers from the previous evening had given us all far to much enthusiasm for middle aged blokes, and though I felt like a zombie I was well up for it.
With the tide being a little later, we all started with one rod, saving bait for later. First chuck I had a fish just a bit under 2lb. Inspired, we all started fishing properly.
To start with it was a lot slower than the previous evening. I had a couple of missed bites and the stiffs (oops sorry I mean H and John) didn't have a sign. After a couple of hours a proper drop back and a nice fight,ended with a fine bass of 4lb 7oz to me.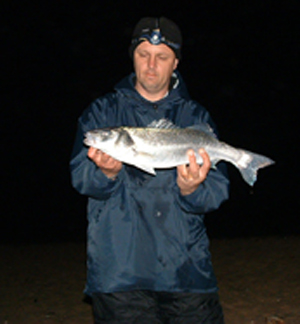 4lb 7oz of kamikaze bass, apologies for the picture, obviously transmitting my angst to the camera.
Apart from a couple of missed bites the next hour or two was quiet, but come high tide(about 430am and in daylight), it all changed. I was getting a bite a chuck off schoolies. Even the stiffs managed a schooly a piece, with H also skillfully snaring a whiting.
If the truth be told, I didn't make the most of the action. What I mean is, I caught fish every chuck, and as fast as I could get a bait in I had a bite, but I didn't let the stiffs 'have it' if you know what I mean. I should have been merciless in the mickey taking, what with them catching nowt, but I wasn't. I'm putting it down to fatigue rather than going soft....
At around 6 o clock, with the action easing, H decides he's seen enough and wants to go home to lick his wounds (or sneak back into bed before the boss wakes up and realises he's been out ha ha). As he set off, I had a cracking bite. On picking the rod up it was pulled forward with so much force I had to take a couple of steps down the beach to avoid being straightened out. Looking over my shoulder I shout H, who with good grace, stuck two fingers up and carried on walking into the distance. Oh well.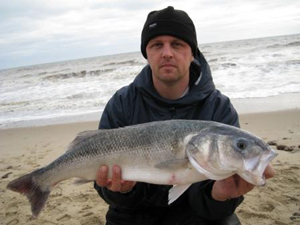 Stunning fish of 8lb 1oz, I could see it was a good 'un from the distance, she's nearly smiling look.
At least five minutes later, and after the best fight I've ever had off a sea fish, I had an 8lb 1oz bass safely on the beach. Much to the amusement of John I was shaking like a leaf. I'd never seen a bass this big. It looked enormous! Just as I was about to unhook it, the other rod dropped back. Another bass! 5lb 15oz of silver muscle. Unbelievable.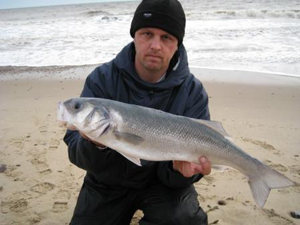 Is there no end to my misery? Scowler with the 5lb 15oz to go with the 4lb 7oz and the 8lb 1oz etc etc and so on and so forth ad infinitum ad nauseam.
The final scores?
Me.
Bass:- 8lb 1oz, 5lb 15oz, 4lb 7oz, 1lb 10oz, seven schoolies up to 1 1/2lb, plus a doggy and two pouting.
Aitch.
A schooly and a whiting.
John.
A schooly.
I'd like to say it was all down to skill, cunning, watercraft, and casting ability...... so I will.
IT WAS ALL DOWN TO SKILL, CUNNING, WATERCRAFT, AND CASTING ABILITY.... (and some superb bait provided by Digger, thanks mate).
Did I also mention I had a 24lb 4oz common carp on floating crust earlier in the week? I must remember to put the lottery on....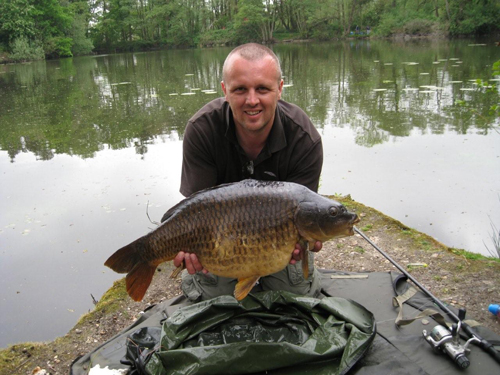 A proper grin from the scowler. Fair play to the guy, he's on a cracking run which will make it all the sweeter when we end it ! Muahahahaha.
15th May
Geno kindly gave me a write up on a successful little session him and Johnny had at Trimingham, enjoy..
A week off. The forecast didn't look very good for anything. On Monday me and John decided to go and look around an old, little fished estate lake to see if we could see some carp. While we were there H rang. "I'm going to do Diggers traps on Wednesday, do you want to come for the ride?" We did.
I took my fork, just to remind myself why I buy bait and don't dig it myself. After a couple of hours on the marshes, we were back at H's' for a chat and a well earned beer.
The forecast had been slightly wrong, and there was a bit more strength to the northeasterly wind, which had given the sea a perfect look. With high tide being between half three and four, plans were hatched to meet at midnight for a go at some bass, with the thought being we'd have more chance at dawn than in the middle of the day.
Quarter past eleven, and me and John are about to set off from mine when I check my phone. A text from H. He cant come. He's tired, and the boss isn't too pleased about him fishing all night when he's got a school fete the next day. Next time we see him there'll be a few less hairs, and the bald spot will be a tad bigger. Perhaps we should start calling him thumbellina?
Anyway we started about 1230. Bites from the off produced schoolies, mostly around the pound mark, but some up to 2lb. It was hectic at times with both of us catching schoolies as fast as we could get a bait in the water. At dawn I had a drop back on one of my rods. The instant I picked it up I knew it wasn't a schooly. A nice fight, resulted in a fit Bass of 5lb 6oz.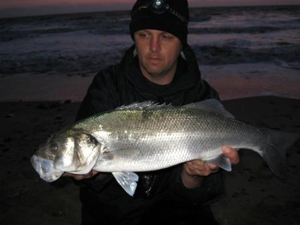 John only cut the top of his head off, I would've been tempted to make it from the neck! Ed.
The start of the ebb produced a bit of weed and the bites eased.. An hour or so later, we were just thinking of packing up, when John hit into a good fish. This one really went for it in the surf. Five minutes later a lovely 5lb 14oz bass is on the beach.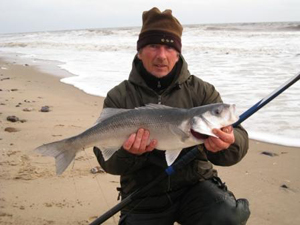 It must've been heaving! Johnny with a sparkler a little under 6lb.
A couple of casts later, and completely knackered, we called it a day. 'Should we do the same again the following evening'? We decided to look at the weather (neither of us fancied an all nighter in the rain), and see how we felt after a sleep.
Tbc...
6th May
Wall to wall sunshine for a few days now, I knew the crabs were well into their first proper moult so I arranged to do some traps with Digger in the glorious sunshine. I dropped Aidan off at school and was round his for around 9:15. We had loads of time, we wouldn't be able to get to the traps before lunch, so we stopped in for a coffee at Salthouse and a babble with one of Digger's mates from Kings Lynn way. He'd been down there since 4am for a few bits. The night before Digger and Trev were fishing down at Trimingham and there was certainly more colour there than here on the shingle, the shingle would probably be plugable by the end of the week if the high pressure continues.
From Salthouse on to a lard up before starting work and we whistle through the traps. Over a dust buster afterwards we started to formulate plans for an evening session. A southern ray trip was out, we'd had the confidence knocked out of us by recent reports. If anything the weather and sea conditions were about as good as they could be for a local try for a ray and I was up for a go in the Cart Gap to Waxham area. I was also up for a sling at a bass or two seeing as I had a bucketful of prime bait. Digger was pretty easy, I would've liked to fish 4 or 5 left at Trimingham but reckoned on the place heaving with jet skiers making the most of the Mediterranean conditions.
Trev was going to be joining us in the evening and he fancied a go on the shingle. I wasn't too inspired after what I'd seen over coffee in the morning, it wouldn't matter if Trev and Digger fished the shingle and I fished the sand it would at least give us an idea of what was going on where. I'd been speaking to Croc as well during the day, he was earning brownie points with some decorating, I easily prised him away from that and we arranged to meet up at Heart Attack for a few hours over the top, with a high water around 20:00 it would allow us to fish a couple of hours until dark and home at a reasonable hour.
I got set up for around 18:00 just as Croc made his way down the cliff, my plan was to fish one rod with fish baits and the other with fresh crab. It was difficult to find out how Trev and Pete were getting on, the signal is dodgy at the best down the cliff, but from the messages that did get through they seemed to be getting a few bits. I managed a schooly around 8oz first chuck, though from those first couple of casts it was obvious that fish wasn't going to be a bait I could fish with any consistency, crabs, shrimps and every other mortal thing in the sea were having a nibble within seconds of it hitting the deck. Out and out crab session the only option left then.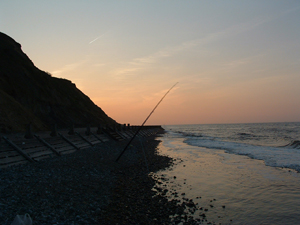 What a cracking evening to be out.
There was a hell of a lot of tide and with it some loose stringy weed which was a cow to pluck off, not May weed but it's only a matter of days in this weather, I was confident the weed would drop off after the tide topped, it generally does on the ebb. The rods were sitting lovely in the tide, a walk uptide 30 yards to cast, plenty of line out and let it tighten up on its own in the rest and 5oz held at distance. I'd sent a text to Geno to let him know my plan, he was on days and I thought he might pop down afterwards for a babble. Sure enough boy wonder popped down at around 19:00 with a beer too bless him, an added bonus was seeing our old mate Brian White. He was down there helping a bloke with his casting, Brian has helped me and Geno in the dim and distant and is a thoroughly nice bloke as well as a top tutor. God knows he must be a miracle worker if he managed to educate Geno...
I lost a set of kit while Geno was there much to his delight, I then compounded his joy by tying my new leader too short, not just an inch or two but a good bloody yard! Thankfully he soon left for his tea and I managed to get my game on, retied the leader and sent a bait out into the gulley. The bait can't have been in for more than a minute or two and the rod had barely settled in the tide before it springs back and the line gets laid up the beach, picking up and winding down I soon felt the weight of a schooly of 2lb. Croc managed an eel. The very next chuck and the other rod repeats the form and springs back straight, another pea from the 2lber pod is soon beached, maybe an oz or two heavier, still pretty, fit fish. Unfortunately both were deep hooked, though I'd rather take these 2lb to 3lb fish than the larger, breeding size fish when we're lucky enough to catch them.
Next put in and again my rod tip nods forward before dropping back in the tide, a bit more weight this time and none of that weight disappearing act that the bass do by swimming towards you. A few seconds later and a pristine spring codling is in the bucket and weighed in at 3lb 8oz. Minty.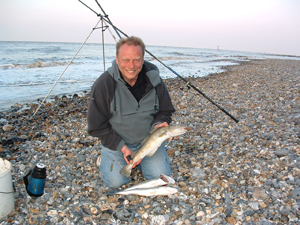 Hard to believe I know but that really is me with some reasonable fish!
During this period of non stop action for me Croc's rods had been strangely quiet. We couldn't quite figure out why, he was casting a similar distance with similar rigs in the same area of sea. The only difference we could see being the fact he had frozen crab to my fresh. I suppose it could be the reason though in my experience frozen fishes just about as well as fresh if they've been done properly at the right time. The other thing I thought was maybe they were being a bit fussy. The gulley fills with food as well as water and my baits might well be very similar to what they were finding in there naturally. Obviously I offered some of my fresher's to Croc, who politely refused in anglo saxon through his gritted teeth.
Enough theorising, another bite and a better bass approaching 3lb is on the bank, this one returned for another day. Easily my best session so far this year and the poor winter I had is now a dim and distant memory, not finished yet though. I had a pin whiting and another bass weighing in at 3.5lb before Croc took some of my crab and managed a pin whiting before packing up around 22:00. So to sum up the session, I had 5 bass, 4 of which were between 2 and 3.5lb, a codling 3.5lb and a pin whiting while Croc had the snake and a pin. Those pins must be brave or stupid hanging around while there's silver assassins around.
I reckon we'd have had more if we'd stayed on but I'd had enough. A cracking day from start to finish, I'm all crispy from the sun and slept like a log after all the fresh air I got in me, it's a shame work gets in the way for a few days now otherwise I'd be out there trying again, don't you just love the summer?