I didn't feel so bad for missing a session with the boys when I learned they struggled, anyhow, I finally got out, meeting Nobby at Cart Gap and fishing for around 1900, just about low water. Small tides and low water with a lively sea aren't ideal for Cart Gap anyway as it's a pretty shallow beach, and we were mid flood before I managed a schooly around 1.25 lb. I had another "roach" schooly an hour later and a sizeable but skinny whiting for Nobby saw us packing up at 2330. The wind was more west than northwest when we got there but was starting to freshen and go more north as we left. I took young Aitch to school this morning and the local beaches are already unfishable, at 12:45 today we have a 6 NNW at Weybourne according to wind map, even heavier out at sea. There's more of the same and stronger tomorrow and Sunday, so if you're going you'll get pushed round the corner to Yarmouth and southwards, and be very careful in these heavy seas, it's not so long ago we lost an angler at Kessingland in similar conditions.
I have been neglecting the site and more importantly the fishing, it's no excuse but I've been busy with so many other things, particularly work, it's untrue. A bit of a result then when me and Geno managed to get together for a few hours in the evening down at Hopton..
We were on the beach by 5pm, a bit early, we planned to fish the flood but thought we'd get there early enough to set up in the daylight. We decided to walk from Gorleston end up towards the steps at Hopton, we peered over the wall above the wreck and it was anglers as far as my eyes could see. Unperturbed we set off for the yomp past the last man, it wasn't nearly as far as we thought and I guess we were just over halfway to the steps.
Cosy set up with a full groin to ourselves, baits were soon heading out. Geno has a chunky monkey (1-2lber) within a minute, I crack off first chuck. I cast the other rod and as I retie the leader, the tip eases back and a double shot of a whiting and dab are untethered from the 3/0 pennel. Nice to see 3/0 dabs I thought and went to cast the retied leader after returning the fish and crack that one off, the reel goes back in the box. I often over tune when I service my reels, a drop of oil in each bearing will sort it I think.
Geno is on it from the off, chunky monkeys interspersed with good (?) whiting, by low water he's doing me 2 chunky's for every one of mine, still I was getting a few and it was a cracking, windless night, mild too. We'd heard reports of some good fish showing at Hopton, truth is they're all over the southern end of the patch, but our old mate Pedro had got amongst a few the night or so before. Around mid flood, Geno snares one just over 4lb that had taken a whiting. We did wonder if we'd get through the chunky's, but old golden nads had sneaked one on a live bait. I then lost a proper lump that let go of the 8oz whiting on my hooks. My luck really, both hooks of the pennel were inside the whiting, poor little bugger was dead and covered in teeth marks, it almost looked half digested yet it could only have been on for a few minutes.
More chunky's, whiting and occasional flats followed, along with a couple of large pouts. Just as I'm expecting another chunky, the tip pings back and I have to wind the best part of 50 back on to catch up with it, a few hairy moments in the gutter and a pea from Geno's 4lb pod is soon safely in the bucket. Just what I needed to kick start my season and rekindle my enthusiasm that work had drained. All the rest of my mates, even PK, have been among these 4-6lb fish, this was my first of this season and it was just the boost I needed. I was on it now, trouble is so was the lump still. I couldn't make any inroads into his 2:1 lead no matter how hard I tried, though I did manage a 3lb+ fish to go with the other. I then lost another "live bait." fish before the fishing started to ease towards high water. Just when I thought it was all over, one of my rods nodded forward once and dropped back straight in one lovely movement. I pick up and wind down and there's a bit of weight, quite a bit actually, then as it hits the last 10 yards of sea, it goes mental. First cod I've had since a kid fishing the humber that made me take a step or two down the beach. More hairy moments and I finally have the thing beached, another whiting muncher which promptly fell off as I went to pick it up, thankfully I was far enough away from the drink and my best cod in years is safe.
Geno "That's not a bad one", in his totally nonplussed way, he's had a few this season already, he's getting all nonchalant about them. I reckoned 6lb maybe a bit more, truth is I hadn't seen enough of them recently to be able to gauge it. Out with the digital scales and they flick up to 6lb before settling on 5lb 15oz! The lousy basket wouldn't give me six either on account of the fact he'd had several at 5lb 15oz too, his dodgy scales I reckon. A few more bits and bobs followed but we'd had the best of it and packed up just after high water.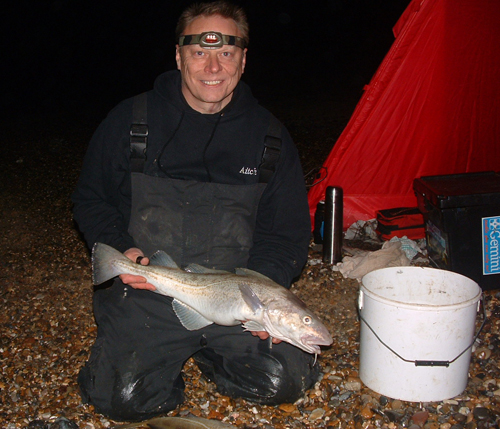 Obviously a totally straight, heterosexual, hard man despite the girly pink beach buddy!
I always enjoy fishing with my mates, even more so on red letter days. I like Hopton too, the only kit I lost was the two sets I threw away with my dodgy reel servicing and we'd had bites from the off and all through the flood. I was taking home the 3+, 4+ and the nearly 6 along with a couple of deep hooked 2lbers, over a stone of prime north sea cod, Mrs Aitch will be pleased a nice bit of roe too. All in my best session for at least 3 years, probably more like 20, a top, top night, even the old scowler managed a few smiles, We reckoned we'd had between 25 and 35lb apiece, and even with my better quality fish, I'd been done handsome style, still we'll be doing that again soon, and who knows I might even duff her up for a change!