Thanks again for an excellent report and pictures Paul, a very well done from a very jealous Aitch! This story shows what a bit of research, hard work and good fortune can do and should be an inspiration to us all.
Here's my story, hope its ok !
I set off at about 4am to head for my chosen spot armed with all the info I have gleaned through my own experiences and from the much appreciated help from others. Driving through some of Suffolk's finest countryside, seeing deer and a fox on route it was one of those superb spring mornings worth getting up for.
I got parked up and then headed off on a 20-25 minute hike. I was set up and fishing by about 5am. Fished one rod with standard pennel rig with 150grm uptide extra lead to fish the inshore side of the main channel, the other rod was set up with a 'stumpy' D-vice to send the bait to the far side of the channel. Bait was 1" chunks of VERY freshly frozen Herring on Mustad 32807BLN size 3/0 hooks which are quite wide in the gape, just right for the bait chunks.
After about 3 hours , and a couple of suicidal Whiting, just as I was begining to doubt my decision, the rod on the far side of the channel gave a steady nod ? time for a coffee, a minute later another nod followed by the line slowly slackening, I left it for a while before picking up the rod and starting to reel in the slack. I soon realised that the rig was about 30-40 yards further down tide than where I cast it, as I took up the slack I felt solid resistance, a snag? Oh no, it started ' nodding' I could only pump and wind against the weight but it was moving and occasionally nodding through the rod, after a steady retrieve the top swivel broke surface about 6-8 feet from the bank followed by a large looking Thornback ! I got the fish into the edge and up onto the weed at the waters edge, reached down and grabbed it by the cheek, as soon as I lifted it I realised it was quite heavy.
I grabbed the pliers got the hook out and put the big girl on the digital scales, 12lb 2oz, I then put her on my old spring balance to double check, these gave 12lb dead. Totally over the moon by now. Whipped out the camera and after a few snaps slipped her back into the murky waters. Yes!!!.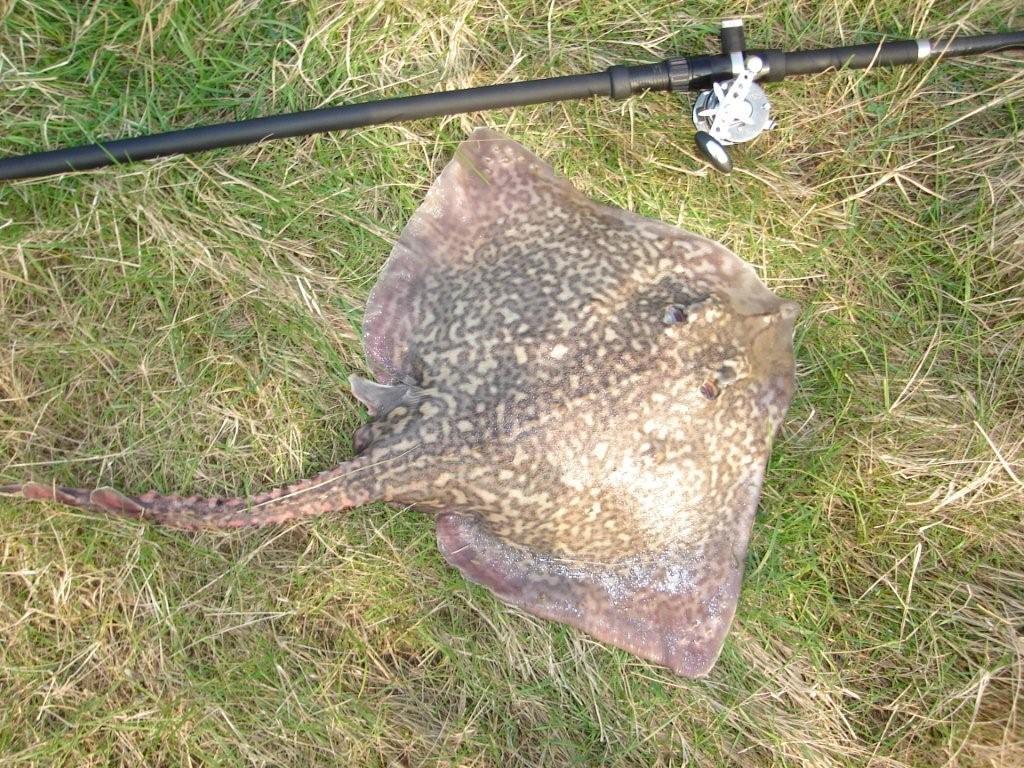 12lb 2oz of rare shore caught Thornback, rare for Suffolk / Norfolk anyway!
I could hardly settle. A short while later the close in rod started nodding and again the line fell slack, wound down and took up slack , fish on ! This one did actually have a bit of fight in it, after a few minutes of the fish ploughing up and down it finally broke surface, not so big this time but another skate all the same. With the fish on the bank again and on the scales, this one was a male and went 5.5 lb exactly.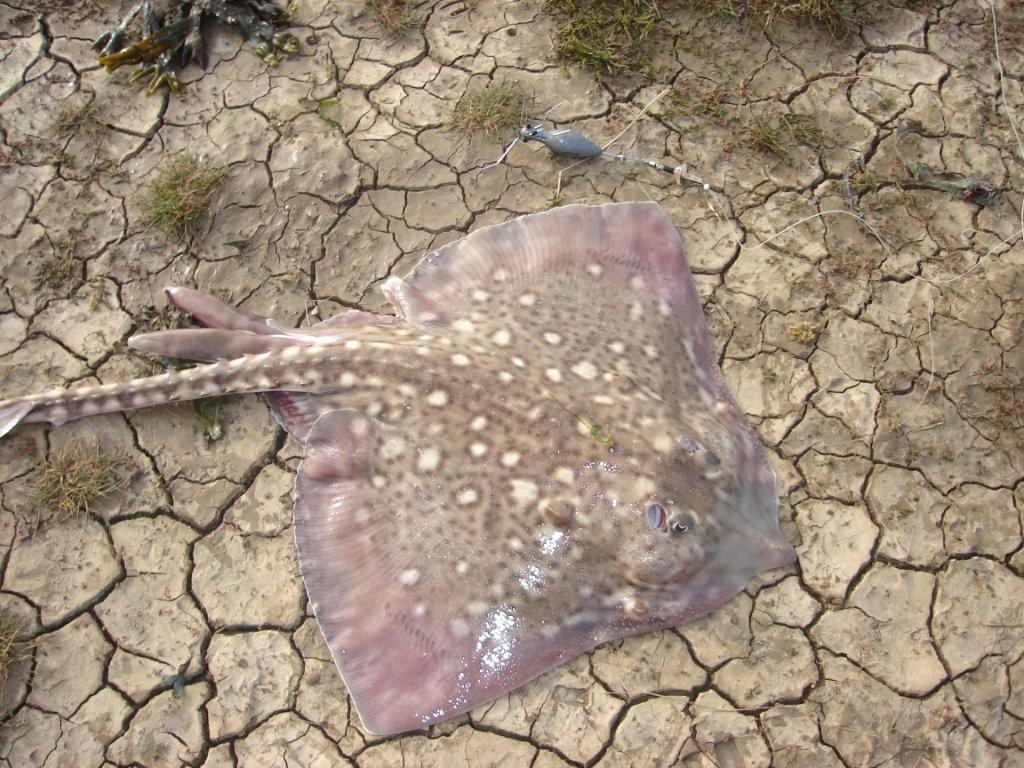 The scrappy male at 5.5lb, and another cracking conditioned fish.
By now the morning had gone better than I could have dreamed of. Still scope to learn a lesson or two though. I hooked another and then proceeded to lose it when my hook length broke! This was my own fault as after landing the first fish, I had noticed the snood was chaffed just above the hook, in my haste to get the rig back in the water I never bothered to replace it, lesson well and truly learned !
I Packed up at high water purely because I was out of bait. It was one of those sessions when it all comes together and the fish gods smiled on me. Roll on the next 'perfect day', time to tie a few spare rigs for the next session.
Hope this report isn't too long Ian, got a bit carried away recalling the story!
Not long enough for me Paul! A super day out, just think, when was the last time you would've had 3 fish for 20lb+? A fantastic result and well and truly deserved after all your hard work, I look forward to hearing about your next trip! I think everybody will appreciate the need for some "secrecy" here, these fish are rare enough from the shore nationally, let alone in our neck of the woods and are easily targeted with lines and nets. If any of you are lucky enough to get among a few of these prehistoric flatties, please put them back, the fish Paul caught are probably spawning at this time of the year, if you enjoy eating skate wings or "roker" please buy it from the chippy - Aitch.