I'd originally arranged to go with PK and Smudge for a couple of hours after work, there's been a few off the local beaches and tides fitted in nicely with work. I suppose I was on the beach for around 17:00, not much sand anywhere really. There was a bit up towards Castaways and the revetments but there was already somebody there so I plonked myself on the concrete apron at the bottom of Beach Road steps. PK was tired after several shifts so said he'd just pop in for a chat.
Smudge turned up at 17:30 just as I'd got both rods in and fishing. Casting was a bit hampered by the apron and swings were reduced, but I still reckoned I'd get far enough for a fish or two. An old boy walking his dog told me about a bloke who had 8 from the next groin the day before, it was my old mate Stick of butchery fame. He'd sent me a text, which backed up other texts I'd had from Sea Palling right up to Sheringham, there was a chance of a few on any of the local beaches.
It was just before dark proper when I had a reasonable whiting (?), I'd got some first class worms from Lee and fully expected to snare any hangers on after the previous weeks glut. The sea looked flattish but had a good colour, about typical of our luck recently, never getting the conditions exactly nailed on. Whiting returned and another prime lug bait hits the drink. I settled down to tidy some bits up and prepare a bait for the next chuck when the rod looped forward and kept going. It eventually dropped back as I hauled my fat arse the two yards to the rod. I picked up the weight pretty much straight away as there wasn't a lot of tide, a few seconds later and a bristling 2lber is in the bucket.
Smudge adds to the tally straight away and I return another whiting and a schoolie, I reckoned Smudgers was a little bit bigger than mine, getting on for 2.5lb. Jonah turned up after shift at 19:00 at about the same time as Lockey, a local bloke, walked up from the gas site end. We stood around babbling for an hour or so during which time I only had 1 cast. I also made a fatal error around this time. I'd cast in and the lack of tide meant I needed to tighten down to the lead. Foolishly, as I was the other side of my tripod, I asked Jonah to give the reel a couple of turns. Fatal, Jonah had touched my gear. This sounds daft, but after that until 22:00 and packing up, I managed a single barely sizeable whiting with my lovely fresh bait. Smudge on the other hand, managed a couple more 2lb+ fish. All the fish were in cracking nick and it was nice to see a few schoolies making an appearance, lots of anglers reporting one or two in their catches. Apologies for the quality of picture, it was taken by Smudge on his phone, enough said.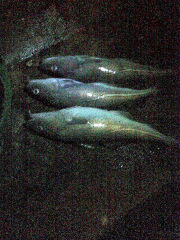 6lb 9oz gutted and my fresh bait is done 3-1 by a combination of frozen bait and my muppetry.
Another top local rod I hadn't seen for a while popped down to say hello, he'd been fishing with Lockey down the Keswick end, he reckoned he'd had enough fishing plus he had a load of filleting to do. I reckoned he popped down just to have a laugh at me and the meager takings in my bucket! Seriously good to see Lockey and Dave, been a while, but I'm a busy boy these days.
I enjoyed the night, nice and mild until high water and good to catch up with old mates. I learned a couple of valuable lessons too, 1 never underestimate the effectiveness of the Framlingham pirates blacks and 2, never let Jonah look at your gear let alone touch it!
I really only made this trip to try to christen my new rod (more on that later), well I did, ending up with 1 cod sizable, 2 pouting both quite large and 1 whiting also sizable. However I must say that the state of the north beach is really terrible now, it seems that it has become so snaggy as to be almost unfishable. I thought it was rather strange that there were 12 anglers crammed into the first 3 bays from the car park then on one from there all the way to tramps alley, where there were about half a dozen others fishing up towards Corton.
Of course I soon found out why! first cast, straight into a heft, but bay 4 used to be clear? I know I've fished it many times in the past. So I went and had a chat with the local guy fishing tight up against the groyne between 3 and 4, (if all else fails, read the instructions!). "Big heft out there is there?", "yep" he said "and another one your side of this groyne" that's just great I thought, "move to the next bay should I?", "wouldn't do that" he said "most of the rest of um are even worse!". He was a very friendly and helpful chap though, we had a long and very pleasant chat. He recounted that there was a bit of a gap that I could fish, turns out he was right, only big enough for 1 rod though and then I could only leave it out there for about 10 minuets before the tide took it round too far.
Still ended up losing 2 more sets of tackle, the first one was because I left it out there to long, and the second was when I hooked another fish, which despite doing my best to prevent it, took me round into the heft again! That convinced me that I'd had enough, so I packed up, it wasn't very comfortable fishing anyway, like playing Russian roulette and would have been impossible in the dark too.
All in all a pity about the state of this once good venue, It was a lovely day though, warm and bright sunshine, shirtsleeve weather in fact, little wifey had a great day looking round and pouting and whiting are her favourite fare, so Valentines Day supper went down very well!
I decided it was about time to get my self some new rods as my old ones are getting a bit tired and I'm worried about breaking them. I should point out that for many years I fished with a pair of (beloved) Daiwa Moonrakers, but eventually managed to break both of them while casting!
Mostly now I use a Conoflex cod 5 and an Abu 464, as you can see both very old rods, this may give you the idea that I know very little about the rods commonly in use these days. If so you would be right, but having done some research including reading your blog, I decided to go for the Daiwa TDXS 129PM. Initially I thought I will get one, to see how it goes and if I like it I will get another one later.
Uum, well the jury is still out on this, at the moment I think it may be a bit too long for me. I should tell you I don't use a full pendulum cast for fishing, I can do them, well about 1 in 3 attempts I can! I do a more Paul Kerry style rather than a Neil McKellow, and yep they do go a long way if I get it right, but on the beach too dodgy!
So I fish with a sort of abbreviated pendulum style, originally shown to me by Jim Ingledew many years ago now. With this and the cod 5 I can drop a baited hook on average 165 yds (measured), when I say baited hook, that would be 150g lead with breakaway impact shield and a jelly lug set up the same as I fish. However with this set up and the TDXS on the casting field on Thursday, despite spending 4 hours and trying everything I could think of, the best I could do was 144 yds (132mts).
So a little disappointing, to make matters worse, in an attempt to restore my confidence and make me feel better, I got out the cod 5, only to crack off twice in a row, all that messing about seems to have upset my rhythm or something! I'm not all doom and gloom though, I'm sure I'll sort it out eventually, in the mean time I can drop the TDXS as far as the 464 at least, and I'll try to persuade my old casting buddy to come out to the field and give me a hand.
Thanks for that Mick, I'm not a massive caster compared to some of my mates but find I can put a bait far enough usually. I love the TDXS 129pm, they are getting a bit of a following, most of my mates have either 129's or 133's and I've not heard a bad word about them. PK in full flight with a TDXS or AW is an awesome sight, few are as long as he is on the beach despite his advancing years!
This won't take long. I got a text from Matt who'd had four on the morning tide, mostly over the top of the tide. I'd been promising Gareth a trip for ages and seeing as though we were out having lunch when Matt rang, seemed an opportune time for us to get together for the long awaited trip that evening.
Gareth pitched up around 19:00 and we were fishing by 19:30. Seeing as we had work the next day, I thought a few hours at the slip would do, if the Quack had 4 then there must be a few more at night and the slipway would allow us to fish out of the car. I had some of the Framlingham Pirates top quality blacks and that was it, first chuck for Gareth on my flattie fanatic and he manages a sizeable whiting, I managed around 4' of weed.
Weed for us both for the first 2 or 3 casts then around an hour before the top it disappeared, Gareth missed another bite. I'd lent him some of my gear, half of which landed seaward after an almighty crack. So I'm tying leaders and rummaging through the rig wallet while rigor mortis sets in on my lovely tdxs. We spent most of the night sitting in the car yapping and him on the internet on his phone, he's got one of those brambles or blueberries, whatever, my number 6 doesn't work on my poxy Nokia mobile.
The very last chuck and my rod eases back straight and I snare a whiting the twin of Gareth's first, rather than next fish the winner I thought it prudent not to push my luck and we packed up. A lovely looking sea that will be even better tomorrow with the steady WNW breeze on it and if you fish over the top and the ebb you shouldn't find too much weed. I don't know if we'd have done better with some fresh blow lug, but the blacks we had were top draw and I've been thumped by the Leg End with them too many times to doubt there fish catching capability, I think its more indicative of the difference a tide can make in NE Norfolk.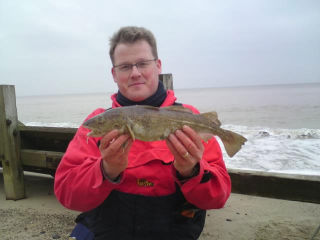 Matt with one of his four 2lbers, nice one mate.
Took the opportunity afforded by a weather window to have a fling over low water with Matt "the Quack" Lawes down at Mundesley. I'm going to keep this brief, aside from a nice night on the beach with good company, the fishing was totally pants.
I got there first around 19:15, just before low water at 19:30ish, a nice looking sea, not rolling but the drop in pressure had put a tiny lift in it and there was a nice colour. There was also that loose red weed all over the beach, not great news when you see that at Mundesley or Trimingham. Anyway I banged out the first one and the rod tip craned over, "bloody weed" I thought but the tip was pretty much motionless, none of that nodding and trembling when the weed hits the line. There wasn't a breath of wind and a slight haze covered what would've been a bright, fresh, moonlit night. Bloody marvelous.
Before I cast the second rod I wound in the first to find a pin whiting impaled on my pennel and barely a scrap of weed. This gave me a lift, plenty of tide over low water and no weed to speak of. Matt pitched up around 20:30 just after I missed a slackliner, not a line laying up the beach and the rod wobbling in the rest job, but a distinct dip forward before easing back straight. Again no weed as well as no fish and the bait was holding up pretty well. "You've pitched up just right mate, just missed a slacky", when will I ever learn? Matt set up alongside and we sat there chatting while the tips did nothing.
Probably mid flood Matt missed a slackliner, almost identical to mine. The tide had switched now and the familiar left to right pull increased and brought with it a shed load of weed, not fresh, easy off red weed either but stringy, clingy crap. That pretty much put paid to that and we were off the beach by midnight. I enjoyed my night out, Matt is good company, but I would've hoped there'd be one or two feeding round here. Like I said it wasn't a perfect sea, but it looked good enough for a few bites at least, all seemed like a really bad idea when the alarm went off at 05:00 this morning.......