Not much to report on the fishing front, in fact I only had a half dozen casts all day. I managed a couple of smut pups and a roach bass, to be honest I didn't expect to catch too much, bright blue skies, packed beaches and a lunchtime high water are never ideal. Add to the conditions about 1,000,000 jet skiers, inshore lifeboat in and out and a steady ENE wind and all I really expected to catch was the sun.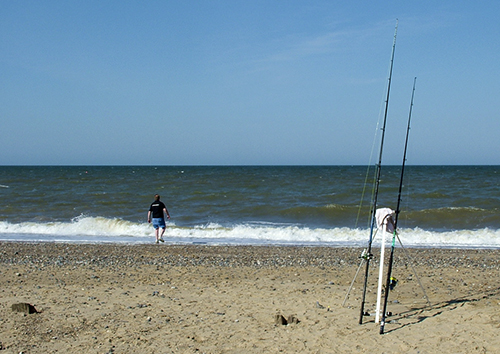 Too much on it for proper smuts, but still a cracking day on the beach.
Some school friends of Aidan's and there mum and dad joined us and we had a rare old time eating and drinking, it was spot on and I'll certainly be doing it again. I never fished properly but Gareth was eager to have a go, I told him all we could expect would be some suicidal roach bass though surprisingly I only managed one just before packing up at around 1700, poor old Gareth blanked. The good news is that we started just before high water and there was next to no weed and more importantly no snot to speak of. The insignificant bit that was there disappeared entirely on the ebb.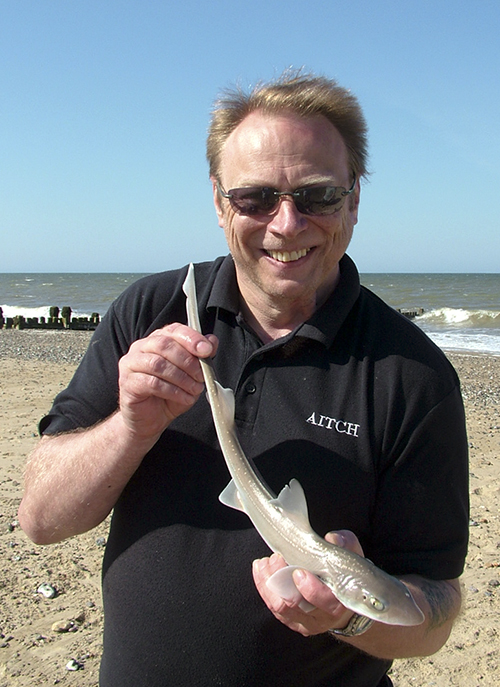 Perfection in miniature, don't you just love them. Hard to believe that some jokers eat them isn't it? Too much in the sea for proper smuts but surprised we didn't get a few roach bass, feck I'm ugly!
IF we get a break from the wind this week I reckon it'll fish it's nuts off. Tides are building and high water will be advancing towards dusk, it could be spot on Friday / Saturday but the current forecast has north in it all week. I'll be keeping my fingers crossed this week though and if the conditions are anything like we'll see the better smuts for sure the back end of this or the begining of next week.
I arrived at heart attack 8.30ish Friday AM to a cracking sea but with little colour. Bite detection hard work, glad of my 15 footers which helped keep the line up. There were hoards of 6 to 9" fish every cast, even had 2 on one pennel once, it must have been very hard for the better fish to get a look in. (if there were any!) Around top of the tide I picked up one just over 2 and one about 2 3/4 but that was it sizeable wise.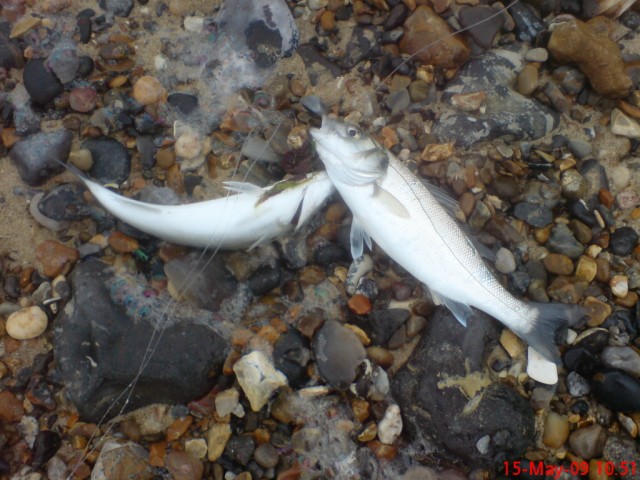 A couple of "roach" on a pennel.
No flow on the flood at all then when it changed to right to left one ish it steamed through and I couldn't hold out with 5oz so I jacked it in, almost out of crab in any case, not a puff of weed on flood or ebb. Just can't understand it, it should have been brill today. On the plus side the recent bad weather has helped build the beach up considerably since I was last here 2 weeks ago, the gulleys near the revetments have gone and been banked up by fresh sand. I see Pedro struggled at Cart Gap in good conditions to, at least I managed a couple of slightly better fish!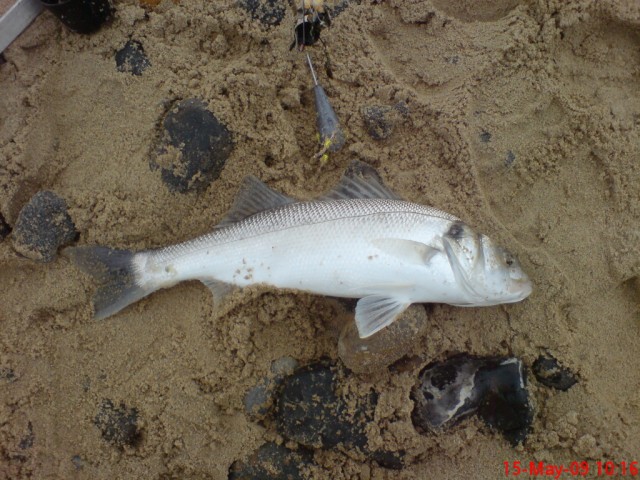 Mint!
Ed: Thanks a lot mate, nice little report and judging by other reports you did pretty well.
I wasn't even sure I wanted to fish, but a few crabs to use up and one or two mates going locally made my mind up, that and I'm back at work next week and god knows when I'll get to go again! Anyway after a cracking pub lunch with a couple of mates, the fresh air would do me good. High water was around 1915-1930 which would give the best part of the ebb at twilight / darkness, perfect.
My plan was to fish crab on one rod and herring on the other, I still fancy the spot to throw up a ray or a huss and I won't get one if I don't fish for one. Needless to say I didn't get one, in fact nobody had much on the flood apart from that clingy weed. As the tide topped and the light started to fade odd fish started to show. Andy Lawes had a bass 1lb 14oz followed by a similar sized one for Croc. I was fishing with Mick and neither of us had a fish until well into the ebb, Mick managed to find the only heft for miles twice in two casts as well.
Probably 2 hours into the ebb I had my first bite resulting in a roach bass, I hadn't blanked at least. Bri and Mack both had bits and I think Andy had an eel. Probably mid ebb and the last of the light gone I had 3 bites in 3 chucks, an eel, a schoolie about 1.5lb and a cracking little bass around 3.5lb. As soon as the tide had eased and the weed gone, they had a little feed. I think Croc had another around this time at that 1.5lb mark. A nice mild night and a laugh, shame the fishing wasn't any better. That's me done for a while now, I won't get chance as I'm back at work from Monday.
I had high hopes after two relatively successful trips, the trouble is that the best part of the tide is moving further into daylight. Me and Croc didn't have much to report with around 14 or 15 between us up to 2lb, though in fairness most were "roach" bass at 6-8oz, good to see them.
The water's getting scummy too and that horrible tight, fibrous cack was back with a vengeance, to be expected really with a steady SW wind. Croc went this morning (7th) to use up some bait but really struggled with the weed for a lonely pout. Unusually the weed never eased over the top for him but stayed with him all tide, unlucky mate.
I'm hoping for a go this Friday evening, I need to have a chat with one or two of the boys, but with the wind and weed I think I'll be heading somewhere round me.
After little bit of joy on Friday, it was back for hopefully more of the same with a stupid o'clock session. I picked Digger up at half past midnight and I guess we were on the beach fishing by about 0130. At least a top coat colder than Friday with a real nasty west along the beach, at least it was too cold to get dozy!
I didn't do very well the last session, I got a real hiding, but this time my kit was right. I'd tied new rigs, sorted my reels, batteries in the headlight and camera, I'd even changed a coaster on one of my TDXS's. I felt better, weird isn't how those daft things give you a bit of a confidence boost. I didn't feel 100% last Friday, I did now and we both settled in to watch motionless tips for the flood, well almost motionless, I had a little rattle that turned into the chunkiest rockling I've had in a while.
They forecast some rain for bank holiday Monday, it was hard to see where it was going to come from as a clear starry night gave out to a cracking sunrise. We're lucky really, only shift workers, bakers and the milkman see half of what we're blessed with. Thankfully the lazy wind eased with the approaching high water and confidence was boosted again by Pete snaring one of those 1 to 2lb schoolies. As day broke and the tide topped a steady stream of schoolies and missed bites followed, it's as if shoals of similar stamp fish run the beach.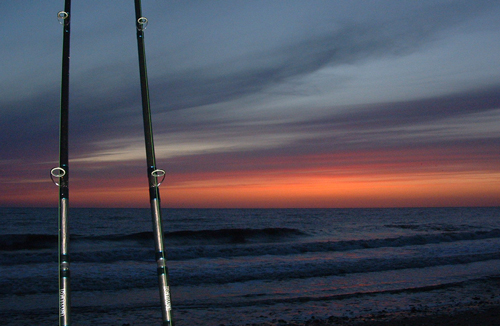 There's lovely.
As I was winding in another of those chunky monkey schoolies, my other rod lurched forward and dropped back slack. No rush just another street fighting school bass punching above it's weight, until Pete says "that's really slack mate and it'll be round that groyne if you don't sort it out". I passed him my rod with the 1lber on and he kindly sorted it out for me. I picked up the slack rod and wound down for an age, creating an angle to take my line away from the groyne it was pointing at. There was a little bit of weight but it's almost impossible to gauge the size of them, they're never still, running with the lead etc. A couple of casts earlier I'd had a bite that had literally took the rod over the rest, I caught the butt 3' off the ground only to return another 2lber a few seconds later.
As the fish came into the little bit of surf at the edge, it became obvious this wasn't a schooly. Head down, boring and running the beach, tail driving through the shallows doing its best to get back into deeper water, a few heart stopping moments later and a cracking early season bass is on the beach. I looked at it, I reckoned it was a good 6lb, Pete reckoned it was bigger than that. I was chuffed to bits either way, out come the Avons and I swear to god I nearly shat as the dial went round to just over 10lb before swinging back in to 8lb 9oz. Bloody marvelous.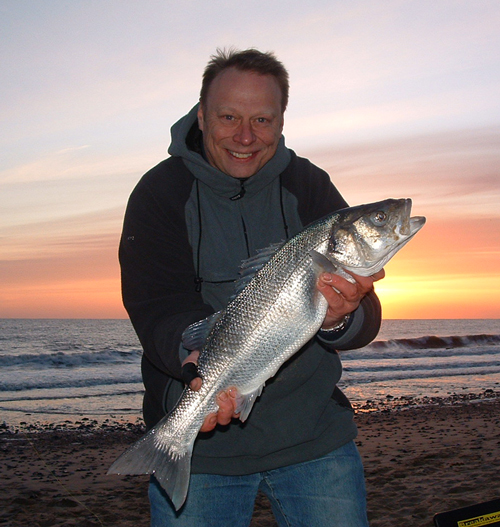 Concentrate on the fish and you won't have nightmares, 8lb 9oz of perfection held by 16 stone only a mother could love.
A few pictures of piscatorial perfection and the beauty is returned to sea. I was still bopping round the beach as Digger's rod pinged back slack and within 5 minutes another super conditioned early season fish is on the beach. I thought about 4lb maybe a bit more, Pete reckoned it was more than that, hard to tell it looked like a bit dropped off the fish I'd just put back. Out come the Avons again and this time 6lb dead, a few more mug shots and she's heading back to join her mate.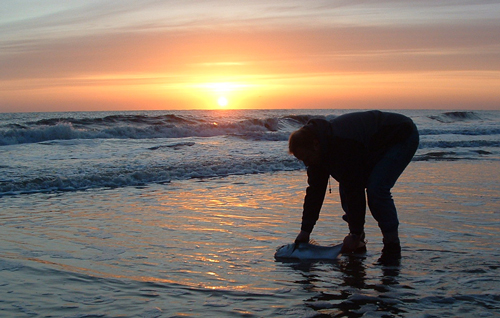 Back she goes.
Like a pair of kids all thoughts of tiredness gone, a beautiful sunrise saw us peeling crabs and whacking them out match style, amazing what a couple of good fish can do. No slackliner for me this time but a steady pull on the tip resulted in a 3lb+ schooly that I jut returned at the waters edge all nonchalant like. Lots of mini bass and the odd better schooly followed along with plenty of missed bites. I love that about bass fishing, they seem to be always on the move and from bite to winding in it's often impossible to tell if its 10oz or 10lb.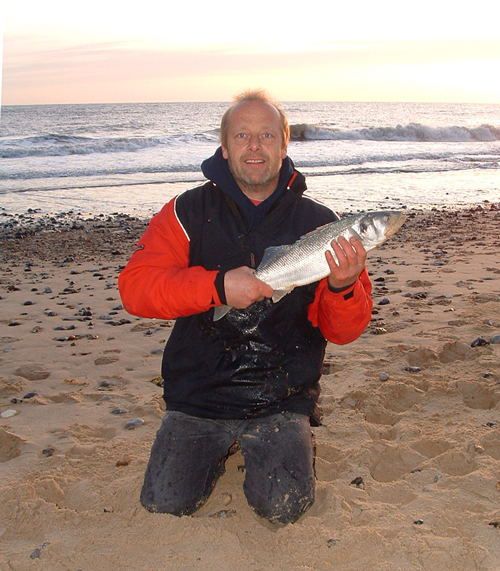 He did a cracking job with the camera, I was so tempted to put the one of him flinching as it swiped him with its tail!
After the slow flood, the ebb had proved to be good again, in daylight too albeit not direct sun. We fished to mid ebb before packing up and leaving the beach to the growing number of dog walkers and joggers, and home by 0800. Another cracking session with Digs and my turn to bloody noses this time. I'm paying for a couple of short time, stupid o'clock sessions though, I'm stiffer than the parish priest at choir practice, still worth every ache and pain. I'm hoping to go a couple more times this week, that northern bloke I used to fish with is about too so maybe there'll be a few of us do a bit. Unfortunately the Leg End's eldest is getting wed this week so he's out of the loop, be nice to text him with a few reports during the service though wouldn't it...
PS. The weed wasn't as bad as Friday, more easy off than that tight stringy stuff.
I'd been asked if I wanted to join Quack and Croc for a daytime session Cart Gap way, but unfortunately I couldn't get away, lucky for me then that Digger rang up with a session saving idea..
I'm not going to go on about how busy I am now, how little time I have to fish etc. The lack of reports isn't just down to a general apathy, I have been busy, but I really need to make some more time somehow. Ideal then when Digger suggested a late evening session locally. The plan was we'd fish the Overstrand end of Cromer beach hoping for a bass, Honourable had kindly left me a few peelers after the mini open last week and Digger had a few of his local crabs, I stuck some fish in too but didn't expect to use it.
By the time we got set up we were well past the beach huts, I guess we were down on the beach just as the light faded around 2130. High water was 0100 and we planned to fish as long as the neap would allow. In my book its one of the few good things that neaps allow, granted the water doesn't rush up the beach but it doesn't rush away either and often prove to be half decent tides on ebb beaches.
We set up and settled down for a brew and a babble whilst we waited for the sea to make a bit and I would guess we were fishing by around 1030. I seriously need to sort my gear out. I'd checked the batteries in my headlight and they seemed fine, obviously when it comes to use it in anger the light looks dimmer than Bennie at a mensa meeting. Rigs were in a shocking state too, all I had in the way of recently tied jobs were rigs I'd made up for the Kent trip, they'd do. There's no technique really, good job in my case, fixed paternosters like cod rigs are ideal for the bass. I don't hold with long flowing traces for our bit of coast and my ray rigs had longer snoods then I'd want ideally but they'd do.
As expected the second half of the flood was quiet with only Pete managing a pout and me missing a bite which looked a bit "eely" to me. The feature of the flood was some really clingy, stringy crap that looked like it wouldn't be long before it was going to be stinky. It wasn't may weed but I think if we get a week or two of warm, settled weather like we have at the minute, it'll be here with a vengeance. There wasn't a lot of the stringy stuff but it was a real pain taking ages to pluck even if you only had 4" or 6" of the stuff, thankfully as the top of the tide approached it was replaced by heavier red stuff that at least plucked easily.
Digger scored again with a little schoolie then added a fine bass of 3lb9oz. Even though I'm used to getting dollied by my mates, it's not very nice. Digger had another schooly around 1.5lb when I managed to fluke a whiting. I'd seen a few rattles that hadn't really developed into anything, I wondered if it was the foreign crabs, Pete offered me some of his, of course I declined politely. Whack and a big slackliner for Pete and it's obviously a better fish as it finally wakes up in the surf. A cracking early season fish of 5lb8oz is soon returned after weighing. I followed Pete's cracker with a couple of fish in the 1 to 2lb bracket. I love bass, aggressive tough fish that remind me of Mexican street fighters, hard as the knockers of hell they are. It was obvious there were two shapes to the bass too. They were either long, sleek fish that were the same depth behind the head almost to the tail while some were pot bellied, we wondered if the pot bellied ones were female?
I was enjoying myself, a lovely warm night a few nice fish and plenty of bites. It didn't even bother me when I cracked off a set of kit, not quite sure why it did crack off, there was a lot of line off when it did and I don't cast powerfully enough to crack off usually! So I saw the session out with one rod while Pete carried on with a steady stream of those 1 to 2lbers. We were sat chatting when my rod dipped forward and flew back straight, once I'd taken the slack up there was weight straightaway, steady head shaking weight not unlike a cod. I told Pete that's what I thought it was, then the line appeared to kite off to the right, maybe it's a smut? Anyway as my leader broke surface and the steady head thumping got a little more aggressive, the weight suddenly disappeared. I'd lost my best fish of the night when I picked up the kit I'd cracked off earlier, just my luck, if Pete had done it he'd have landed both!
That rounded my night off and I packed up, Pete was still getting bites even though the beach was emptying now but we'd had enough and were off the beach by 0330. Pete had the best two fish at 5 and 3+ and we'd had a few of those 1 to 2lbers, not many bits, in fact my whiting and his pout were the only bits I can remember, a few "roach" bass and it was a top night. I dropped him home and was in bed myself for about 0430, big plans for Sunday to get my gear tidied, rigs tied, line on reels etc hopefully ready for a stupid o'clock session Monday.