If you're talking to a local don't pronounce it "Clay", its "Cl-eye" and they'll pick you up on it as I found out! The area covered by the shingle bank is very popular with bird watchers and when I took this blurry photo there was a film crew there filming god knows what. It's a lovely part of the world and for me this is where the real "open sea" fishing starts.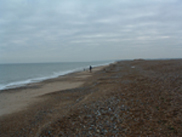 I know people fish round the corner in the wash at places like Hunstanton, but due to the easy access of the shingle beaches and the quality of fishing that can be had along them, the shingle is very popular. Lots of flatties are taken along these beaches, particularly in autumn and winter. The summer sees a short run of smoothounds and some good bass and the venues lend themselves to fishing with plugs for bass and feathers for mackerel.
The big feature on these beaches is the shingle bank itself. If you look at these beaches on a spring low you'll find a billiard table sand beach spreading out from the bottom of the bank, the upshot is you don't need to be a champion caster and good catches of quality flats can be had very close to the bottom of the bank. Not as well known as the beaches further south for cod catches, some are taken in the winter along with some chunky whiting especially in the new year. The shingle at Cley isn't as pronounced as it is at Salthouse or Weybourne. If you'd like to add anything to the information here, please EMAIL ME and i'll include it.
Here's an extract from Gillespie's excellent 1969 book with regard to Cley:
"During the summer months, mackerel shoal close in under favourable conditions, and heavy bags are taken by anglers who follow them with feather tackle or light spinners. The occasional tope, thornbacks, dogfish, etc., are taken from the beach, and fair bags of dabs at various times throughout the year. There are no real snags, though a wreck can be located at low tide and should be noted. That area has a reasonable reputation for dabs, though the somewhat featureless beach is of steady potential throughout its length. The wreck lies to the right of the access to the beach."