Like Cley, Salthouse offers pretty much the same fish wise. Another easy access with a car park one side of the bank and easy fishing on the other side.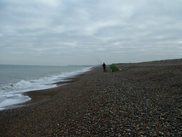 As can be seen from the photo, the bank is getting steeper and sandwiched between Salthouse and Weybourne is another similar stretch at Kelling near a second world war block house. Access is difficult at Kelling and though it's quieter than Salthouse or Weybourne, I don't think it offers anything different to what you'll find at easier access points.
Last summer (what fecking summer!) me and Genocide had a few smoothounds here, not massive but good fun. Plenty of bass and flats show up and there's usually plenty of mackerel in the summer but you do need the right conditions for them. When we had the smoothies they were well out though general fishing along here doesn't require a huge bung. Please EMAIL ME if you've anything to add.