A classic match stretch. A bloody great big car park, toilets, easy access to a consistent beach that isn't peggy. Add to that a cafe for registration and breakfast and you can see its appeal. It is even and fish can be taken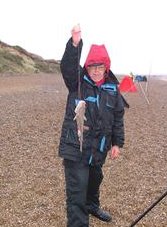 walking north to Wobblywick or south towards Sizewell or in fact straight over from the car park. Like Wobblywick, the place is worth a look in a roughish sea, banks and gulleys should be easy to pick out if you do. Look for a break in the waves as they pick up off the bank.
To be honest I think I'd just fish wherever it was most comfortable on the day though rumour has it that southwards holds a few more bits if you're fishing a match whilst north towards Covehithe is better for codling, allegedly. Don't blame me though if you get done from the opposite end you decide to fish, there's some good lads fish matches in this area and plenty that know the beach better than me. Here's Mick Philips proving how easy Dunwich can be!
EMAIL ME if you've anything to add.