I've never fished this stretch, preferring the easier access of Dunwich a little further south. PK likes Wobblywick, I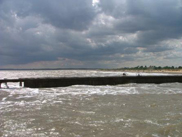 think mostly due to him and the lovely Mrs Kerry taking a walk along there one time and seeing lots of good fish on the beach. It's never quite done it for him since though.
Hopefully he'll give me some information on this beach, if its anything like Dunwich it'll be tide less, relatively weed free and fairly shallow with banks and gulleys close in.
EMAIL ME if you've anything to add.