East and West Runton really illustrate my lack of knowledge of this section of coast. When I visited to take some pictures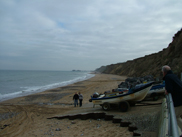 I was struck with how fishy they look yet unlike the shingle I've never seen anybody fishing them, I know they do get fished and there must be somebody out there that has an extensive knowledge of these beaches.
The beach here didn't look as snaggy as West Runton and as you looked towards Cromer it looked easily fishable, though I'd be wary of fishing it on a big tide with a sea on, there's nowhere to go if you get squeezed up against the cliffs. there's an easy access car park with toilets and I'll certainly be giving it a go along with West Runton. If you'd like to share what you know about the Runton's please EMAIL ME.