I've never fished here but it doesn't half look fishy! I think you'd need to have a good look around on a big low as the place is littered with rock patches.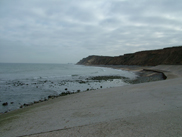 I reckon as well if you put the time in at low water, there'd be some bait to be found in the rock pools left as the tide recedes. It's quieter than Sheringham but again summer sessions would need to be evening or early morning to avoid the busy times. It looks very "bassy" to me and I'd be amazed if the rock scaurs didn't get a few cod rooting around in them in the winter. I'd appreciate it if any knowledgeable soul could fill me in on the potential here and at East Runton, EMAIL ME if you have anything to add.
Here's an extract from Gillespie's excellent 1969 book with regard to West Runton:
"The determined angler who uses break-out tackle and expendable leads might do extremely well there with cod in the winter, though most locals regard the beach as not worth fishing, especially to the west of the access, where the rocks are at their worst."
After a daytime session with Digger today (12/02/08), I took these couple of pictures of West Runton on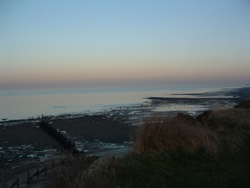 the way to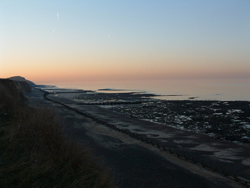 drop Digger home. It really is feature city and there MUST be cod get in among those rocks as well as smuts in the summer. Looks promising from low water too, you'd be able to pick sandy spots between the rocky outcrops, either way it's on the hit list this year.