The posh end of Yarmouth! the river runs out to sea at Gorleston and a large concrete pier allows fishing into the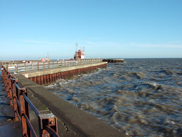 river or over the south side into the open sea. I've only ever fished it a couple of times, for me if I'm going that way I'd fish the wreck at Gorleston or carry on to Hopton, Corton etc. Some good fish are taken from the river but again weed and tide can be a real pain here, the picture shows the seaward side of the pier.
South of the pier and river mouth the beach opens out again into a flat sandy beach with plenty of tide. Along Marine Drive from the pier is the famous wreck of the White Swan, it's marked with an orange buoy and iron work can be seen sticking out of the sea from mid tide down. The White Swan was built in 1903 and was wrecked whilst carrying coal from Hartlepool to London in November 1916.
The wreck itself is now a famous fish holding spot and is reachable for competent casters at most states of the tide. The Hopton open would often be won from here. I'm only an average caster really and even I've managed to hit metalwork. Geno had a lovely cod a bit over 6lb here a couple of years ago and apart from Johnny's couple of 7/8lbers last year is one of the biggest we've had recently. Obviously as well as holding a few fish it holds a few snags but can be worth the tackle losses.
EMAIL ME if you've anything to add.