Used to be one of my favourite beaches before it became heft city. You can usually manage to find a bit of tide here and in my experience it fishes best on the ebb right down to low water. I think you could pick fish up anytime but when its running well on the ebb seems to be the consistent time for me. Another feature of longshore drift is it can sometimes lull you into a false sense of security. I've fished Hopton on the flood or at high water and not found a snag. Then it starts to ebb and as if by magic snags appear, it's as if the reversing flow allows something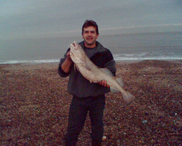 to lift from the sea bed. Many happy memories and laughs, watch where you park if you use the metal steps as the vicar of Dibley told us off one time, horrible she was considering she was clergy. Like Yarmouth and Gorleston it's capable of throwing up a lump, even in daylight with a flat sea. Here's a picture of Mark with a lump around 17lb from memory in a sea as flat as a witches tit.
EMAIL ME if you've anything to add.