There must or should be books written about the place. It's an East Coast cod Mecca. Year on year it throws up big fish and large bags of medium sized fish. It's often called Orford Island, it is in fact a shingle spit that runs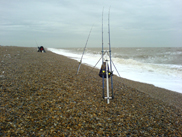 between the rivers Alde and Ore and the sea. I don't know exactly how long it is but you aren't walking it with your kit from Aldeburgh, it's something like 6 or 8 miles.
The way to access the Ness is via ferry from the village of Orford just off the A12, if you mail me I can give you contact details of Pete the ferryman who will drop you at the Crouch or the Narrows. This picture was taken at the Crouch, you can see how the shingle shelves away.
The Crouch is the first drop and if you wanted to walk back towards Aldeburgh would bring you to the aerials and finally the dirty wall. The Narrows is where the shingle spit nears its end and the conjoined rivers meet the sea. The venue is rightly famous for cod catches and many hardy souls will spend 24 hours or longer on the inhospitable place trying to snare one of the monsters that cruise these waters. It's a weird old place being a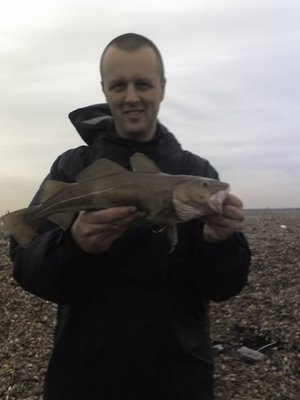 former MOD area. Old buildings where god knows what went on litter the place and are home to flora and fauna now. The Ness is a reserve and should be treated with respect, leave it as you find at.
A good way to find out about the Ness and its fishing potential would be to join one of the many clean up campaigns that are run by some internet forum users. You'll get to fish with experienced Ness anglers and learn as much in a night than you will going by yourself. there isn't any secret with the place though you may get an inside edge on hot spots. I think Tony Kirrage did a dvd or video from off there too, sure you could get a copy off ebay.
See look, he doesn't always scowl. The smile isn't for that BABY Orford codling, its because it was sent to me while Geno and the boys were fishing Orford and I was at work!
It's worth noting too that plenty of dogfish and a few rays pitch up in the spring too, there's a lovely time around April where you have a chance at catching rays, dogs, cod, bass and soles. Only right to finish the venues with the east coast's most famous mark. Please feel free to contact me if there's anything I've missed or you'd like to see added.
EMAIL ME if you've anything to add.