Deep water and a variety of difference along the stretch commonly called Aldeburgh. Starting in the town the

beach is probably at its shallowest, the picture shows the Brudenell Hotel within the town.
Heading further southwards alongside the river and the yacht club the water starts to shelve to a good depth quite close in. This trend continues up past the Martello Tower until you get to the area known as the "dirty wall". I don't know if it's just me but I prefer the whole stretch on the ebb.
The dirty wall is a hell of a walk and to be honest you'd probably be as well to catch the ferry to Orford and walk back if you wanted to fish that stretch or join Orford Ness Angling Club and get a key for the gate. You can then take a 4x4 vehicle CAREFULLY along the shingle ridge to the dirty wall or on to Orford Ness itself.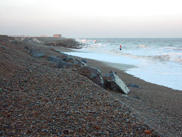 I wouldn't suggest doing this during the spring and early summer, it's a conservation area and home to many nesting birds and rare flowers etc. To be honest south of the Martello Towers is better dealt with within Orford, here's a picture from the dirty wall looking back towards the Martello Towers.
Aldeburgh always throws up a few big fish, a couple of years back I remember Flipper Field grabbing a couple of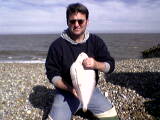 beauties off here one night. There's some bloody good sole here too, Smudge had a cracker on a day he paralysed Geno off the same peg. Geno lost kit and struggled for bits while Smudge had a mixed bag of bass, sole and bits, including the lump in the picture. Notice how big sole get a shoulder on them.
Ian, fished the area known as the shell today and gleaned plenty of info off locals as well. For the Codling whiting and dabs.
The area fishes best on half tide down to bottom and the first of the flood. There is deep water close in and fish can be found at all distances. The further north you fish the deeper the water becomes. Hot spot is the groins to dirty wall which is equally famous for its snags. There are gullies which run parallel to the beaches and its a matter of finding which one the fish are congregating and feeding in. It fishes from october to march for codling with december and january best times for double figure fish. Dabs can show at any state of the tide and are seldom undersized. The sizeable whiting show up from september and are normally gone by christmas but current seasons have seen them stay until march time. Flounders are not uncommon and are frequently caught all throughout the year. Pin whiting are ever present and could be one of the reasons large bass can be caught here. Dabs prefer lug tipped with fish and squid, whiting on fish and lug baits, codling on lug and lug tipped with squid. The bigger cod have shown a preference for whole squid or big lug baits.
Summer bass, soles, dabs, flounders, eels etc.
All tide states can produce in the summer but spring tides have been more productive. The late spring and  early summer months are best for school bass to the South of the town usually when the sea is a bit choppy and from July to September fishing close in has produced good bags of soles on calm nights, although this season has not been good for them. Eels also show on night summer tides but are becoming less prolific.  Whole squid, king rag and peeler for bass. Smaller rag and blow lug for soles, dabs and flounders . Eels on peeler and worm baits. Usual tactics for flatties with flapper rigs, french booms for soles and big pennel rigs for the bigger species.
EMAIL ME if you've anything to add to Steve's excellent information.