Lovely beach and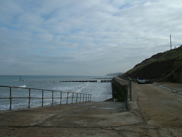 getting on towards my favourite stretches. It's shallow and sandy and doesn't get the intensive treatment some of the surrounding beaches do. It can get busy in the summer due to it being only a couple of miles south of Cromer, but it's worth a go. Weed can be a problem here, Trimingham and Mundesley, particularly after a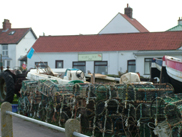 good SW blow.
Smoothounds, flatties, bass and codling can all be caught in season and there's a chance of something unusual from time to time. Last year a small tope was taken by an angler fishing for flatties with herring for bait, possibly worth a go in good conditions with fresh fish bait.
A longish walk south to the ends of the groins will put you on open beach that regularly throws up decent bass during the spring and early summer, in my experience it's best on the ebb when the tide starts flowing right/left and hits the last groin.
The Cliff Top Cafe does a very nice breakfast too with butchers sausages and dry cured bacon and not a sign of those mushy sausage excuses you sometimes get in other cafe's. I know there are some that fish this place more than me, EMAIL ME if you've anything you'd like to add.