Sexy beach. I'll never forget I had a session there, I was going to meet Porntash and Dicko, they'd gone right of the slip and I went left. As I crossed about the third groin there's "David Bailey" taking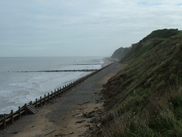 porno pictures of a lovely young blonde! It's never taken me so long to get set up. You can read the full story here. I think Porntash got a Turbot that day too. I love Trimingham and Mundesley the next one down, along with Cart Gap they are my favourite beaches in this region.
Fairly easy access, the bay at the bottom of the slip gets fished quite heavily though a word of warning, the first groin to the north of the slip marks some rough ground. Personally I prefer to walk up past 4 or 5 groins north, it's quieter though I'm not convinced it gives you any other advantage. I've had good days to the south of the slip towards Mundesley too where the ground is sandier than the northward stretch. It's never too busy in the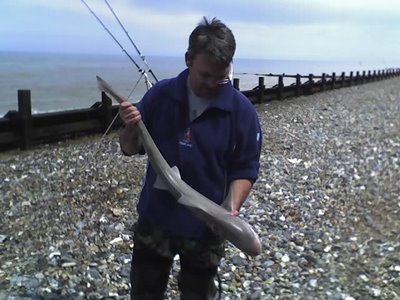 summer though feckwits on jet skis can be a pain in the behind.
To the north of the slip the ground is marly, you'll often find bluey/grey clay stuck to your lead when you've retrieved your gear. The ground seems to hold a few bass and codling and is one of the few places in NE Norfolk where the conditions aren't everything. I've found it best over the top and down but dare say fish will turn up at anytime, the warning of big seas and cliffs holds here, ask Geno and PK.
Here's Smudge with a nice starry this year from the south of the slip. EMAIL ME if you've anything to add.