If I go this far south I get a nose bleed so I don't very often. Here and Sizewell tend to get over looked as I'll fish Dunwich or carry on to Aldeburgh or Orford. Famous for its house in the clouds, all I know about it is that there's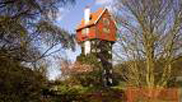 a few flatties including sole, caught here. Please update me now because I'm at the end of my scant knowledge! there's a danger I'll repeat myself, again.
EMAIL ME if you've anything to add.