As with Bacton, it's another beach local to me that I don't fish excessively. In make up it's pretty much the same as Bacton and it does get fished quite a lot due to the ease of access.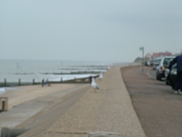 The famous stretch would be that behind the Poachers Pocket pub, the gulley is quite wide here and it seems that most match winning weights come from this area.
Access is from the top of the wall, parking on the road and walking straight over, I think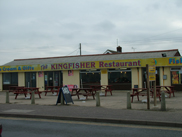 it's possible to park in the Poachers and it's an excuse for a pint and a bowl of cheesy chips afterwards, Gary has always made me and my mates welcome. Like all the beaches from Trimingham southwards to Sea Palling, there's always the chance of a decent bass or codling with flatties and whiting filling in the quieter times. There have been some cracking smoothounds in past summers too, though like most of our beaches conditions need to be right at the right time of year to really make the difference.
There's a good opportunity for a proper fry up at the Kingfisher too or good old fashioned fish and chips from the chippy next door. If you want to add anything just EMAIL ME.
Here's an extract from Gillespie's excellent 1969 book with regard to Walcott:
"Night fishing is again more productive, though the winter codling fish well throughout the day on favourable tides. Thornbacks are a noted species from this beach and Fred Williams has had some extremely good bags, as have other local experts. In the rare summers when the beach remains built up, and thornbacks are running, Fred has averaged fish on eight occasions out of ten. As any beach thornback angler will agree, this is good fishing. It cannot be emphasised too strongly however that the casual visitor is unlikely to meet with startling success."