A beach once famous for thornbacks and cod. A shadow of its former self due I'm sure to the reefs to the north. A very shallow beach that is still fished and still produces flats and bass though I don't know anybody that fishes it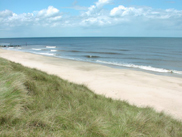 regularly in the winter. I dare say it still may produce in the winter cod season though doubt it ever produces it's pre reef form, pretty place to fish though. Along with Horsey you can find yourself sealed out on this beach too, I've seen hundreds of the buggers laid around the beach.
EMAIL ME if you've anything to add.