July 22nd
Shameful that it's nearly three weeks since I've been on the beach. I can't blame a coarse fishing distraction either, I've just been working like a navie. I'm not the only one that's been hibernating, none of my mates have been out aside from a few hardy souls at Honourable's sole bash at Southwold. Mrs Aitch's aunty Jen and uncle John are over in their caravan and with the mother inlaw stopping with us, I didn't need much persuading out when uncle John suggested a session.
I'd been doing my best to keep a few crabs alive in the vain hope that the smuts turn up again. I'd had the little critters since the smut match on the 3rd, to say they'd reached the end of their shelf life was putting it mildly. Still if I was going, that's all I had, I've even run out of blacks (hint to a reader!) and want to keep my best frozen crabs for the autumn. Normally if I'm going I'll ring round the boys, I knew PK was working but I'd usually see what Digger and Geno were up to. I just didn't bother, and it hints at the state of the sport that none of them rollicked me for not telling them I was going!
With very average bait (it was crap) and a lack of reports from my local beaches, I wasn't full of confidence. John had been fishing Ostend without a bite, he'd put in a fair few hours too but all he'd seen for his efforts was weed. In fairness he'd had no fresh bait (he'd cleaned me out of blacks, hint), so with him not fancying Ostend again we set off for Cart Gap.
There wasn't a lot of weed, just some loose in the surf left from the NW fluff up. A fair bit of tide too on the last of the flood and it wasn't until the tide topped that we had any sort of action at all. I was first in with a smut pup quickly followed by uncle John with an 8oz schoolie. At least we hadn't blanked. I love Cart Gap but not so much when the bank is close, it's only just off the groin ends at the slipway bay and as you look towards Sea Palling, the bank is inside the groins almost at Eccles. Not ideal. Anyway a steady stream of bits, most of the schoolies in the 8 to 12oz bracket though I did manage one a shade under 4lb. Numb nut here forgot his camera, shame too as we were treated to a cracking sunset on a barmy summers night. I think we finished with schoolies, smut pups to about 2lb and the odd slug. Not a great session in the scheme of things but at least we had a few bites and a few fish.
Filled with a little more enthusiasm, I did think I might go again Friday night, I think while it's bright you need to be targeting evening tides. Trouble is work is wearing me down again and I doubt I'll go. We never had much action until into the ebb and Friday will see the ebb in the early hours, I'm keen but not that keen!
July 3rd
Out twice in a matter of days! Things started off so well too. The forecast would give us a chance, the wind a nothing WSW and the showers that had been promised never really came. I think we had a downpour during registration but the evening turned into a cracker.
Digger had managed to secure some bait, unfortunately he wouldn't be able to get away from work for the match, so I popped round in the afternoon to collect my bait from Debbie Harry. I swear the lovely Tina changes her hair more than I change my kecks (don't it's too easy) and she looked stunning with her new shock of blonde. Crabs in the car and I have nothing to do.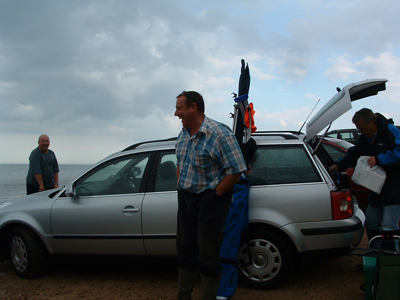 Honourable, Dins and Mountie. What is it with Dins and those bloody wellies. He used to chuck plates for England you know, if you bring it up he'll "discus" it with anyone!
One of the reels I'd been using down the Thames had proved a little fiery, I'd planned to give the bearings a couple of drops of oil to slow things down then decided against it thinking it'd be alright for full casting during the match. Registration went smoothly and I'm pleased to say 16 turned out despite the BBC's best efforts to put people off with a less than accurate forecast. I'd hoped for between 10 and 20, fair numbers I reckon for a midweeker.
Honourable was the usual diamond helping me with the registration and we both finally got to our chosen spot at about the all in. We cosied up just in case there was another shower, truth is I wasn't bothered too much about getting wet, I fancied one of Moira's ham and salad rolls. I wasn't disappointed either, old little legs couldn't fit them all in so I snaffled the last of my rotund friends' snap, perfect.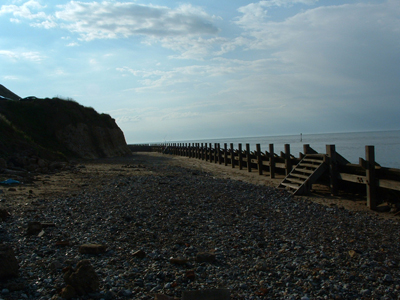 Looking towards the slip, Mountie was on peg 1.
Fresh crab baits on both rods, tame reel goes out nice and smoothly and to my surprise old fiery flew out lovely and probably 10 yards further, game on then. News from up and down the beach was slow, Pedro had managed a couple of undersize bass and Deno fishing the far end with TT had managed a flounder. I was begining to dread having to draw for the money when the Mountie came to the rescue snaring the only sizeable fish of the evening, a 43cm bass. Probably the most expensive bass in Norfolk working out at a little under £80/lb as Keith scooped all the prize money. A very well done to him for showing his angling prowess on a beautiful but challenging night. I must admit I thought Mountie looked good as I glanced up the beach, but then he was fishing next to Dins. Dins makes Noddy look good, god love him!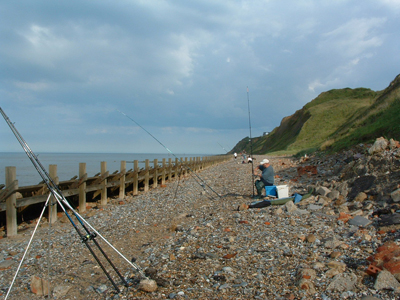 Looking south towards Heart Attack, a cracking summers evening.
If the fishing wasn't bad enough I lost 4 sets to a combination of chalk ridges (I think) and old fiery, perhaps I will put a couple of drops of yellow in the reel. I can't remember the last time I had prime crab bait and fished it hard without a single bite, oh hang on yes I can, it was a session with Jonah the Lumberjack, and where was it? Yup, flaming Trimingham!
July 1st
A hastily arranged mackerel session saw me and three mates up at stupid o'clock to catch the morning high water at Salthouse. We got there at 04:00 and all found fish, albeit mostly small ones, from the off. I did hook and lose a seal second chuck and it was nice to see the porpoises working close in. As ever once the sun got above the horizon properly, the shoals seemed to drift out of range, though I'd expect them to hang around if this weather holds.
I think I took around a dozen which will end up grilled, as pate and some will end up in the bait freezer. It was nice to see guys walk on, catch a family meal and walk off, absolutely no point in filling bath tubs with them. When they're there you can catch your fill in an hour so take what you need, enjoy them and go get some more fresh when you want some more. I do wish I had a smoker at times like this, I love smoked mackerel. Cracking time of the day sunrise, we're lucky as fishermen to see it as often as we do, let's hope we get a few more like today's.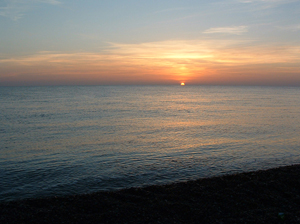 Sunrise at Salthouse.

I'm confident the smoothound match this coming Thursday will be a success. There's been a fair bit of interest shown and assuming folks turn up there should be a good turn out, lets hope the smuts play ball!