I got wrong from Actionboy when I put this picture up and called it Benacre. It is Benacre sluice taken from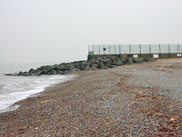 Kessingland and not strictly Benacre, but it does at least show the landmark that marks the start of the stretch.
For Benacre read Kessingland, a few good bass turn up here and at Kessingland during the summer months but to me both stretches are rightly famous for cod fishing in the winter.
The Leg End fished here with Actionboy and a couple of others earlier this week, they only had bits though Actionboy did manage a Gurnard.
EMAIL ME if you've anything to add.