A longer walk than Pakefield and is usually much quieter, though I'm always amazed the lengths people will go to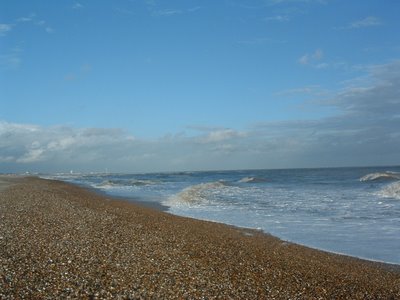 when there's a few about.
Because Kessingland juts out from a point that the rifle range runs up to, weed can be a problem. If you draw an imaginary line between the south pier end and Kessingland, the Pakefield stretch sits inside the two points and avoids the worst of the weed. It can be more than a menace at Kessingland.
Similar tactics to Pakefield will score here, though a recce on a roughish sea will show up banks and gulleys. I love the place but don't fish it as often as I'd like to. I went once with the Leg End a few years ago, I was recovering from an illness and wasn't my normal uber fit self. I lost my wedding ring though I duffed the Leg ENd up 2-1 in pretty poor conditions. I've never replaced that wedding ring but remember it like yesterday, like all his beatings he has no recollection of going!
The world famous Actionboy likes Kessingland and the next venue Benacre. He reckons he knows it pretty well and mentioned the banks and gulleys that are obvious in a rough sea, pretty consistent and can be a joy if there's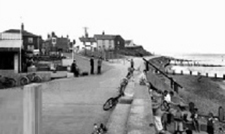 no weed. The Honourable Abbott sent me some information and a photo too, he's a very clever man. In his email he states that at the current rate of coastal erosion and with the combined effects of longshore drift, it's estimated that within 10 years Kessingland will supersede Lowestoft as England's most easterly point, god alone knows what will happen after the construction of Yarmouth's new outer harbour. Here's Honourable's picture of Kessy in the 60's, that sea wall is at least a quarter mile away from the high water line now and the groins are long buried.
EMAIL ME if you've anything to add.