Lovely spot and a big favourite for me and my mates. Easy access with a large car park and toilets and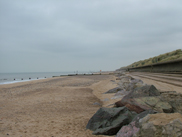 a gulley that's barely past the end of the groins. One of the few places I can fish one over or on the bank from high water.
This is another beach that builds up quickly after a blow and doesn't seem to suffer with weed as much as the beaches further north. It's a strange place that can throw up good fish when other places prove fruitless. In fairness we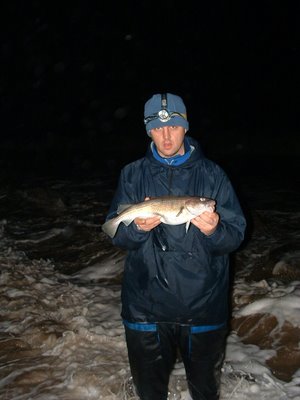 do fish it quite a bit which might be why we think it's consistent, but it's not often we blank there.
Here's a picture of Genocide with a plump Cart Gap codling, we've caught here flood and ebb though on balance we reckon the ebb to be best, especially on a decent tide into darkness.
In early spring we've had codling, bass, dogfish and baby smuts. In winter we've had school bass, codling and whiting. I've personally had my biggest Norfolk whiting here with fish just over 1lb. Geno will tell you, I had the biggest bite I've ever had here with whatever it was dragging both my rods and the rest seaward, that on a night where nothing much else had happened.
It doesn't seem to matter if you go north towards Happisburgh or southwards to Eccles and North Gap, it's a very consistent venue.
A clear favourite for me, let me know what you think, EMAIL ME here.
Here's an extract from Gillespie's excellent 1969 book with regard to Cart Gap:
"This beach also produces good catches of thornbacks on occasions, and is good for codling from Christmas through to April. There are some broken groynes which can snag tackle, and these are naturally more often encountered after strong winds and seas have scoured the beach. At other times they are covered..
..The three hours either side of high water is the best time, with the accent on night fishing."