A big wide beach that has a lot of potential. Access is difficult and parking is extremely limited. The beach itself buts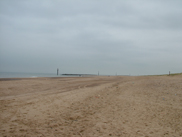 up to the first reef at Sea Palling. The bank here runs parallel to the dunes from off the end of the first reef, this creates a sort of lagoon with little tidal flow. Geno doesn't like it too much because of this and I can understand it, though I think northwards back towards Eccles and Cart Gap would be ok with a nice wide gulley and a fair depth when the beach is well built up.
There is the opportunity to walk up to the first reef and cast along the bank, I've done ok doing this, I think fishing over the bank here either from the reef or alongside it isn't that productive. I can't help feeling that the fish holding feature is inside the bank and not over it. Personally I've had codling, school bass and flatties here, including sole, but if you want them in any number you're better off heading south into Suffolk. EMAIL ME if you have anything to add.
Here's an extract from Gillespie's excellent 1969 book with regard to Eccles:
"Few anglers fish specifically for big tope from these beaches, but several are taken by those who are using fish baits for thornbacks. Fred Williams has, during his thornback fishing, taken over twenty sizeable fish from beaches in this area, best 35lb, and there is little doubt that hard fishing for them would bring results. Big dogfish of around double figures are also encountered, and some excellent bags of dabs too."