"Hazeboro" is another of those quiet, off the beaten track, beaches with bags of potential. More famous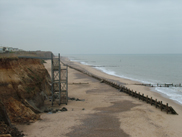 for it's erosion problems than it's fishing qualities, though I don't think it should be overlooked.
The beach access has changed. The metal steps left are now disconnected from the land and the old car park has been replaced. Go along beach road and instead of turning left go past that junction and the new car park is on the right looking at the lighthouse. Beach access is down a sand slipway, the beach here has similar qualities to Ostend and Walcott.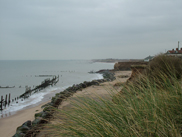 Looking southwards though the erosion issues are easy to spot. Broken groins and revetments litter the beach and recently placed granite blocks try to hold the sea back from the cliffs. The area does hold fish and some nice bass are taken here regularly, obviously you need to pick your spot well or you're just throwing gear away. In recent years there have been some big smoothounds caught here too during that short summer run. I think I'd still be inclined to continue the extra couple of miles to Cart Gap, if only to avoid the steps! Let me know what you think, EMAIL ME.