Deeper water as we head towards Lowestoft. Corton is a consistent venue and you don't need to be able to cast for England. In the winter you'll catch codling and whiting with sole and bass the main quarries in the winter. An easy fish though it can get very snaggy as you get closer to Lowestoft. the famous stretch is that known as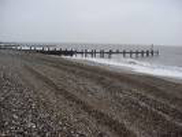 Tramps Alley, not only famous for the fishing available there but also for the nudist beach. Sad that it's only middle aged men that seem to take advantage of the right to go kitless! My old mate Mark "Aunt" Bessey likes it along here, on one of his recent reports he managed a few fish but it was a "pain in the arse". Who in their right minds fishes a gay dogging spot and says the fishing is a pain in the derriere?
EMAIL ME if you've anything to add.