Famous for the close in deep water and the ruins of old sea walls, this place usually throws a few fish up. If you go expecting to lose some kit you won't be dissapointed but it can be worth the effort of retying leaders. Lobsters and edible crabs are caught along here too and at Ness Point I've seen rod anglers throwing pots out whilst they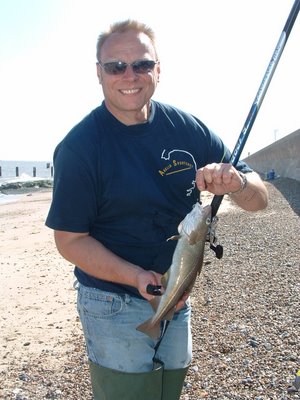 fish. Like Tramps Alley you can expect sole and bass with whiting and codling in the winter. Codling do get caught all year round though the consistent sport would be from November time onwards.
Geno hates it because the fish are within everybodies reach and he can't lump it into the distance! Here's me with one of a few tiddlers I had while Geno blanked, lost kit and considered taking up golf.
EMAIL ME if you've anything to add.