From CEFAS this is the stretch you can see heading out towards the point at Kessingland to the right. Easily spotted by the caravans on top of the cliff.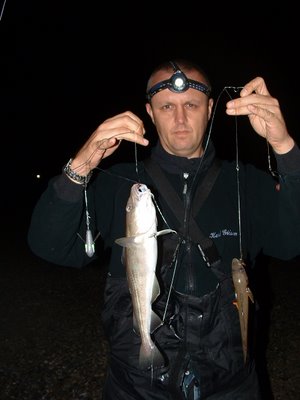 This can be snaggy too though distance isn't a must here. A short lob will have you fishing in peaty ridges which seem to hold a few codling, whiting and soles. The picture is of Genocide with a mini codling double shot from about 40 yards out, note the old boy boom rigs.
Not as popular as the other stretches as access is more difficult and you fish it knowing you are fishing rough ground. Braid could be the way to go here, you're not fishing far out and braid may well give you the strength to pull through most of the peat ridges. This stretch can and does hold a lot of fish, a sure sign that it's fishing well is to pull up at the Jolly Sailors and see if there are a line of portaloo's under the caravans!
EMAIL ME if you've anything to add.