Another popular spot and one I don't mind fishing considering it's a pier. I've had some nice soles off here during the summer and lots of small smoothounds, does anybody get any proper ones here? You can fish into the docks basin one side of the pier, a bit like at Gorleston or you can fish the seaward side. I've only ever fished the seaward side and have had lots of fun with the boys fishing for sole and leaving a shrimp net down the edge too. Again lobsters and large edibles are taken off here. A popular match venue for the pensioners and I think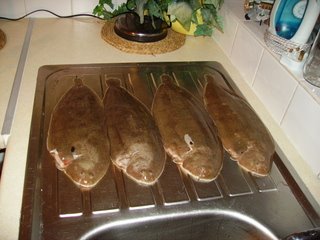 Lowestoft Sea Anglers hold matches on here too. Pedro sent me the following email, he fishes the pier quite a bit and knows it pretty well.
I'll offer my two penneth re Lowestoft pier for you to pick out n add at your discretion:-referring to fishing seaward side here.
Unfortunately the top 50yds of the pier are now fenced off and for me that area produced the best, also for those that just wanted to drop a line down beside the pier head, good cod and bass were caught regularly.
Unusual flood tide pattern due to the North arm extension half way across the north sea, early part of flood flow gradually increases as normal bringing the weed in increasing quantities till it reaches mid tide then just like someone flicking a light switch it stops, weed too and starts reversing, this phenomena accentuated the further up the pier you are.
Ebb tide virtually continues from the flood and moves like a train on some tides coming straight in from Kessingland point hitting the wall before heading out to sea. On the fishing front, generally up to Elmo's lights its fairly snag free and all the usual species are likely. A favourite area for summer soles. Beyond the lights it's a lottery on the snag side, usually a cast over 100yds will clear the snags but if weed is evident you can still reel into them, ok most of the time though. Codling, dabs and whiting could be targeted during the colder months. Pollack, coalfish, wrasse, plaice, mullet and dogfish are  occasional visitors. Much success achieved by those using a baited drop net over the side for crabs, lobsters and prawns.
Thanks for that mate, for me it's fun for a social but on balance I'd rather be a mile or so southwards at Pakefield. Here's a picture of the typical stamp of Bessey's sole from last summer.
EMAIL ME if you've anything to add.