One of my favourite venues. People either love or hate Pakefield, it's not the prettiest beach but it's certainly one of the most consistent in our area. I've deliberately split the bay into three because each part is slightly different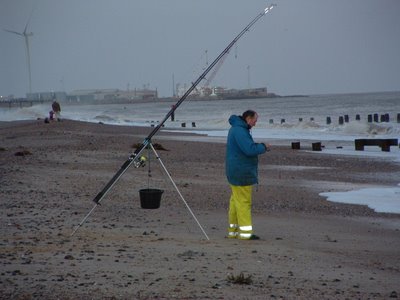 to the last, all have pro's and con's.
CEFAS is the stretch south of the pier, you can't miss the ministry (fisheries labs) building on top of the cliff. The picture shows Nobby fishing a cracking sea there last season, you can clearly see the pier and docks with the wind turbine in the background.
A couple of years ago Pakefield and Kessingland seemed to hold a shoal of medium sized codling, by the end of the season fish to 4/4.5lb were common. During this time we seemed to catch whenever the tide ran whether it was flooding or ebbing. In these less consistent days I find the ebb the best and it wants to be running.
Pakefield bay often avoids the weed that plagues Kessingland from time to time making it a good option if you're weeded out at Kessingland. As well as codling and whiting the bay has a reputation for producing good dabs. No special tactical requirements or rocket science thinking needed here, lug or lug/squid cocktails whacked out as far as you can will give you a good chance.
EMAIL ME if you've anything to add.