This is the last easy access to the shingle before the beaches change at Sheringham. You can see the cliffs starting to rise out of the shingle as you look towards Sheringham. The fishing changes here too. You can catch all the usual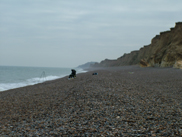 species common to the rest of the shingle along with a few more codling and whiting during the winter. There is a wreck marked by a buoy to the left towards Kelling and dinghies can often be seen fishing it, though I think it's out of reach for mortal casters most of the time. The ground towards Sheringham changes and under the cliffs you don't need to cast too far to find rock and marl outcrops. Like all similar patches of ground, they seem to hold a few fish but can also be a tackle graveyard.
Popular again with the old boys as there can be some good flattie fishing here, there's also a spring or drain that runs out more or less straight over from the car park and may explain why there's a few flatties here. Please EMAIL ME if you have anything you'd like to add.
Here's an extract from Gillespie's excellent 1969 book with regard to Weybourne:
"As is usual in this area, the highlight is the night fishing for cod and whiting in season, but calm summer conditions bring the mackerel in, and there is a good chance of a big tope at this time."