The shingle gives way to flat sandy beaches with the cliff that started at Weybourne rising at Sheringham. You can still lure fish for bass on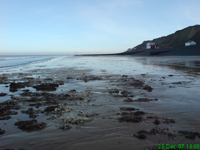 and around the stone groins on the town beach and decent bait can be bought at Bright's in the town. Flattie fishing can be quite good and there's always a few codling and whiting taken in the winter, obviously summer fishing is best outside of the peak holiday times as the beach gets very busy with holiday makers.
As for fishing tips its still quite a new venue for me (Shaun) but fishing is only practical about 3 hours either side of HW when there is some water there. By the lifeboat shed it's pretty clean ground getting rougher as you head west towards The Old High. It's a case of finding sandy patches among the rough at LW.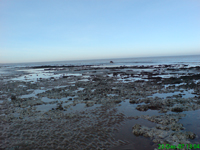 If you can get hold of extremely fresh fish bait, perhaps some fresh caught mackerel or launce from the shingle, there's every chance of a Turbot here and a few are caught most years. Availability of prime bait for them is a bigger problem than the number of fish available I think. The rough ground pictured is an obvious hazard but also a fish holding feature, it's marked on the maps as "Robin Friend" and is a flinty / marly outcrop, like Shaun says a low tide recce would pay dividends. Thanks Shaun, top stuff. If anybody would like to add to the knowledge, please EMAIL ME.
Here's an extract from Gillespie's excellent 1969 book with regard to Sheringham:
"Late evening anglers will take dabs, plaice, soles, eels, flounders, the occasional tope, brill and turbot, though never with notable consistency. In winter, however, the cod fishing can be very good, with individual fish to 18lb recorded, and plenty of fish about 5lb average."