I've hardly fished the place, its pretty though. I enjoyed the sole bash with some of the Leader-Lines regulars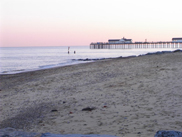 this last summer. We fished north of the pier and all managed at least one sole apiece and there were a few nice ones among them. Some good bass are taken here too in the summer, though if you look at the map you'll see "sole bay" marked north of the pier. Recreational anglers have been blamed in the past for alerting commercial lads to where there might be a few fish via internet catch reports, sole at Southwold is one of those places. When you see sole bay marked on a map, I doubt it has anything to do with anglers catch reports!
I know soles are famously caught at short range, but trust me I'm not exaggerating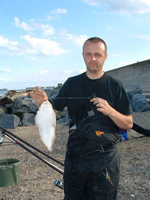 when I say they can be taken from within 20 yards of the tide line here. I think it's quite important that the sea is flat when you're fishing for soles and colour helps too, couple those with a nice night tide and you should be confident of scoring. Codling and whiting show up along this stretch too during the winter months.
It's a pretty place and I can think of worse places to drown a few worms, though it's a hell of a drive for me. Here's Chuckles with a nice Southwold Sole, oh to fish in shirt sleeves!
I was going to split Southwold up but to be fair I don't know enough about it. There's opportunity to fish off the pier with a day ticket, in the river or on the beaches in front of the town. If there is more specific data that I've missed please send me what you know and I'll update and split it if necessary.
EMAIL ME if you've anything to add.